April 2018


Root, Root, Root For The Home Team
The starting gate to the Houston Astros race to the World Series Championship in 2017 was FITTEAM Ballpark of the Palm Beaches. Spring training is the foundation of a Major League Baseball (MLB) team's performance and Palm Beach County played a pivotal role in the Astros first World Series Championship in franchise history. The opening of the 2018 MLB spring training season brought an opportunity for Palm Beach County to celebrate this World Series Championship alongside the people of Houston.
The Palm Beach County Sports Commission and FITTEAM Ballpark of the Palm Beaches came together to celebrate the Houston Astros World Series Championship in a meaningful way. This special celebration took place during the spring training season's opening weekend at FITTEAM Ballpark of the Palm Beaches. The Houston Astros provided 500 tickets for Palm Beach County's youth to enjoy the World Series Champions, Houston Astros play the Atlanta Braves on Saturday, February 24, 2018. The Palm Beach County Sports Commission collaborated with Palm Beach County Youth Services (Empowerment Centers) and Palm Beach County Parks and Recreation to provide tickets to these children, who might not have had the opportunity to attend without the ticket donation. Youth from across the county attended the game, including Pahokee, Belle Glade, Delray Beach, Lake Worth, the City of Riviera Beach, and more. Furthermore, these cthildren were provided with the traditional ballpark experience of a hotdog and crackerjacks and the World Series Trophy was displayed within the concourse of FITTEAM Ballpark of The Palm Beaches for their enjoyment.
As the spring training site of the World Series Champions, Palm Beach County was recognized prior to the first pitch. Palm Beach County Mayor, Melissa McKinlay, Commissioner Hal Valeche, Commissioner Steven Abrams, Commissioner Paulette Burdick, County Adminstrator Verdenia Baker, Deputy County Administrator John Van Arnam, Assistant County Administrator, Todd Bonlarron, Tourist Development Council Executive Director, Glenn Jergensen, Palm Beach County Sports Commission President, Eric Call, and Palm Beach County Sports Commission Executive Director, George Linley attended pre-game ceremonies and celebrated the historic accomplishment of their Houston Astros.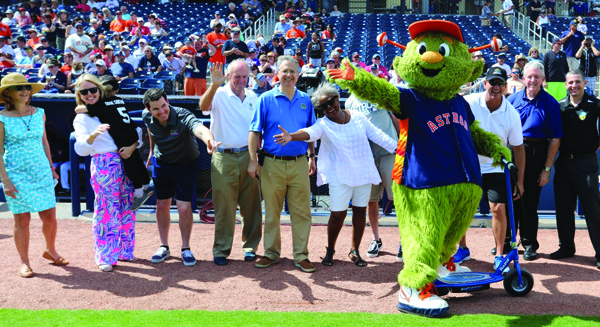 ---

Sunshine State Conference Women's Golf Championship
Swings into Palm Beach County this April
Golf continues to define the sports event scene in The Palm Beaches. The Palm Beach County Sports Commission and Lynn University are partnering to host the Sunshine State Conference Women's Golf Championship at Osprey Point Golf Course in Boca Raton. The event will take place from April 15-18, 2018. The Sunshine State Conference Women's Golf Championship features 72 holes of stroke play to determine an individual and team champion.
Having received numerous awards since its opening in 2010, Osprey Point Golf Course is one of the top public golf courses in Florida. Featuring 27 holes spread out in three nine-hole courses, Osprey Point provides a serene setting with a Platinum Paspalum turf, which presents a lush playing surface from tee to green.
The Sunshine State Conference, which has grown steadily in sports played, membership and national prominence, is an affiliate of the National Collegiate Athletic Association (NCAA) Division II and is comprised of Florida schools. Lynn University and Palm Beach Atlantic University are two eleven-member teams located in Palm Beach County. The host, Lynn University, is based in Boca Raton, and Palm Beach Atlantic University is in downtown West Palm Beach. The other nine conference members competing for the conference championship are Barry University in Miami, Eckerd College in St. Petersburg, Embry-Riddle University in Daytona, Florida Southern College in Lakeland, Florida Tech in Melbourne, Nova Southeastern in Fort Lauderdale, Rollins College in Winter Park, St. Leo University in Tampa, and Tampa University.
Team and individual champions will represent the Sunshine State Conference at the NCAA Regionals. The women's regional will take place from May 7-10, at the Germantown Country Club in Germantown, Tennessee. The NCAA Women's National Championship will be held May 16-20 at Bay Oaks Country Club in Houston, Texas. The NCAA will announce all championship competitors on Friday, April 27.
Lynn University has a rich tradition in sports. Home to 23 total national championships, few collegiate athletic programs rival the success of the Fighting Knights. Three of Lynn University's National Championships are in women's golf (1997, 2013, and 2014). Sunshine State Conference schools have won 102 total NCAA national championships in baseball, softball, men's and women's golf, men's and women's soccer, men's basketball, women's lacrosse, women's rowing, men's and women's tennis and volleyball.
Tournament tee times begin at 8 am during the three-day tournament. For more information on the Sunshine State Conference Women's Golf Championship, please visit www.sunshinestateconference.com.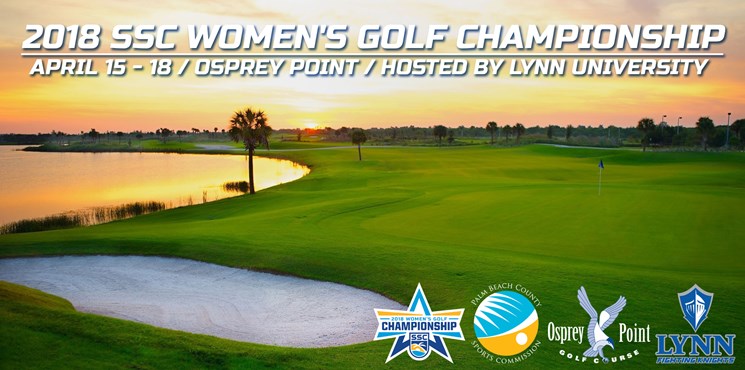 ---
Major League Lacrosse Launches its 5th season in
The Palm Beaches

Major League Lacrosse (MLL), the premier outdoor lacrosse league in the world, will embark on its fifth season in The Palm Beaches. Florida's only MLL team, the Florida Launch, will play its seven home games at FAU Stadium in Boca Raton.
Major League Lacrosse announced its 2018 season schedule. The Florida Launch will return to action after the franchise's most successful season to date in 2017. Head coach Tom Mariano, led the Launch to the playoffs for the first time ever with an overall record of 8-6. The Launch's home opener at FAU Stadium will take place on Saturday, April 28 at 7 PM, against the Chesapeake Bayhawks. After the home opener, the Launch's home schedule features games with the Denver Outlaws, the Boston Cannons, the New York Lizards, the Dallas Rattlers, the Ohio Machine, and the Atlanta Blaze.
The Palm Beach County Sports Commission has been instrumental in bringing Major League Lacrosse and the Florida Launch to Palm Beach County and FAU Stadium. The Palm Beach County Sports Commission convinced the MLL to bring its All-Star Game to FAU Stadium in 2012 and the overwhelming success of the event prompted the league to return in 2013 with a regular season match between Hamilton and Rochester. The MLL established the Florida Launch in Palm Beach County in 2014.
MLL has continued to lead the sport of lacrosse into the mainstream of competitive team sports. The league is made up of eight teams: The Boston Cannons, Charlotte Hounds, Chesapeake Bayhawks, Bender Outlaws, Hamilton Nationals, Long Island Lizards, Ohio Machine and Rochester Rattlers.
Florida Launch tickets for the 2018 season can be reserved now by calling (561) 923-9067 or emailing tickets@floridalaunchlacrosse.com. For more information about the Florida Launch visit www.floridalaunchlacrosse.com.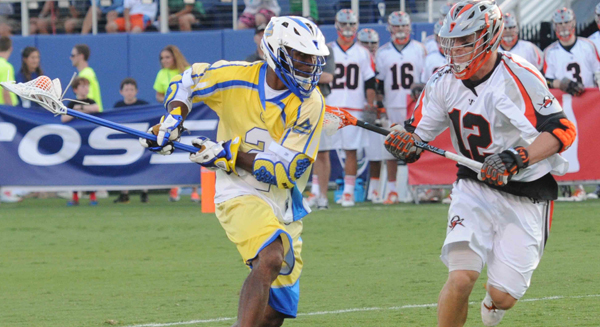 2018 Florida Launch Home Schedule at FAU Stadium
April 28 vs. Chesapeake, 7 pm
May 6 vs. Denver, 4 pm
May 10 vs. Boston, 7pm      
May 19 vs. New York, 7:30 pm
May 26 vs. Dallas, 7pm
July 7 vs. Ohio, 7pm
July 28 vs. Atlanta, 7pm
---
The 57th Annual Senior Amateur Championship Tees Off in The Palm Beaches
The top 144 senior amateur golfers from across Florida will converge on The Palm Beaches for the 57th Senior Amateur Championship. The Florida State Golf Association (FSGA) will host its Senior Amateur Championship at the Mayacoo Lakes Country Club, located in West Palm Beach, on April 10-12, 2018. The tournament features 54-holes of stroke play. Participants who make it to the final 144-player field will play 36-holes before being cut to the low 60 and ties after the second round. Thursday, April 12 the last 18 holes of the championship will be played.
In order to be eligible to compete in the Senior Amateur Championship, players must have reached their 55th birthday on or before the first round of the championship, be an amateur golfer and also must be a member of the Florida State Golf Association. The FSGA stages six (6) qualifying events that are gateways to competing at the Amateur Championship.
Host club Mayacoo Lakes will be a great experience from the parking lot to the 18th green for the seniors competing in the championship. No hole at Mayacoo Lakes will penalize a good shot nor face a layup. This challenge is the result of the thinking of renowned course designer (and competitor) Jack Nicklaus. First opened in 1972, the club boasts lush vegetation, a plethora of water hazards, and smooth rolling fairways and greens. Playing between 6,500-6,600 yards, shot placement will be a must on this course, with 13 holes featuring some water hazards waiting to snag an errant tee or approach shot at a moment's notice.
The FSGA conducts more than 520 tournament days each year, including 38 state championships, and over 45 days of United States Golf Association (USGA) qualifying events. The FSGA will bring a total of three (3) events to The Palm Beaches in 2018.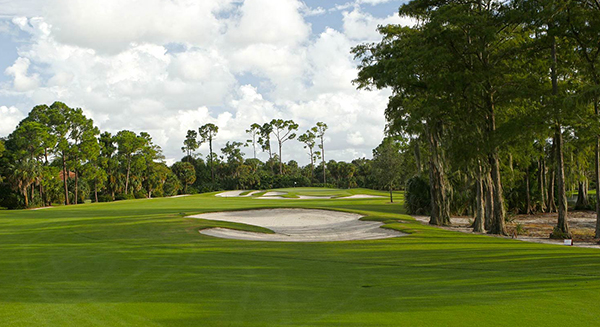 ---
The Florida Motorcycle Road Racing Association speeds into
Palm Beach International Raceway
The Florida Motorcycle Road Racing Association (FMRRA) is becoming one of the state's most competitive circuits in motorsports. FMRRA Series is an 8-race regional championship, with five events held at the Palm Beach International Raceway. These events are sanctioned by the American Motorcyclist Association (AMA), with points used as qualifiers for the national MotoAmerica series. On each race weekend, practice and qualifying take place on Saturday with racing taking place on Sunday.
FMRRA's season begins in November and concludes at the end of June. FMRRA's final stop at the Palm Beach International Raceway will take place on May 5-6. Racers from all over Florida, and the southeast region of the nation to compete as the season comes to an end. Over 100 racers participate during each weekend of FMRRA racing. Racers compete in various divisions, which are determined by skill level, motorcycle style, and engine size.
Although FMRRA events primarily occur at Palm Beach International Raceway, the circuit will also visit other Florida motor speedways, which include Jennings GP, Homestead Miami Speedway, and Roebling Road Raceway.
Palm Beach International Raceway boasts a 10-turn, 2.2-mile road course with some of the fastest and most challenging corners and straightaways offered by any track in North America. This road course is currently approved as a Indy Car testing facility. It also showcases a seamless table-top smooth finish, full lighting, S.A.V.E. soft barriers, run-off areas and is home to the Palm Beach Driving Club. It's all or nothing, only at PBIR's road course.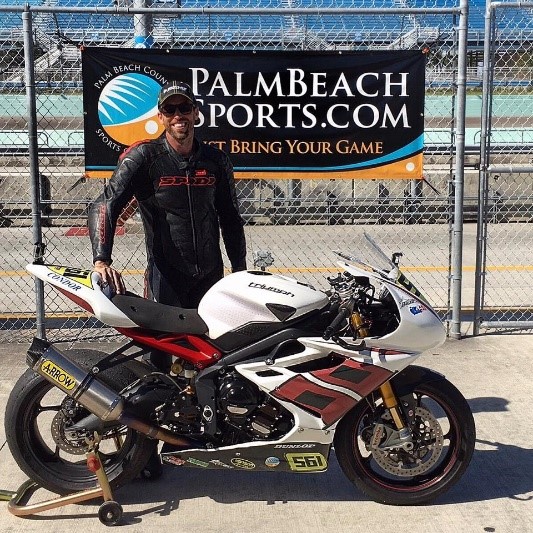 ---
Check out this video for a sampling of Palm Beach County Sports Commission
events in 2018!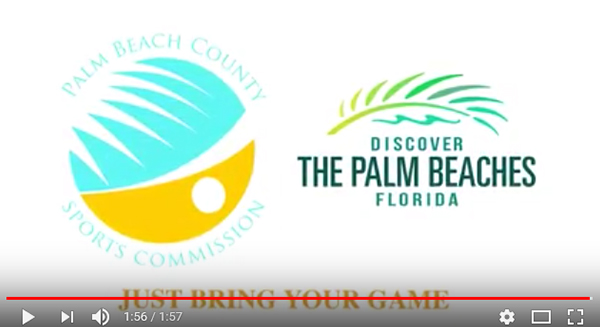 ---
The 2018 Palm Beach County Sports Hall of Fame Award Celebration took place last month. FAU's Head Football Coach, Lane Kiffin, and stand out running back Devin Singletary, both went home with awards.  This year, six of Palm Beach County's sports icons  were inducted into our prestigious HOF. Check out local news coverage provided
by ESPN West Palm.

---

Connect With Us!