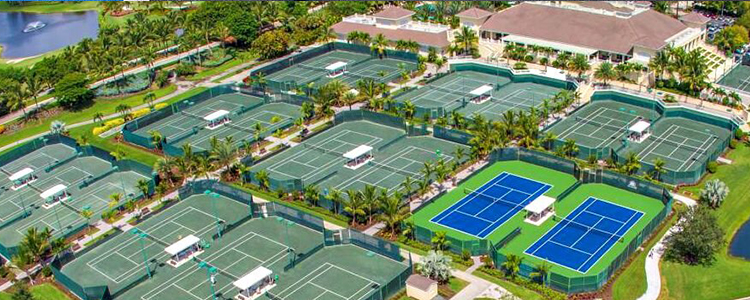 2020 ITF Seniors (50-55-60)
World Team Championships

 
EVENT INFO

The 2020 Seniors (50-55-60) Team Championships will take place in Boca Raton, Florida from Sunday April 26th to Saturday May 2, 2020. The Individual Championships will be played at BallenIsles Country Club, Mirasol Country Club, PGA Resort and the City of Palm Beach Gardens Tennis Center starting May 2- 9, 2020.
50 Men's Event is at Woodfield Country Club
50 Women's event is at Boca Grove Country Club
55 Men's and Women's event at The Polo Club of Boca Raton
60 Men's and Women;s event at Boca West Country Club
Fans are invited to attend the Opening Ceremonies where 500 players from 40 different countries will be presented in an Olympic format at the Polo Club of Boca Raton at 5pm Saturday April 25.
Viewing is free of charge on all days. Spectators must contact each site to gain gate access.
The tournament offers singles, doubles and mixed doubles as well as a singles consolation draw for first match losers. Ranking points are available in the singles main draw and consolation.
Find your playful side while exploring the diversity of things to do in South Florida. 
Create new family memories when you get up close to 1,000-plus animals as you drive through Lion Country Safari or meet animals of the tropics at the Palm Beach Zoo. Scream at the top of your lungs when you experience that "zero-g feeling" riding Big Thunder at Rapids Water Park. After the thrills, be sure to let the family experience some Florida history and panoramic scenery at the historic Jupiter Inlet Lighthouse & Museum.
 
For those that love to play in the sun, this is where you'll find the most adventuresome things to do in Florida. Start the day watching the sun rise out of the Atlantic from peaceful Delray Beach atop your stand-up paddleboard. For some real adventure, get up close to gators on a Florida Everglades airboat tour with Airboat Rides West Palm Beach, or come face to face with moray eels while diving at Blue Heron Bridge, one of Florida's best SCUBA diving sites. And no Florida getaway is complete without a round of golf in The Palm Beaches at one of more than 160 golf courses in Florida's Golf Capital.
 
After hours, West Palm Beach attractions lure you out to let loose and play in the tropics. Hit the boutiques and national brand shops at CityPlace and then hop on the free trolley to Clematis Street, where the warm ocean air makes walking between The Palm Beaches' best nightspots a breeze — literally. Enjoy a craft cocktail at the vintage-themed gastropub The Alchemist and then dance at the beach house-inspired club, Camelot.
 
To explore The Palm Beaches further, try the first fully interactive Selfie Trail in The Palm Beaches — perfect for the pics-or-it-didn't-happen crew. For more information click here