January 2019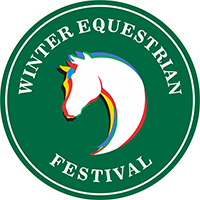 Equestrian Festival Dismounts in South Florida
The Palm Beach County Sports Commission is excited to announce the start of the Winter Equestrian Festival (WEF) 2019 season. The Winter Equestrian Festival and The Palm Beach County Sports Commission has produced a great partnership since 1994. The Winter Equestrian Festival has developed a rich 38-year history and will once again take place in The Palm Beaches. It is not only the largest sporting event in the county, but it is the longest running equestrian event in the world attracting international and national athletes to The Palm Beaches.
"The 2019 season will welcome equestrians at the three different main venues in Wellington, the Palm Beach International Equestrian Center (PBIEC), Equestrian Village, and International Polo Club Palm Beach (IPC), for another year of excellent competition and top sport. The Winter Equestrian Festival and Adequan® Global Dressage Festival remain the pinnacle of top-level jumping and dressage. said Carly Weilminster, Assistant Director of Marketing & Public Relations.
The 2019 season will be one of the most expansive Winter Equestrian Festival seasons yet. The Winter Equestrian Festival has been the pinnacle of equine competition in South Florida for more than four decades welcoming athletes and enthusiasts annually to contest one of the most competitive shows in the world.
"The exposure that Wellington receives from these three events from December through April is unrivaled, with 94.3% of visitors stating that the Winter Equestrian Festival was the main reason for their visit to Palm Beach, according to the 2018 Palm Beach County Sports Commission intercept survey. The attention of the equestrian world and industry focuses intently on the competition and progression of all three seasons in Wellington each winter. It gives competitors and emerging athletes in Jumping, Dressage, and Polo the ability to refine their skills, while also economically benefitting the economy of the local community. It is our organization's vision and goal to continue expanding opportunities for competitors who travel here for the winter season and remain committed to engaging with and ensuring that the village of Wellington benefits."
This events hosts 6,500 horses and thousands of riders from all 50 U.S. states and 52 countries. Participants will compete in jumpers, hunters, equitation and dressage classifications with prize money exceeding $8 million.
"Our team works year-round around the clock to ensure that events at all three venues run smoothly during the duration of the high season in Wellington. We manage operations at all three locations, including catering, hospitality, and activations, as well as operations on the equestrian competition side, which encompasses stabling, management, field and ring maintenance, and much more. We have an incredible team behind the scenes who are committed to ensuring the quality of competition is unmatched. Michael Stone, Vaneli Bojkova, Paul Regal, and David Burton all are essential members of the team who lead all of the moving pieces that make these competitions possible."
General admission is free throughout the season to all events. Each show week starts on Wednesday and concludes on Sunday with at least one major competition on a Saturday night or afternoon. For more information and a complete schedule of events, visit www.equestriansport.com.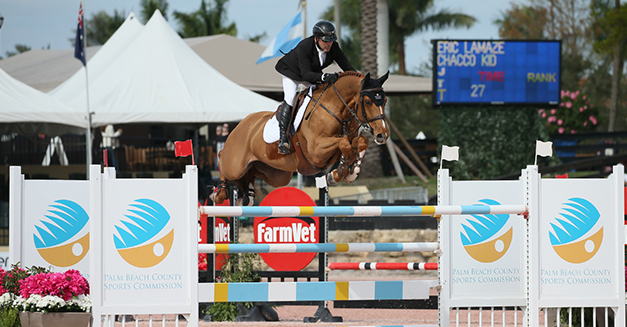 ---

ORANGE BOWL AND PALM BEACH COUNTY CELEBRATE
OPENING OF ORANGE BOWL FIELD AT
GLADES PIONEER PARK
The Orange Bowl Committee and Palm Beach County celebrated the opening of Orange Bowl Field at Glades Pioneer Park in Belle Glade, Fla., the Orange Bowl's fifth Legacy Gift to the South Florida community and first in Palm Beach County.
 
Representatives from the Orange Bowl Committee, Palm Beach County, city of Belle Glade, City of South Bay and City of Pahokee properly opened the park with a ceremonial ribbon cutting, along with OBIE (the Orange Bowl's official mascot).
 
The opening celebration, which was free and open to the public, featured interactive fun for kids and families including kids' games, bounce houses, food and drinks and much more.
 
The $3 million renovation of the existing football field at Glades Pioneer Park is the Orange Bowl's fifth Legacy Gift to the South Florida community. Renovations include a synthetic turf field and maintenance, an electronic scoreboard, an entry monument, fencing, walkways and signage.
 
The completion of Orange Bowl Field at Glades Pioneer Park, Orange Bowl Legacy Gift projects combined have provided nearly $16 million worth of improvements toward the beautification of the South Florida community and recreational park activities for residents and their families. These include, Moore Park in the city of Miami (completed in 2011), Carter Park in the city of Fort Lauderdale (completed in 2013), Ives Estates Park in Miami-Dade County (completed in 2015) and Harris Field Park in the city of Homestead (completed in 2017).
 
Orange Bowl Field at Glades Pioneer Park serves as the playing site for several teams from the Glades Youth Football League, which is a current member of the Orange Bowl Youth Football Alliance (OBYFA) presented by Metro by T-Mobile. In addition, many current and former NFL players from the area have used the field to conduct youth football camps.
 
The Orange Bowl has invested more than $7 million in South Florida Youth Sports Programs over the last 10 years. Now in its 20th year, the OBYFA presented by Metro by T-Mobile, benefits approximately 13,000 youth football players and cheerleaders in eight leagues reaching from Lake Okeechobee to Key West.
 
Legacy Gifts are one of the four pillars of Orange Bowl Community Outreach, which also includes fundraising and community events, academic programs and scholarships, and youth sports. For nearly 85 years, the Orange Bowl has been one of South Florida's leading civic organizations, promoting championship sporting events, related premier entertainment and other year-round activities to inspire youth, engage our community and enhance the South Florida economy.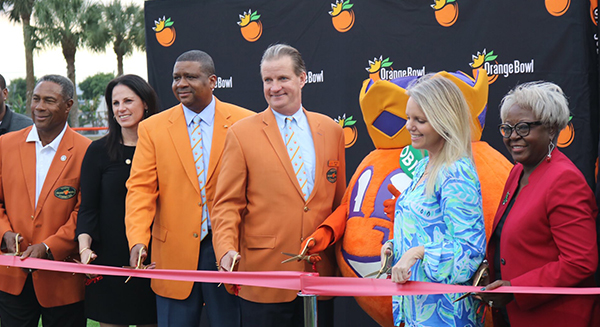 ---

PGA Tour Champions Event Announced Oasis Outsourcing
as Title Sponsor
In Boca Raton, on Dec 11. 2018, PGA Tour Champions announced Oasis Outsourcing as the title sponsor of the Oasis Championship, which is a premier PGA Tour Champions event held annually. Oasis Outsourcing is the nation's largest privately-held Professional Employer Organization and a three-year agreement is in place through 2021. It is also based out of West Palm Beach and recently named in South Florida Business Journal's Fast 50 list. It was also ranked as the number 3 private company on the South Florida Business Journal's annual list of the top 100 private companies in the area.

"We are excited that the Oasis Championship will continue bringing world-class golf to Boca Raton," said Mark Perlberg, President and CEO of Oasis Outsourcing. "This sponsorship continues our tradition of supporting the local community, and we are proud to help keep this key event in the Palm Beaches.

On February 4-10, 2019 there will be the first full-field event of the PGA TOUR Champions season which will be played at The Old Course at Broken Sound for its 13th consecutive year. The 2018 tournament featured a final-round showdown between Mark Calcavecchia and Boca Raton resident and World Golf Hall of Farmer Bernhard Langer. Calcavecchia completed the wire-to-wire victory for his fourth career win.

"The city of Boca Raton has been instrumental in the event's growth, and our partnership with Oasis will make this tournament even stronger," said Miller Brady, President of PGA Tour Champions. "The players love starting the year in Boca Raton and The Old Course at Broken Sound is a great venue for our first full-filed event of the season."

In 2019, the 78-player field will compete for $1.7 million and all three rounds will be televised live on Golf Channel. "The Oasis Championship makes an incredible impact on the Boca Raton community, with charitable contributions totaling $1.7 million since the tournament's inception," said Eddie Carbone, Tournament Director of the Oasis Championship. "With a great local partner in Oasis, we're looking forward to building on the tournament's longstanding tradition in South Florida."
---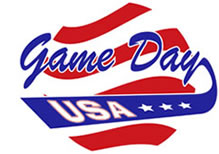 Game Day USA: Swing Big, Hit Big
Palm Beach County Sports Commission will partner with Game Day USA to announce 2019 Junior-All American Games January 18th – 20th at FITTEAM Ballpark of the Palm Beaches and Jupiter Community Park. "We have a great group of high school and college coaches involved again this year, so I feel the instructional component will be even better than last year. We also have a lot of great players from over 25 states already registered for this event," Mike Moyzis, VP of Special Events.

Game Day USA is a sports event management company that specializes in athletic weekend events supporting family vacation destinations. This organization offers sport tourist hotels, attractions and restaurants that will appeal to their liking. "We always try to create an educational component within our events. The position specific baseball instructional component of this event is important, and we have an excellent staff to administer this portion. Developing leadership, respect, teamwork all are important ingredients for kids off the field and in their daily lives. Our staff does a great job of delivering this message. The opportunity for our participants to spend time with their families and meeting new friends is also important," Mike Moyzis, VP of Special Events.

This event is expected to generate over a million dollars in economic impact and over a thousand hotel room nights. "We have an outstanding team here at Game Day USA that help execute the proper processes and logistics that go along with hosting this event. We also have a great cooperation from The Palm Beach Sports Commission who does a great job helping us secure facilities and planning. And Brady Ballard GM at FITTEAM Ballpark of the Palm Beaches is outstanding to work with."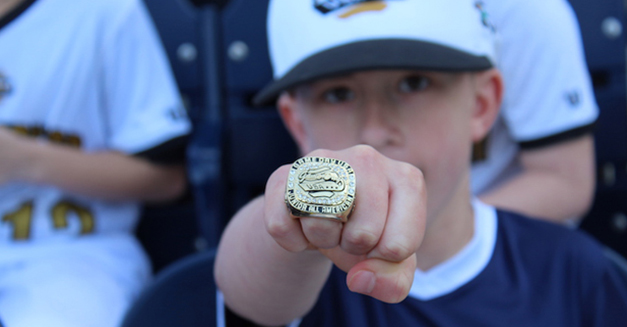 ---
Governor's Baseball Dinner To Be
Held In Palm Beach County February 17th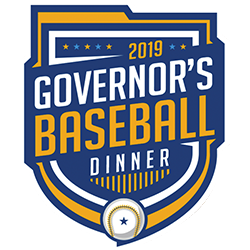 The Governor's Baseball Dinner, a celebration of a new season of Major League Baseball Spring Training in Florida, makes its second stop in Palm Beach County in the last five years when the Kravis Center for the Performing Arts, in West Palm Beach, hosts the event on Sunday, February 17.
 
"This will be an exciting evening showcasing one of America's greatest pastimes," said Florida Sports Foundation President & CEO, Angela Suggs.  "Now with two stadiums and four teams in Palm Beach County, the area has become a prime spring training destination.  We are honored to continue this historic event once again in West Palm Beach."
 
The 2019 Governor's Baseball Dinner begins at 7:00 p.m. as dinner will be preceded by a VIP Reception and meet and greet.  MLB Commissioner Rob Manfred is scheduled to attend along with representatives from many of the 15 teams who annually train in Florida, along with a number of baseball greats.
 
Tables for the event, which seat 10, are priced at $1,200 and includes admission to pre-dinner reception. A limited number of VIP tables of 10 are available at $2,000 and includes access to a VIP Baseball Legends Reception.  Individual seats are $135. Baseball fans in attendance will also have the opportunity to bid on silent auction items from Florida's Spring Training teams.
 
Table and seat purchases can be made online at www.palmbeachsports.com. For more information, call the Palm Beach County Sports Commission at (561) 233-3096 or the Florida Sports Foundation at (850) 298-6638.
 
A 2018 Economic Impact Survey showed the Florida Grapefruit League brings $687.1 million annually to the state's 12 locations during the months of February and March and attracts 1.5 million fans a year.
 
Spring Training Baseball in Palm Beach County dates back to 1928 when the Baltimore Orioles came to the area and stayed through 1938.  Since that time, the Kansas City/Oakland Athletics (1946-62), Atlanta Braves (1963-97), and the Montreal Expos (1969-72 and 1981-97) called West Palm Beach home. 
 
Roger Dean Chevrolet Stadium, in Jupiter opened in 1998, and has hosted the St. Louis Cardinals, the Washington Nationals, and Miami Marlins at that location.  FITTEAM Ballpark of the Palm Beaches opened in 2017 and has been the spring training home of the Houston Astros and Washington Nationals the last two seasons.
 
The Florida Sports Foundation, a Division of Enterprise Florida, Inc., and the state's lead sports promotion and development organization, has partnered with the Palm Beach County Sports Commission to stage this year's celebration.

The Palm Beach County Sports Commission is a private, not-for-profit organization contracted by Palm Beach County to promote and market the County as a sports and sports tourism destination.  The Commission brings sporting events and activities to the County, enhances economic impact, stimulates bed tax revenues (with a focus on the off-season), and maximizes utilization of County facilities. 

For 2019 Florida Spring Training schedules for all 15 teams beginning on Saturday, February 23, visit www.floridagrapefruitleague.com.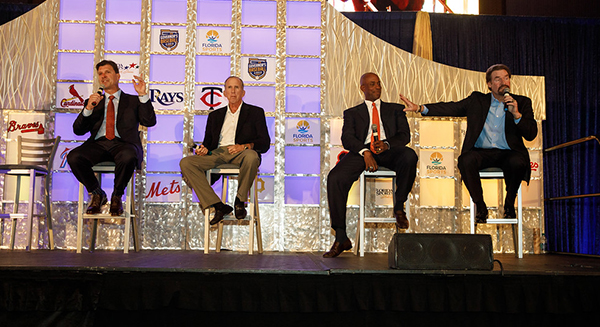 ---
The Men's Senior Baseball League (MSBL)/Men's Adult Baseball League (MABL) is the premier amateur baseball league for adults 18 years of age and older. Check out some highlights from the Fall Classic
.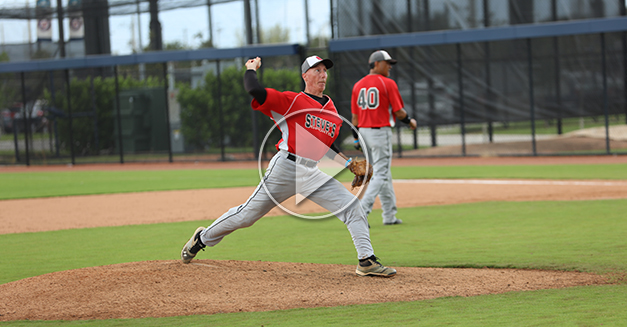 ---
South Florida Weekend showcases why the National Hockey Festival is the largest field hockey tournamnent in the world.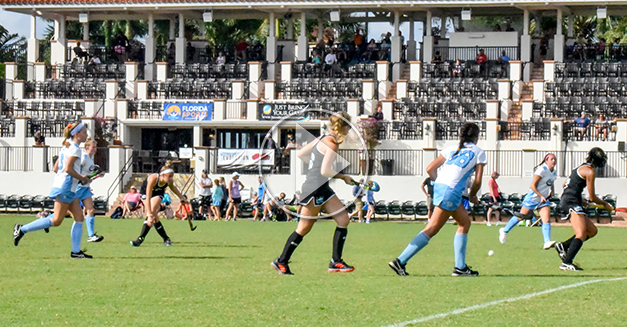 ---

Connect With Us!