West Palm Beach, FL - The Palm Beach County Sports Commission is pleased to announce this year's winners of its second annual scholarship awards.  This scholarship is for students who exemplify sportsmanship, teamwork, citizenship and character development as accomplished through sports, sports activities, a healthy lifestyle and dedication to physical fitness.
The Palm Beach County Sports Commission Scholarship of $2,500 has been awarded to each of four Palm Beach County graduating seniors who have been accepted into a four-year university or college. Each Palm Beach County school was able to nominate two students for this scholarship opportunity. 
"Choosing from such an academically accomplished pool of candidates was extremely difficult.  This scholarship illustrates how the qualities of character, teamwork and leadership developed through participation in sports can have a positive impact on their work in the classroom." said Sports Commission Scholarship Committee Chairman, Guy Quattlebaum.
The following four scholarship award winners will be recognized with a Certificate of Scholarship presentation at their respective high schools.
Christian Brown is graduating from Atlantic High School with a 4.6 HPA. He was a state competitor and finalist in track and field, and was recognized as an All-American for the 110m hurdle. The Sun-Sentinel honored Brown as their Athlete of the Year in 2016. He excelled in football as well, by being recognized in 2015 as the JV MVP of the year and was part of the regional finalist team in 2015, 2016 and 2017. Brown spent his extra time, heavily involved with the Palm Beach County Youth Football League where he mentored and coached youth football players. He plans to continue his education at Princeton University.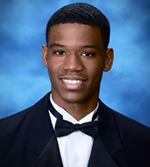 Ty Hands is graduating from Palm Beach Lakes Community High School with a 4.9 HPA. He not only succeeded in track and field, but was named captain of his varsity basketball team two years in a row and took the team to the 8A Florida High School Athletic Association Final Four both years. Hands received numerous honors and awards throughout his high school career including Senior Valedictorian in his class of 559 students, Harvard University Book Awards recipient and was named a Wendy's Heisman Scholarship State Finalist.  He plans to attend Florida State University.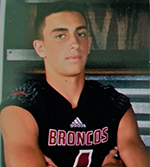 Justin Kolnick is graduating from Palm Beach Central High School. With a 4.3 HPA, he's finishing in the top 8.5% of his class of 733 students. For the past two years, Kolnick participated in the National Honor Society and also completed his Advanced International Certificate of Education (AICE) Diploma. Alongside academics, Kolnick was part of Palm Beach Central's All-Academic Team (players with GPA3.0 and above) for the past three years and earned All-County as a Cornerback. He plans to continue his education at the University of Miami.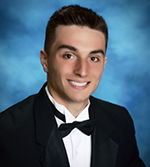 Jason Pieri is graduating from Park Vista Community High School. He has a 5.11 GPA and ranked 3rd in his class of over 750 students. Pieri earned his Advanced International Certificate of Education (AICE) Diploma with Merit and is an AP Scholar with Distinction. He received the John Hopkins Book Award, and will also graduate as a Certified Medical Administrative Assistant and Phlebotomy Technician from Park Vista's Medical Science Academy. Pieri was a successful multi-sport athlete, participating in football, track and weightlifting. He plans to attend the University of Florida in the fall.