April 2017


The Palm Beaches To Host The Florida High School 
Lacrosse State Championships
The Florida High School Athletic Association (FHSAA)  will partner with the Palm Beach County Sports Commission (PBCSC) and Jupiter Community High School to hold the Florida High School Lacrosse State Championships at Velocity Community Credit Union Stadium on the campus of Jupiter High School from April 28-29, 2017 for the second year in a row. 
Each spring, approximately 175 senior high schools across Florida compete in the FHSAA Boys and Girls Lacrosse Series (Districts, State Play-ins, and State Championships) for the right to be proclaimed FHSAA State Champions. Four (4) boy's teams and four (4) girl's teams will qualify for the state championships by making it through Districts, and then three (3) additional rounds of "play-in games."  
In 2017, the FHSAA  Lacrosse State Championships will consist of four (4) semi-final games on Friday, April 28 which include 2 games in the girls' division and 2 games in the boys' division.  On Saturday, April 29, this event will feature its championship games for both genders. 
Each year the FHSAA sponsors over 3,600 post-season championship contests through which 141 teams and 294 individuals are determined and crowned state champions in 32 qualifying sports (16 boys and 16 girls). Over 2,000 student athletes annually gain the experience of winning a state championship. Through participation in these athletic programs, nearly 800,000 students annually are extended opportunities to receive lessons in the Association's core values: leadership, sportsmanship and citizenship.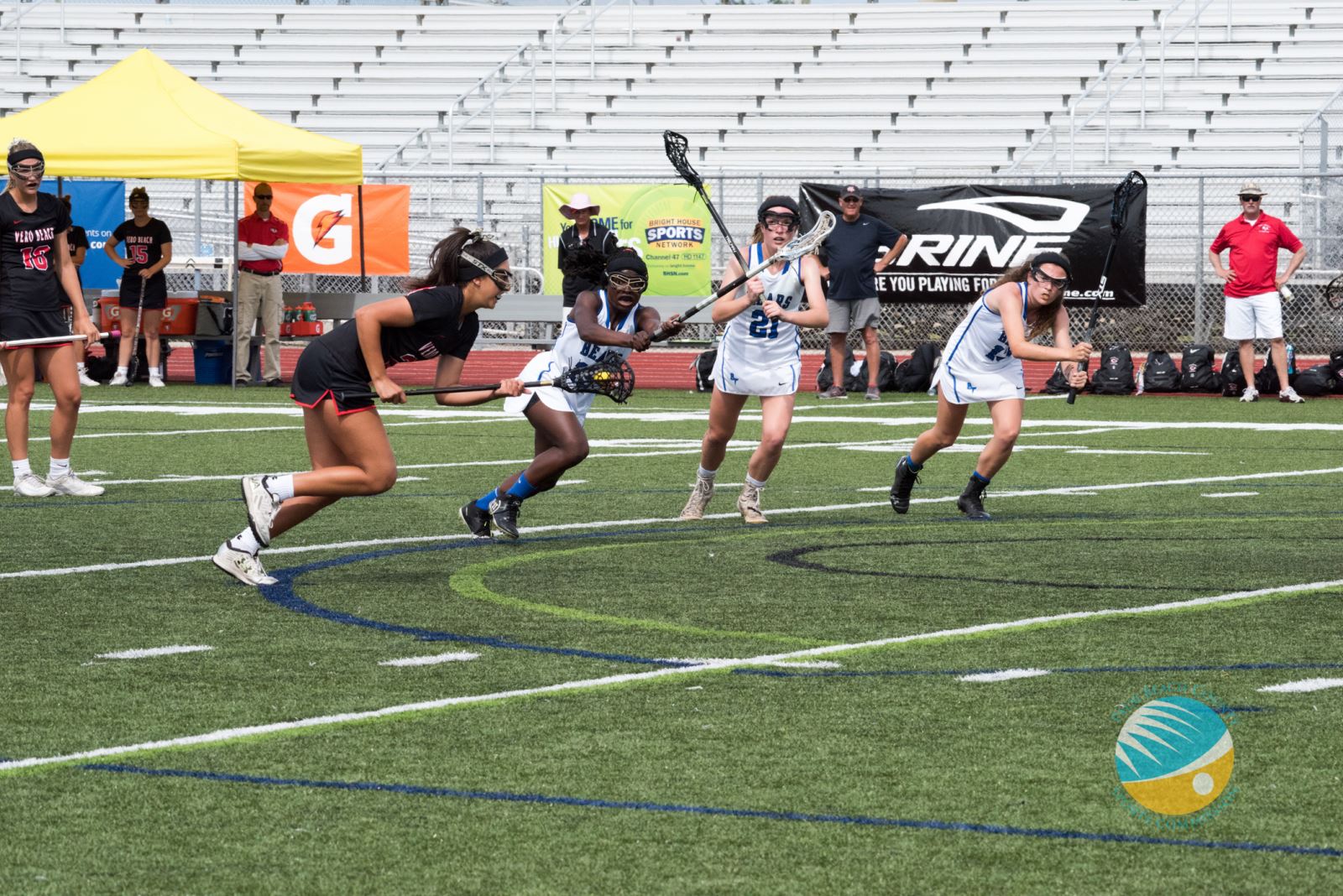 ---

Summer Baseball Is a Home Run For The Palm Beaches
Palm Beach County is a nucleus for baseball, America's national pastime. Approximately 800 teams involving over 13,700 athletes are expected to compete in 16 amateur baseball tournaments on a statewide, national, and international level in Palm Beach County this summer. The participating players, coaches, and visitors will create more than 22,800 hotel room nights and generate over $10 million of economic impact for The Palm Beaches. Due to the outstanding baseball facilities, the tropical climate and a strong resume of prestigious baseball events, Palm Beach County has a competitive advantage when it comes to attracting and hosting baseball tournaments and showcases. The summer of 2017 will bring excitement due to the world of amateur baseball, both on the field of play and off the field for the local economy.
Few communities have baseball venues such as Palm Beach County.  Roger Dean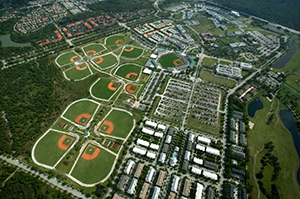 Stadium, located in Jupiter, is home to the Miami Marlins and the St. Louis Cardinals and the Ballpark of the Palm Beaches, located in West Palm Beach is home to the Washington Nationals and Houston Astros during the Major League Baseball (MLB) spring training season. Roger Dean Stadium and the Ballpark of the Palm Beaches are the only spring training baseball complexes in Florida that are built to accommodate two MLB baseball teams for spring training.  Both of these facilities consist of marquee stadiums that offer more than 7,000 seats.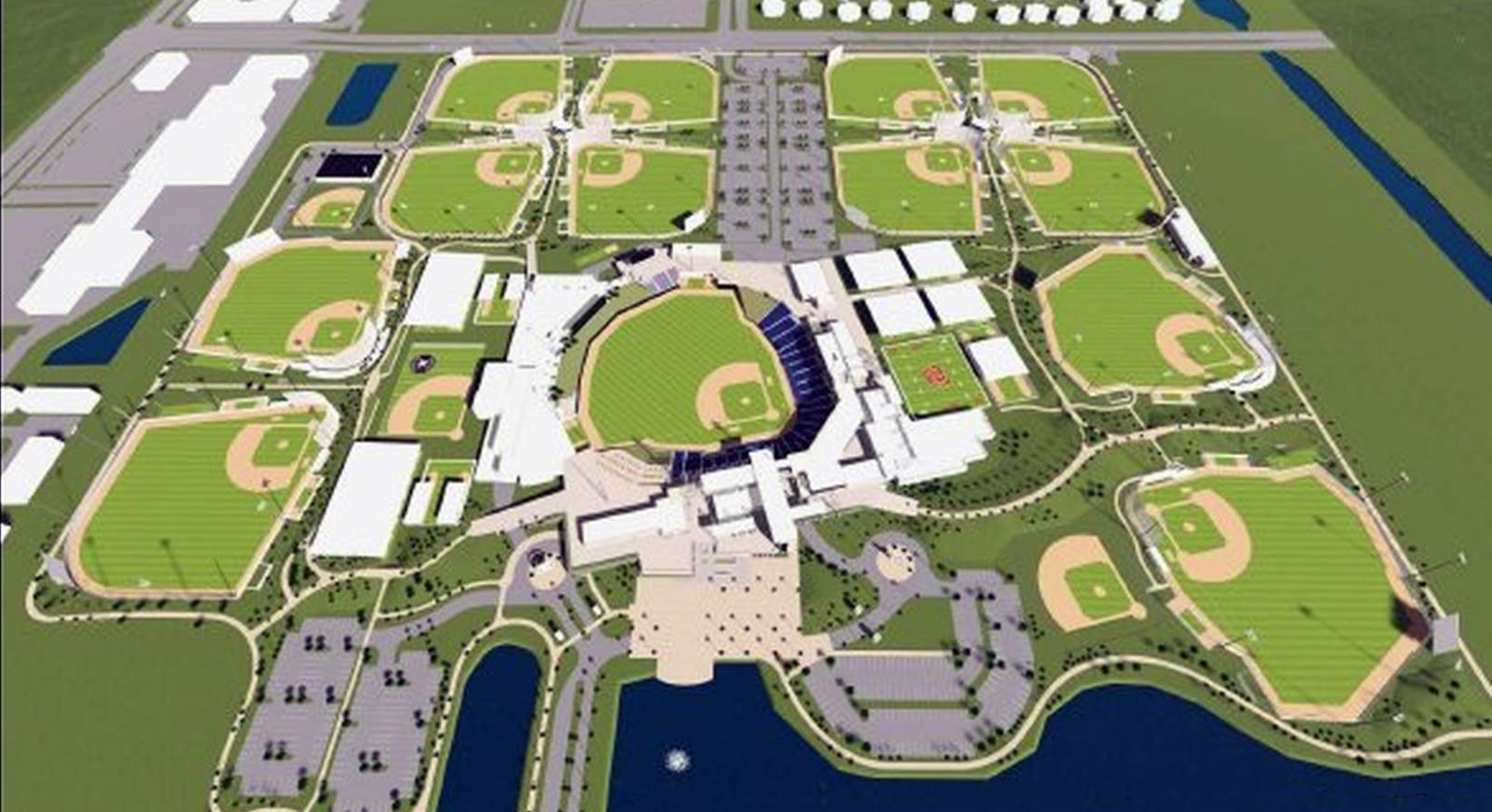 Including the stadiums and practice fields, the two complexes offer a total of 26 diamonds. Palm Beach County is also home to the Santaluces Athletic Complex, the former spring training facility for the Montreal Expos. Located in Lantana, this complex maintains a quad of major league baseball size fields. Due to this cluster of baseball diamonds, Palm Beach County will host some of the nation's largest baseball tournaments. 
The most prestigious amateur baseball tournament in the United States returns to Palm Beach County this June.  The USA Baseball National Team Championships will take place at Roger Dean Stadium, the Ballpark of the Palm Beaches, and the Santaluces Athletic Complex. An estimated 120 teams consisting of more than 2,000 athletes from across the nation will contend for titles in the 14U, 15U, and 17U age groups.  The 14U and 15U tournaments will take place from June 16-23, while the 17U tournament is slated for June 23-30. More than 350 baseball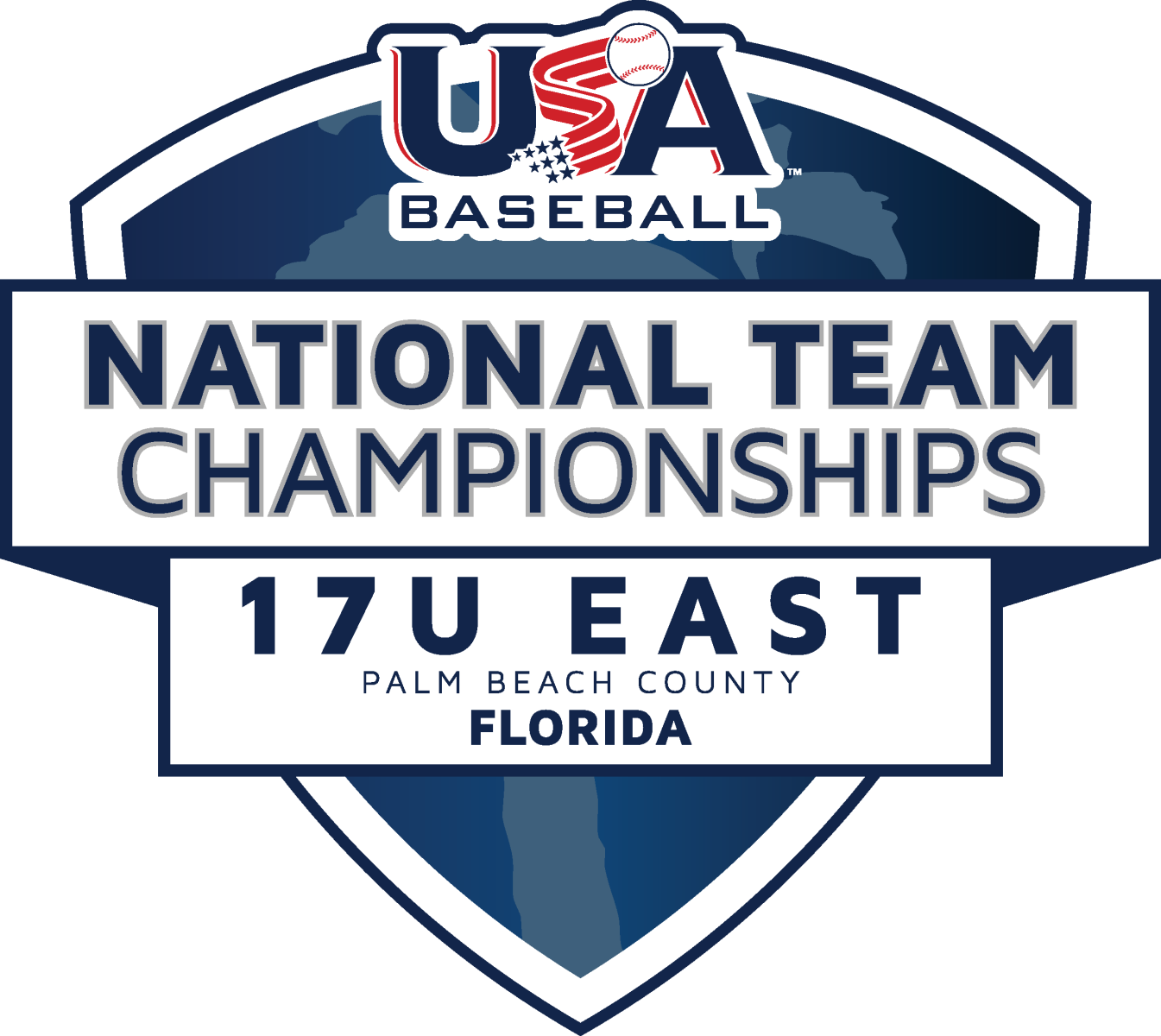 games will take place during the two-week stretch.  USA Baseball is expected to generate over 6,500 room nights and $3 million in economic impact.  USA Baseball is the national governing body for its sport, presiding over 12 million amateur players annually. USA Baseball scouts, recruits, and selects players that compete in these tournaments to participate on its National Teams, which will represent the United States during international competition.  
The Palm Beach County Sports Commission is partnering with the Ballpark of the Palm Beaches, Roger Dean Stadium, and Palm Beach County Parks and Recreation to bring the third largest high school age baseball tournament in the nation to the county. Prospect Select Baseball will relocate its National Showcase to Palm Beach County and rebrand it as the Palm Beach Classic. 

The Prospect Select Baseball – Palm Beach Classic will utilize 30 diamonds at the Ball Park of the Palm Beaches in West Palm Beach, Roger Dean Stadium in Jupiter, and the Santaluces Athletic Complex in Lantana.  This event, which is scheduled for June 9-14, 2017, will feature 250 teams consisting of 4,250 players and 9,000 total participants (athletes, coaches, & spectators).  Teams will compete in a wood bat only tournament, featuring three age groups (14U, 16U, & 18U).  This tournament will attract elite travel teams from across the United States, Canada, Puerto Rico, Venezuela, Dominican Republic, and the Bahamas. Some of the nation's premier high school baseball players will be competing in this tournament.  Due to the talent that will be showcased, an influx of collegiate and professional baseball scouts will travel to The Palm Beaches.  
The Palm Beach County Sports Commission is partnering with Team One Baseball to bring

three of its nine Under Armour Team One Baseball National Tournaments to The Palm Beaches. Roger Dean Stadium will be home to the Under Armour Memorial Day Classic on May 26-29, the Under Armour Firecracker Classic on July 7-11, and the Under Armour September Classic on September 15-17. These three events are wood composite bat tournaments, attracting high-level 18U, 16U, and 14U travel teams from across the country. Following this talent is a substantial number of professional and collegiate baseball scouts. These tournaments will attract over 140 local and traveling teams, producing over 1,300 room nights and more than $600,000 of economic impact for Palm Beach County.
Perfect Game is bringing two (2) amateur baseball tournaments to the Ballpark of the Palm Beaches this summer.  Perfect Game's Palm Beach Classic will take place on July 1-5 and Perfect Game's Tucci Lumber Endless Summer Classic will occur from July 14-17.  Each tournament is comprised of the 13U, 16U and 18U age brackets. Both tournaments combined will attract approximately 100 teams and 1,500 athletes from across Florida and the southeast region of the country. The Perfect Game tournaments will generate over 1,700 room nights and $650,000 in visitor spending.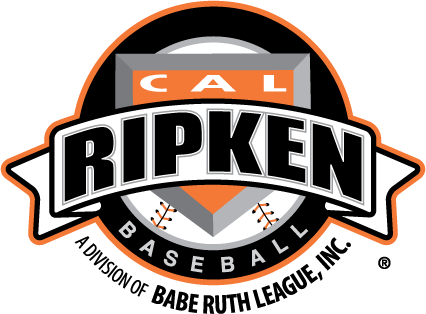 Cal Ripken Baseball will host two rookie (7-8 year olds) tournaments in Palm Beach Gardens during the summer of 2017, which includes the Cal Ripken Baseball Rookie State Championship on June 28-July 2 and the Cal Ripken Southeast Regionals on July 18-22.  Both of these events will take place at Gardens Park, which maintains 8 lighted youth fields and 7 batting cages. Gardens Park is one of the premier youth baseball complexes in Palm Beach County.  In total, these two events will attract an estimated 70 teams consisting of more than 900 athletes.  Cal Ripken Baseball will be responsible for more than 2,000 room nights. 
The National Beep Baseball Association (NBBA) will bring its World Series of Beep Baseball to The Palm Beaches during the summer of 2017. The NBBA World Series of Beep Baseball will make its Palm Beach County debut on July 23-29.  The games will be played at Village Park in Wellington. 
A total of 24 teams and over 300 athletes from across the United State, Canada, and Taiwan will travel to The Palm Beaches in pursuit of a world championship.  This event will provide a considerable tourism boost to the local community.  Over 1,200 room nights and $500,000 in visitor spending will be created.  
The goal of the World Series of Beep Baseball is to offer individuals who are blind or visually impaired an opportunity to compete for a baseball championship. The NBBA World Series is one of the most renowned sports events for visually impaired athletes.
Whether it is wood bats or metal bats, highly talented travel teams or little leaguers just learning to play the game, baseball fields across Palm Beach County will be active this summer. America's pastime will have a presence that is not easily replicated anywhere else throughout the United States. These baseball events promote Palm Beach County as an elite baseball destination and are significant contributors to the sports tourism industry.
Below summarizes the projected impact derived from amateur baseball this summer:
•    16 amateur baseball tournaments with state, regional, and national impact
•    Estimating 13,744 athletes (traveling and local baseball players)
•    Projecting over $10 million of economic impact derived from these baseball tournaments
•    Projecting 22,893 hotel room nights 
•    Projecting more than 2,000 baseball games
•    Age groups from 8u to 18u  
•    The largest event will utilize as many as 30 diamonds at once / games starting from 8am to 8pm
---
Amateur Tennis Players From Across The
Globe Will Visit Delray Beach

The Delray Beach International Tennis Federation (ITF) Championships will take place at the Delray Beach Tennis Center and the Delray Swim & Tennis Club from April 29-May 6, 2017. This international tennis tournament consists of both boys and girls divisions in the 18 and under age group.   The main singles draw consists of 64 boys and 64 girls, while a separate qualifying draw hosts another 64 boys and 64 girls. These 256 players will also compete in a doubles draw of 64 teams per gender.  Athletes will travel from more than 20 different nations to compete in this prestigious week-long event.  
The event is produced by Player's International Management, which conducts 8 amateur tennis tournaments  throughout the year.  These events attract thousands of visitors to the Palm Beaches while filling thousands of hotel rooms.   Tennis is a major contributor for sports tourism in the Palm Beaches.    
---
Palm Beach County Sports Commission
Announces Winners of Inaugural Scholarship
West Palm Beach, FL - The Palm Beach County Sports Commission is pleased to announce this year's winners of its inaugural scholarship awards.  This scholarship is for students who exemplify sportsmanship, teamwork, citizenship and character development as accomplished through sports, sports activities, a healthy lifestyle and dedication to physical fitness.
The Palm Beach County Sports Commission Scholarship of $2,500 has been awarded to each of four Palm Beach County graduating seniors who have been accepted into a four-year university or college. Each Palm Beach County school was able to nominate two students for this scholarship opportunity. 
"Choosing from such an academically accomplished pool of candidates was extremely difficult.  This scholarship illustrates how the qualities of character, teamwork and leadership developed through participation in sports can have a positive impact on their work in the classroom." said Sports Commission Scholarship Committee Chairman, Guy Quattlebaum.
The following four scholarship award winners will be recognized with a Certificate of Scholarship presentation at their respective high schools.
Austin Cavallo is graduating Palm Beach Central High School with a 5.0 HPA and a class ranking of 6/752. Cavallo served as team captain of the Palm Beach Central High School Varsity Lacrosse Team for the past 2 years. He is also involved in various extracurricular activities at his school including the Math Honor Society (Mu Alpha Theta) where he participates in weekly math labs to help students of all grade levels improve their math skills. He will be attending the University of Florida this upcoming fall.
 
Gregory Terrell Seabrooks is a senior at Oxbridge Academy of the Palm Beaches.  He is a member of his school's Varsity Lacrosse Team and is also captain of the Palm Beach Revolution travel lacrosse team.  He serves as class president and is a member of the National Honor Society.  Graduating with a 4.2 GPA, Seabrooks is a team captain of his school's Varsity Debate team, obtaining a top 5 national ranking for Congressional Debate. He will be attending Princeton.
 
Austin Lukasik is a senior at William T. Dwyer High school with a HPA of 4.8 and ranked top 7% of his graduating class. As Varsity Co-Captain of his schools soccer team and Vice President of the Future Doctors and Dentist club, Lukasik also takes his time as a soccer buddy volunteer in the TOPS program for disabled children. Lukasik has been accepted into Vassar College for this fall.
To complete this year's group of scholarship winners is Milan Bolden-Morris from Cardinal Newman High School who excels in the basketball court as well as the classroom with a 4.5 GPA.  She has broken her high schools records for scoring and for the most 3-point shots.   As a 4-year Varsity letter player, she also is a part of the year-round Nike travel team The Miami Suns. She will be attending Boston College in the fall on a pre-med track with her goal of becoming an orthopedic surgeon.
---
Check Out Highlights From This Year's Palm Beach County Sports Hall of Fame Awards Celebration!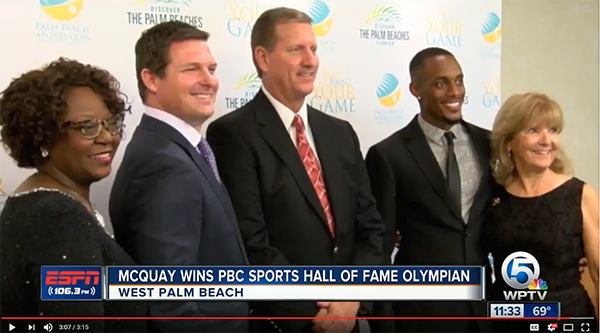 Connect With Us!