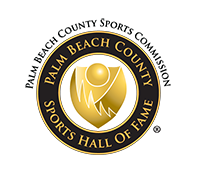 Palm Beach County Sports Hall of Fame Announces Annual Sports Award Finalists
WEST PALM BEACH, FL – The Palm Beach County Sports Commission (PBCSC) announces 12 finalists and three awardees for the 2014 Hall of Fame Annual Sports Awards.  Annual sports awards and honorees include Amateur Athlete of the Year, Coach of the Year, High School Athlete of the Year (male and female), Andrews-Ceravolo High School Coach of the Year, Professional Athlete of the Year and Outstanding Sports Contributor of the Year.  The recipients of the annual sports awards will be recognized at the 2014 Palm Beach County Sports Hall of Fame Banquet, presented by Lytal, Reiter, Smith, Ivey & Fronrath, held at the Palm Beach County Convention Center on Sunday, March 23 beginning at 5:00pm.
2014 Annual Award Winners include:
Amateur Athlete of the Year
Tre Mason, Auburn University, Football
The former Park Vista High School star continues to impress while at Auburn. The 5-10, 205-pound junior running back was a Heisman Trophy finalist in 2013. Mason rushed for 1,621 yards on 283 carries (124.7 yards/game). He also had a team-high 15 kickoff returns for 395 yards and 1 TD. Mason punctuated his outstanding season in the SEC Championship Game against Missouri, rushing 46 times for 304 yards and 4 touchdowns. Mason set 2 Auburn records in 2013 – rushing TDs in a season (22) and all-purpose yards (2,137 yards) – surpassing Bo Jackson in both categories. Mason was a first-team All-SEC selection.
Professional Athlete of the Year
Jarrod Saltalamacchia, Boston Red Sox, Baseball
As the starting catcher for the Boston Red Sox in 2013, Jarrod Saltalamacchia led the Red Sox to their third World Series Championship in the last 10 years.  The Royal Palm Beach High School graduate played 121 games and finished with a .273 batting average, 14 home runs and 65 RBIs. The Wellington resident also smashed 40 doubles, scored 68 runs and had a .466 slugging percentage. He was considered an offensive threat among catchers in 2013, finishing second in doubles, fourth in slugging, ninth in RBIs and 13th in home runs.  Jarrod was selected in the first round of the 2003 amateur draft (36th overall) by the Atlanta Braves. In the off-season, Saltalamacchia signed a three-year contract with the Miami Marlins.
Outstanding Sports Contributor of the Year
Malachi Knowles -Inner City Youth Golfer's Inc.
Founder of Inner City Youth Golfers', Inc., the African American Golfers Hall of Fame and the African American Collegiate & Youth Golfers Hall of Fame, Malachi Knowles has made a great impact in Palm Beach County.  Malachi founded the Inner City Youth Golfers, Inc. (ICYG) with a vision to make inner cities better places to live, work, and enjoy life through the sport of golf.  ICYG is specifically an academic excellence and golf program that uses the excitement, etiquette, rules, behavior, dress, and manner about golf to help teach inner city children and make them future role models.  ICYG provides golf on a scheduled basis after school, on the weekends, and holidays.  School teachers, law enforcement officials, and community role models serve as mentors while professional and amateur golfers provide golf instructions.   Uniquely, ICYG has developed its own initiative: "Say NO To Drugs – Say YES To Education, Culture & Golf" in order to grow the game of golf and promote the positive aspects of life. ICYG has served as the "youth golf clinician" for the Palm Beach County Sports Commission's "Kids Fitness Festival" since 2003.
2014 Annual Award Finalist include:
High School Athlete of the Year-(Female)
Michelle Howell, Seminole Ridge (Track and Field)
Seminole Ridge track & field star, Michelle Howell, won the Class 4A state title in the 800-meter run (2:10.12) as well as county, district and regional championships in her senior year.
Morgan Lauer, Seminole Ridge (Flag Football)
The junior quarterback for Seminole Ridge's flag football team, Morgan Lauer, completed 315 passes for 3,046 yards with 58 touchdowns. She also rushed 45 times for 425 yards and 9 touchdowns.  She led Seminole Ridge to a 19-0 record and its second consecutive state title. 
Rasheeda McAdoo, American Heritage-Delray (Tennis)
The American Heritage star tennis player, Rasheeda McAdoo, won the Class 1A state singles and doubles title in 2013. She finished the year with an amazing 29-0 record.
High School Athlete of the Year-(Male)
Daniel Parr, William T. Dwyer (Football)
William T. Dwyer junior quarterback, Daniel Parr, passed for more than 3,000 yards and 36 touchdowns in his first year as the starting quarterback.  Parr led the Panthers to their first undefeated season (15-0) and second state title.
Travis Rudolph, Cardinal Newman (Football)
In his senior season at Cardinal Newman, Travis Rudolph set school records with 1,237 receiving yards and 15 touchdowns, finishing with a team-high 63 catches.  Travis led the Crusaders to their first district title since 2004. Rudolph won the 2013 Lou Groza High School Player of the Year Award.
Jesse Stephanos, Jupiter (Wrestling)
Jupiter standout wrestler, Jesse Stephanos, finished the year with a perfect 61-0 record en route to winning a Class 3A wrestling state championship.  Jesse won the 162-pound title with a decisive 6-0 decision.  Jesse has won 234 matches over his high school career which is a Palm Beach County record.
Andrew-Ceravolo High School Coach of the Year
Austin Bowe, Seminole Ridge (Flag Football)
The Seminole Ridge flag football coach, Austin Bowe, led the Hawks to a dominating 19-0 record and a second consecutive state title after defeating Mandarin 27-6 in the finals. Seminole Ridge outscored opponents 637-20 during the season, including 80-6 in three playoff games.
Jack Daniels, William T. Dwyer (Football)
Legendary football coach, Jack Daniels, led William T. Dwyer to a 15-0 record, winning the Class 7A state championship after defeating Niceville 55-39. Dwyer outscored their opponents in 2013 by a combined score of 647 -15. The undefeated season represented the first in Panther's history.
Kevin Drake, American Heritage-Delray (Softball)
The American Heritage softball team finished its season with a remarkable 22-6 record and their third consecutive state championship under the leadership of Coach Kevin Drake.  American Heritage was victorious over Jacksonville-Bishop Snyder by a 1-0 score in the Class 3A final. The Stallions outscored their opponents 47-5 in six playoff games.
Coach of the Year
Kyle Forbes, Palm Beach State College (Baseball)
The Palm Beach State College baseball team had a history-making year in 2013.  Coach Kyle Forbes guided the team to their first FCSAA state title, since 1984 and the team's first ever appearance in the NJCAA JUCO World Series. Forbes was named FCSAA Baseball Coach of the Year and was also selected as the Diamond/ABCA Regional Coach of the Year. Forbes' overall record as a collegiate head coach now stands at 350-255 (.578).
John McCormack, Florida Atlantic University (Baseball)
Florida Atlantic University (FAU) won their first Sun Belt Conference baseball championship, finishing with a 42-22 record in Coach John McCormack's fifth season at the helm. It was the first 40-win season for FAU, who won 14 of their last 16 games. FAU competed in the NCAA regionals, one of two teams in the state of Florida to advance to the regional championship game.
Danny Randolph, Lynn University (Golf)
The 2013 season will go down as one of the most memorable for Coach Danny Randolph and Lynn University's women's golf team.  The Fighting Knights won their first NCAA Division II National Championship, since 1997, defeating four-time defending champion Nova Southeastern. During the regular season, Lynn won a program record six out of 11 tournaments.  
Steve Politziner, of ESPN West Palm will serve as Master of Ceremonies for the evening.  The Palm Beach County Sports Commission is honored to have Steve Politziner, Vice President of Good Karma Broadcasting and on-air host of ESPN West Palm to emcee the 2014 Palm Beach County Sports Hall of Fame Banquet.
Tickets are available online at www.palmbeachsports.com/HOFor by calling the Palm Beach County Sports Commission at 561-233-3180.
About the Palm Beach County Sports Commission
The Palm Beach County Sports Commission is a private, not-for-profit organization contracted by Palm Beach County to promote and market the county as a sports and sports tourism destination.  The Commission brings sporting events and activities to the county, enhances economic impact, stimulates bed tax revenues (primarily in the off-season) and maximizes utilization of county facilities.  The Commission offers a full range of event service support, corporate partnerships, sponsorships and a local membership program that supports its goals.  Local, regional, national and international marketing efforts are ongoing by the Commission with sports organizations and event owners.  The Commission also produces sports-related programs for the residents of Palm Beach County including the Palm Beach County Sports Hall of Fame, the Lou Groza Collegiate Place-Kicker Award and the Kids Fitness Festival of the Palm Beaches.  For more information on the Palm Beach County Sports Commission go to www.palmbeachsports.com.
####