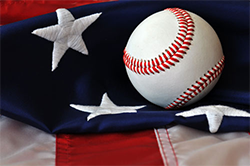 Summer Means the Return of America's Pastime 
Palm Beach County is a nucleus for baseball, America's national pastime. More than 400 teams involving over 7,000 athletes will compete in 12 major baseball tournaments on a national, regional or state level this summer in Palm Beach County.  The players, coaches and general participants will occupy an estimated 9,400 hotel room nights and generate over $4 million of economic impact for the local community. Due to the outstanding baseball facilities, the tropical climate and a strong resume of sports, Palm Beach County has a competitive advantage when it comes to attracting and hosting baseball events. The summer of 2014 will bring excitement due to the world of amateur baseball, both on the field of play and off the field for the local economy.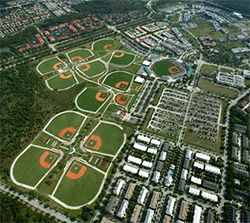 Few communities have baseball venues such as Palm Beach County. Roger Dean Stadium, located in Jupiter, is home to the Miami Marlins and the National League Champion, St. Louis Cardinals, during the Major League Baseball (MLB) spring training season. Roger Dean Stadium is one of the premier spring training baseball complexes in Florida, consisting of a 7,000 seat stadium and 12 ancillary fields, which makes it capable of hosting the nation's largest tournaments. Palm Beach County is also home to the Santaluces Athletic Complex, the former spring training facility for the Montreal Expos. Located in Lantana, this complex maintains a quad of major league baseball size fields.
 
Palm Beach County will be home to the most admired amateur baseball tournaments in the United States. USA Baseball will host two of its largest events at Roger Dean Stadium and the Santaluces Athletic Complex.   Over 110 teams consisting of more than 2,000 athletes from across the nation are expected to contend for championships in the 14U, 15U, and 17U age groups.   This event serves as the East National Team Championship, which takes place simultaneously with USA Baseball's West National Team Championship in Arizona.  USA Baseball will conduct its National Team Championships over two weeks.  The 14u and 17u tournaments will take place on June 17-25, while the 15u tournament is slated for July 11-19. More than 350 baseball games will take place during the two-week stretch.  These events will generate over 5,400 room nights and 4 million in economic impact.   This summer represents the first time that USA Baseball has hosted the National Team Championships for all of its age groups in Palm Beach County. USA Baseball is the national governing body for its sport, presiding over 12 million amateur players annually. USA Baseball scouts, recruits, and select players that compete in these tournaments to participate on its national teams, which represent the United States during international competition.
The Palm Beach County Sports Commission partnered with Team One Baseball to bring four of its eight Under Armour Team One National Tournaments to Palm Beach County. Roger Dean Stadium will host the Under Armour Memorial Day Classic on May 23-26, the Under Armour Southeast Regional on June 6-10, the Under Armour Firecracker Classic on June 30-July 4, and the Under Armour September Classic on September 19-21. Three of these national events are wood composite bat tournaments, attracting high-level 18 & under and 16 & under travel teams from across the country. The September event is a competitive 14 & under and 16 & under tournament. Following this talent is a substantial number of MLB and collegiate baseball scouts. These tournaments will attract an estimated 165 local and traveling teams, creating over 2,000 room nights and more than $1 million of economic impact for Palm Beach County.
The Palm Beach County Sports Commission is partnering with the Police Athletic League (PAL) to host the Back to School Bash on July 24-28 at the Santaluces Athletic Complex and Florida Atlantic University. The event will attract 40 teams and 600 athletes from across the state. Proceeds benefit the Palm Beach County Police Athletic League, while offering top-notch competition with college and professional scouts and recruiters.
Cal Ripken Baseball will host 3 tournaments at Gardens Park in Palm Beach Gardens during the summer of 2014.  The tournaments include the Cal Ripken Baseball Rookie State Championship on July 3-6, the Cal Ripken Baseball 12U State Tournament on July 10-13, and the Cal Ripken Baseball 10U Southeast Regional Championship on July 24-27.  These tournaments will feature youth players from 7 to 12 years of age and attract over 80 teams and more than 1,200 youth athletes.   Cal Ripken Baseball will create over 1,300 room nights and $650,000 in economic impact. Cal Ripken Baseball is one of the most prestigious brands in amateur baseball for little leaguers and conducts hundreds of tournaments and camps annually, including the Cal Ripken Baseball World Series in Aberdeen, Maryland. Gardens Park is one of the premier youth baseball complexes in Palm Beach County.  The facility maintains 8 lighted youth fields and 7 batting cages. Whether it is wood bats or metal bats, highly talented travel teams or little leaguers just learning to play the game, baseball fields across Palm Beach County will be active this summer. America's pastime will have a presence that is not easily replicated anywhere else throughout the United States. These baseball events promote Palm Beach County as an elite youth baseball destination and are significant contributors to the sports tourism industry.
 
Below is a summary of the impact generated by amateur baseball this summer:
•    12 amateur baseball tournaments with state, regional, or national impact
•    5 sport organizations or governing bodies: Team One Baseball (Under Armour), Coast to Coast Baseball,
     Cal Ripken Baseball, Police Athletic League, and USA Baseball
•    Estimating 7,172 athletes (traveling and local)
•    Projecting over $4 million of economic impact derived from these tournaments
•    Projecting 9,420 room nights
•    Projecting more than 1,000 baseball games
•    Age groups from 8u to 18u