Riley Burke, The Benjamin School, Earns
Sam Budnyk Student-Athlete of the Year Scholarship
West Palm Beach, FL – The Sam Budnyk Scholarship Committee and the Orange Bowl Committee announced today that Riley Burke of The Benjamin School is the 2014 winner of the Sam Budnyk Scholar-Athlete of the Year scholarship. She will be honored at a recognition dinner at the Palm Beach Yacht Club on Saturday, May 24, 2014.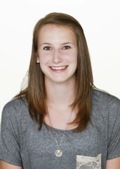 Riley was 1 of 10 outstanding high school candidates competing for this prestigious scholarship . She stood alone, however, in her dominance on the basketball court. Being introduced to basketball at the  age of 6  certainly positioned her for  her great success. Riley has competed at the varsity level all of her 4 years of high school and she had instant success as a serious scoring threat.  Riley  has earned All-State selections, she was a McDonald's All American Nominee, she has received a three-time All Area/ All-County first-team selection by The Palm Beach Post and Sun-Sentinel, and was named MVP throughout her high school career.
Even in her secondary sport she has excelled. Riley was a member of the varsity track and field team for her 4 years of high school as well.  She is a three-time state medalist in the 200m, 400m, and the 4x800 relay. Riley earned the regional championship title in the 400m and was the district champion in the 200m during her junior year. She was given the MVP award during her junior year and as a senior held a Co-Captain position.
As an exceptional athlete, Riley's studies have not been negatively affected. She is the only student in the Class of 2014 to receive The Benjamin School Faculty Academic Award freshman, sophomore, and junior year and ended her high school years  as the 2014 Valedictorian. Riley's dedication to academics earned her a nomination in the Pathfinder for The Palm Beach Post, Sons and Daughters Scholarship and her school's nominee for the FHSAA Academic All-State Team. She has maintained a 4.45 grade point average throughout her high school education and, "her class schedule represents the most rigorous courses" says Latta Baucom, who is the Head of Upper School at The Benjamin School. Riley has taken 9 AP courses and has aced all but two of the courses in which she received a B+.
Riley has contributed to her school and community in numerous ways by volunteering over 600 hours of community service in summer camps, art clubs, ESOL translating, e-board membership of the Business of Sports Club, and fundraising for groups such as the Make-A-Wish foundation.  As an accomplished musician, Riley's skills entitled her to membership  in the first-ever Chamber Ensemble as a violinist since  her freshman year. Riley has showed how multi-talented and well-rounded she is through all of her involvements and success in those involvements and is well on her way to making a fantastic future.
She will attend Columbia University in New York City, where she will be afforded the great learning opportunities of an Ivy League education. She will compete  in the women's basketball program and she will hone her skills as a stringed instrument musician and continue her development as a musical composer. She plans to enter Medical School following her undergraduate studies.
The Sam Budnyk Student-Athlete of the Year scholarship, established and first awarded in 2005, has been  presented annually to a graduating high school senior in a Palm Beach County public or private school who has demonstrated outstanding achievement in academics, community service and athletics.  An award of $5,000 the first year and a subsequent $5,000 is available for three consecutive years for a total of $20,000 upon maintaining certain grade levels, other criteria and subject to funds availability.
 
The scholarship is administered and judged by a panel of diverse, competent and independent citizens, and is named in recognition and celebration of the commitment, values and success of Sam Budnyk, Athletic Director at Cardinal Newman High School for nearly fifty years, and head football coach for forty-three of those years.
Funds for the award are generously donated by the Presenting Sponsor of the Award, The Orange Bowl Committee and by individual and business donors.  The Scholarship is administered by the Palm Beach County Sports Commission.

About the Palm Beach County Sports Commission
The Palm Beach County Sports Commission is a 501(c)(3) not-for-profit organization that provides local youth the opportunity to learn sportsmanship, teamwork and citizenship through sports. The Sports Commission also promotes character development through sporting activities, lifelong physical fitness, a drug-free lifestyle and safe and fun access to healthy activities.