Lou Groza Award Announces
Charlie Partridge as Keynote Speaker
The Lou Groza Award is pleased to announce Florida Atlantic University Head Football Coach Charlie Partridge as the keynote speaker for the 23rd Annual Lou Groza Award Banquet. The event will be held on December 9, 2014 at the Kravis Center in West Palm Beach, Florida. The night is highlighted by honoring the three finalists for the prestigious Lou Groza Collegiate Place-Kicker Award.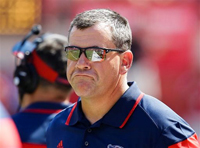 A native of nearby Plantation, Florida, Partridge brings a 16 year football coaching career back to his home state.  Currently in his first year as Head Coach of Florida Atlantic University's football team, Coach Partridge joined the Owls after spending the past six years under head coach Bret Bielema with both Wisconsin and Arkansas. During his time under Bielema, Partridge was regarded as a top recruiter of South Florida-based players, bringing many of them to both Wisconsin and Arkansas.  At Arkansas, Partridge coached three different defensive linemen to all-conference honors.  Prior to Arkansas, Partridge spent five seasons at Wisconsin where he helped the Badgers win three straight Big Ten championships and to become the first Big Ten team to play in three straight Rose Bowls since Michigan following the 1976-78 seasons. Before the 2011 season, Patridge was promoted to associate head coach, co-defensive coordinator and defensive line coach after three seasons as the Badgers' defensive line and specialists coach.
Partridge's football coaching resume also includes stints at Pittsburgh, Eastern Illinois, Iowa State, and Drake, where he graduated in 1995 after being an NSCA All-American defensive lineman and team captain. Partridge also received his master's degree from Iowa State University, where he was named the program's Director of Football Operations in 2000.
For more information or to reserve tickets for the 23rd Annual Lou Groza Collegiate Place-Kicker Award Banquet please visit www.LouGrozaAward.com or call (561) 233-3180.