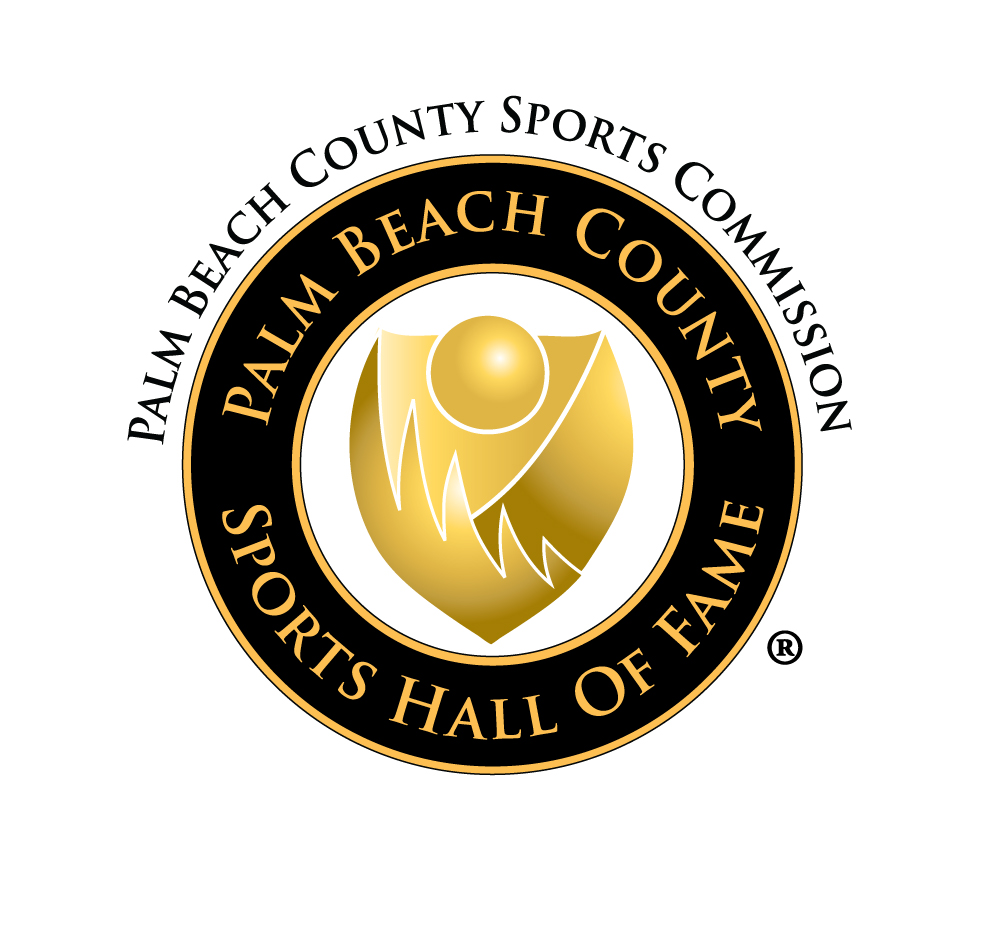 To Purchase Tickets To The 42nd Annual Palm Beach County Sports Hall of Fame Celebration Click The Button Below

Honoring Palm Beach County Sports Legends
The Palm Beach County Sports Hall of Fame was created to recognize and honor the outstanding achievements and contributions of local athletes, coaches, administrators, media, and others in the field of sports.
Established in 1977
In 1977, after years of covering local sports, veteran sportswriter Chuck Otterson decided the time was right to formally recognize the accomplishments of area athletes. The Palm Beach County Sports Commission has been involved with this event since 2004, developing it into the successful program it is today.
Selection Process
Nominations are made by the general public and members of the Hall of Fame Committee. Candidates must have been born, attended school, or achieved their major sports accomplishment in Palm Beach County in order to be considered for the Hall of Fame. Nominations are reviewed and committee members and past inductees select the individuals welcomed annually into the Hall of Fame.
Annual Recognition Banquet
Each year in early spring the inductees are honored at a gala banquet. Their lifetime of outstanding contributions in sports is recognized as they are inducted into the elite membership of the Palm Beach County Sports Hall of Fame. Also honored during this banquet is Palm Beach County's Amateur Athlete of the Year, Professional Athlete of the Year, Coach of the Year, Outstanding Sports Contributor, High School Coach of the Year, High School Athlete of the Year and Special Olympics Athlete of the Year.
Permanent Home
Roger Dean Stadium, home of the St. Louis Cardinals and Florida Marlins Spring Training, became the permanent site of the Palm Beach County Sport Hall of Fame in 2004. Banners commemorating inductees for each year from 1977 hang around the stadium concourse and are viewed each year by hundreds of thousands of people attending events at the stadium.
Paver Commemoration
The Hall of Fame Committee continues to perpetuate the memories of departed Hall of Fame Members with the Palm Beach County Sports Hall of Fame "Paver Program". The program consists of a brick that has the name of the deceased member and the year of induction into the Hall of Fame engraved on the stone. The City of West Palm Beach has kindly donated prime space in Centennial Square downtown to allow a permanent memorial of inductees that have passed away.
2018 Banquet
To nominate someone to be inducted in 2019, click here
To nominate someone to be an Annual Sports Award Winner, click here
To view a complete list of Palm Beach County Sports Hall of Fame inductees, click here
2018 Hall of Fame Induction Class
Geraldine "Jeri" Athey (posthumously)
Athey was one of the top swimming and diving coaches for more than three decades.  She coached at numerous high schools, including Palm Beach Gardens, Riviera Beach, Cardinal Newman, North Shore and Forest Hill, developing state champions and finalists. Also included were the North Palm Beach Diving Team (her chartered team) and other academies and schools including St. Andrews of Boca Raton. From 1961 to 1987, Athey served the Florida Gold Coast A.A.U. as Senior Women's Diving Chairman, Vice President, President, Secretary, Treasurer and Chairman of Registration and Junior Olympic Diving. Nationally, she has served on Rules, Finance (Chairman) and Hospitality Committees. She was a delegate to all A.A.U. and U.S. Diving National Conventions. She was also Acting Secretary to National Chairmen at early meetings and was elected Co-Chairman of the National Junior Olympics Committee. She ran the scoring and entries table at the International Swimming Hall of Fame's International Diving Meet for many years and helped with the Ted Keller Annual Age-Group Diving Meet at the Hall of Fame. She was coach/manager of U.S. age-group teams competing in Winnipeg, Canada (1977), Stuttgart, Germany (1979) and the National Sports Festival (1981) in Syracuse, New York. Ten years after officially retiring at age 80, she began coaching her third generation of divers in the family this summer.  She was honored by the International Swimming Hall of Fame in 2003.
Robert D'Angio (posthumously)
Coached football and baseball in Palm Beach County schools for more than 20 years. Baseball coach at Conniston JHS and assistant football and baseball coach at St. Ann's HS. Greatest success came at Forest Hill HS where his teams compiled a 70-6 record, winning four Suncoast Conference titles in 1960s. In the classroom, he received a Master Teaching Award from Palm Beach Community College and the Freedom Foundation Medal for outstanding teaching of American Democracy.

Larry Kissner
At Cardinal Newman High School, Larry Kissner was a dominant lineman that played both offense and defense throughout his high school career and lettered 10 times in football, track and wrestling.  His strength and power coupled with excellent technique created a devastating blocker and crushing tackler.  He was selected the 1978 Athlete of the Year in Football for the State of Florida, and started for the South in the All-Star Game.   He was a high school All-American, was named to Newman's 50thAnniversary team and named one of the Top 100 Players from Palm Beach County.  Larry attended the University of Notre Dame on a football scholarship and continued his multi-sport participation by lettering in both football and wrestling.  He earned Notre Dame's Herring Award as the most improved player and started at both guard and center during his senior year. 

David Pressly
David played in every match in his four-year career at U-Florida, including four SEC tournaments and three NCAA Championships, going 81-15 in singles and 69-21 in doubles. He was  All-SEC all four years, second team as freshman and next three years on first team.  Pressly also won three SEC titles, No. 6 singles and No. 3 doubles as a freshman and No. 2 singles as a junior. Upon graduation in 1976, he was presented the Doug Belden Athletic Award by the U-F Alumni Association given to a graduating senior based on their combination of athletic and academic achievements.
Byron Walker
Byron was inducted into the Athletic Association Hall of Fame in 2003.  Byron's career coaching record is 260 wins and 123 loses which is 12th all-time in the State of Florida, and he is currently 4th among active coaches in wins.  He compiled 99 wins in the 80's, while at Glades Day School and won three state titles in 1980, 1982 and 1986.  Byron also appeared in the State Championship game 7 straight years (1982 – 1988). His record at Glades Day School was 128 wins and 47 loses.  He also won two State titles as a player at Glades Central High School in 1971 and 1972.

James Watt
Jim Watt, a longtime resident of Palm Beach County, is a graduate of the University of Miami, and earned his Juris Doctorate from the University of Florida in 1969. Since that time, Jim has been an integral member of the community spending eight (8) years as a member of the Florida House of Representatives, where he sponsored legislation that led to the creation of collegiate license plates.  Jim worked with the University of Miami to create a holiday basketball tournament, where high schools throughout the state participated in what became a successful holiday event.  He worked with the Palm Beach Auditorium to be the home of that tournament.  He joined the Board of Directors of the Palm Beach County Sports Commission in 1992, served as its President for 2 years, and is currently an emeritus member.  In 1992, he proposed the creation of the Lou Groza Collegiate Place-Kicker Award, worked diligently with Lou Groza and the Groza family to secure the naming rights for the Award, which is presented live on the ESPN College Football Awards Show with an audience view of 1 million people, providing national recognition for the Award and for Palm Beach County.
Annual Sport Award Finalists !
Amateur Athlete of the Year
Lamar Jackson, Louisville, Football
The Boynton Beach High School graduate had an outstanding junior season for the Cardinals as a dual-threat quarterback. He completed 241-of-399 passes for a career high 3,489 yards, with 25 TDs and only 6 interceptions.  He also rushed for 1,443 yards on 208 carries and scored 17 touchdowns to lead Louisville to an 8-4 record prior to their Dec. 30 bowl game. The 6-foot-3, 211-pound Jackson, who won the Heisman as a sophomore, finished third in the 2017 Heisman voting. 
Alexa Pano, Lake Worth, Golf
One of the rising stars in the sport, Pano won the 2017 Drive, Chip & Putt Girls 12-13 Division champion. She is No. 21 in the AJGA Rankings and will compete at her first Wyndham Cup. During the summer, she qualified for the prestigious U.S. Women's Amateur and finished tied for 11th during the first two rounds to advance to the match play.
Devin Singletary, Florida Atlantic University, Football
The Owls sophomore running back completed an outstanding season as he led the FBS (Division I) with 32 rushing TDs and 33 overall, the most in the NCAA. He also led the NCAA in scoring with 198 total points.  Nicknamed "Motor", the American Heritage-Delray graduate finished third in the nation with 1,920 yards rushing in 14 games and was named the Conference-USA MVP and a third-team All-American. FAU won its first C-USA title and finished 11-3, including a victory over the Akron Zips in the Boca Raton Bowl.
Andrews-Ceravolo High School Coach of the Year
Jude Blessington, Forrest Hill, Football
The program's turnaround under Blessington continues. Forest Hill finished 8-1 and reached the playoffs, their first trip there in over 20 years. In the 13 years prior to Blessington, Forest Hill won a total of seven games and just one winning season since 1986.
Mark Boretti, Wellington, Girls Softball
Boretti took a young team, with just three seniors, all the way to their first state championship game in program history. Wellington scored first in the Class 8A championship game against nationally ranked Orange Park Oakleaf, which had outscored their opponents 38-0 in the playoffs prior to playing Wellington.
Frank Torre, Dwyer, Baseball
The longtime manager led Dwyer to their first appearance in the state Final Four in the program's 26-year history. The Panthers finished 25-6, the most wins in school history.
High School Player of the Year (Female)
Ally Costa, Jupiter, Softball
Costa was dangerous whether she was on the mound or at the plate. As a pitcher, she finished with a 23-3 record, with a 0.95 ERA and 237 strikeouts. She also excelled at the plate, hitting .427 with five doubles, six triples and 22 RBIs while scoring 28 runs. In the Class 9A state semifinal, the right-hander gave up one run on seven hits, struck out 10 and didn't walk a batter. The Warriors finished 26-3.
Madeline Furtado, The King's Academy, Volleyball
Furtado led the lady Lions to an undefeated season in 2017, and was named the Sun Sentinel Volleyball Player of the Year for Small Schools in Palm Beach County.  She was also nominated the Gatorade Player of the Year for Volleyball and set the school record for kills (2,024), aces (297), digs (974) and service points (784).
LeeAnn Hewitt, Wellington, Weightlifting
Hewitt, after dominating the district and regional competitions, she won her second straight state title in the unlimited category in February, 2017, with a total of 505 pounds, becoming the first Palm Beach County athlete to win back-to-back championships in the sport. In the Class 2A final, Hewitt benched 270 pounds and lifted 235 pounds in the clean-and-jerk. She finished 35 total pounds ahead of the second-place finisher.
High School Athlete of the Year (Male)
Akeem Dent, Palm Beach Central, Football
Dent racked up 57 tackles, averaging just over 8 per game for the Broncos. During one of his highlight games, Dent sealed a major victory for the Broncos against Seminole Ridge scoring two interceptions, a two-point conversion, and two touchdowns – one on offense and one on defense. He and the Broncos held opponents scoreless over the last three games of the regular season to take the district title. During that same stretch, he kicked 12 extra points, giving him the nickname "Do-It-All Dent".
Trent Frazier, Wellington, Basketball
Frazier's magical senior season included lots of accolades from around the county and the state. The 6-foot-1 lightning-quick guard led the Wolverines to the Class 9A state semifinals while averaging 27.6 points, 6.3 rebounds and 4.4 assists. The Wolverines fell to eventual state champion Kissimmee Osceola 52-50 in the state semifinals, despite 32 points from Frazier. He was named the Florida Dairy Farmers' Class 9A Player of the Year, and FABC Class 9A Player of the Year.
Jarrett Jackson, Palm Beach Gardens, Football
Jackson played defense for Gardens High School, and recently participated in the 12th Annual 2017 Offense/Defense All-American Bowl. He was ranked among ESPN's Top 30 Defensive Ends nationally, and is rated among Top 100 football players in Florida by Rivals, ESPN and 247 Sports.  He currently attends the University of Louisville on a full football scholarship.
Coach of the Year
Lane Kiffin – Florida Atlantic University – Football
In his first season, Coach Lane Kiffin engineered one of the biggest turnarounds in the county. He lead the 11-3 Owls to eight more wins than in their previous 2016 season. The team won the Conference USA title for the first time, and their historic year ended on a high note as the Owls claimed victory over Akron in a 50-3 blowout in the 2017 Boca Raton Bowl. Coach Kiffin finished his 2017 season by leading his team to be one of only four teams to have a winning record for Division 1 football in FAU history.
Outstanding Sports Contributor
African American Golfers Hall of Fame
The African American Golfers Hall of Fame, Inc. (AAGHOF) was founded on April 26, 2004 in Palm Beach County Florida. Its mission is to celebrate and honor the history and achievements of Global Humanitarians and African Americans in the game of golf. They host and annual celebration each year in Palm Beach county to honor individuals and promising youth involved in golf. The AAGHOF also established the African American Collegiate & Youth Golfers Hall of Fame (AAC & YGHOF) which meets at the same time. It recognizes collegiate, middle and high school athletes who have excelled in the game of golf and academically. The AAGHOF has positively touched the lives of hundreds of under privileged youth across the county.
Special Olympics Athlete of the Year Award
Chris Nardone - Equestrian
Dick Moroso Memorial Motorsports Award
Gary Byrd – Drag Racing Ambassador