Summer Means The Return Of America's National Pastime
Palm Beach County is a nucleus for baseball, America's national pastime. More than 500 teams involving over 8,600 athletes will compete in 13 major baseball tournaments on a statewide, national, or global level this summer in Palm Beach County. The players, coaches and visitors will occupy an estimated 12,800 hotel room nights and generate over $6 million of economic impact for the local community. Due to the outstanding baseball facilities, the tropical climate and a strong resume of prestigious baseball events, Palm Beach County has a competitive advantage when it comes to attracting and hosting baseball tournaments and showcases. The summer of 2015 will bring excitement due to the world of amateur baseball, both on the field of play and off the field for the local economy.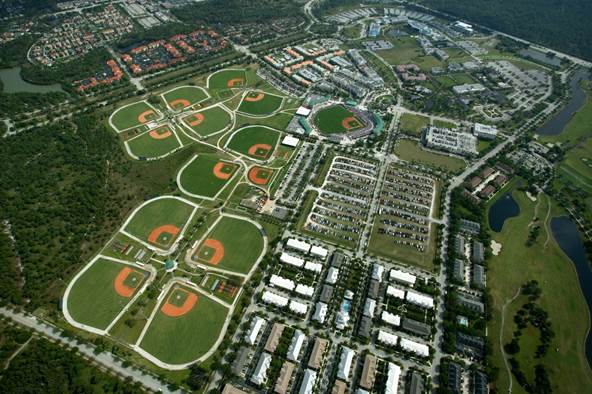 Few communities have baseball venues like Palm Beach County. Roger Dean Stadium, located in Jupiter, is home to the Miami Marlins and the St. Louis Cardinals, during the Major League Baseball (MLB) spring training season. Roger Dean Stadium is one of the premier spring training baseball complexes in Florida, consisting of a 7,000 seat stadium accompanied by 12 full size diamonds, which makes it capable of hosting the nation's largest tournaments. Palm Beach County is also home to the Santaluces Athletic Complex, the former spring training facility for the Montreal Expos. Located in Lantana, this complex maintains a quad of major league baseball size fields.
Palm Beach County will be home to the most admired amateur baseball tournaments in the United States. USA Baseball will host two of its largest events at Roger Dean Stadium and the Santaluces Athletic Complex.   Over 110 teams consisting of more than 2,000 athletes from across the nation will compete in the USA Baseball National Team Championships and contend for titles in the 14U, 15U, and 17U age groups.   USA Baseball will conduct its National Team Championships over two weeks.  The 14U and 17U tournaments will take place on June 16-24, while the 15u tournament is slated for July 10-18. More than 350 baseball games will take place during the two-week stretch.  USA Baseball is expected to generate nearly 7,000 room nights and close to $4 million in economic impact over the two-week span. 
This summer represents the second consecutive year that USA Baseball has hosted the National Team Championships for all of its age groups in Palm Beach County. USA Baseball is the national governing body for its sport, presiding over 12 million amateur players annually. USA Baseball scouts, recruits, and select players that compete in these tournaments to participate on its National Teams, which will represent the United States during international competition.  
The Palm Beach County Sports Commission is partnering with Team One Baseball to bring four of its nine Under Armour Team One National Tournaments to Palm Beach County. Roger Dean Stadium will host the Under Armour Memorial Day Classic on May 22-25, the Under Armour Southeast Championship on June 5-9, the Under Armour Firecracker Classic on June 29-July 3, and the Under Armour September Classic on September 18-20. These four Under Armour events are wood composite bat tournaments, attracting high-level 18U, 16U, and 14U travel teams from across the country. Following this talent is a substantial number of MLB and collegiate baseball scouts. These tournaments will attract an estimated 200 local and traveling teams, creating over 2,000 room nights and more than $1 million of economic impact for Palm Beach County.
The Police Athletic League (PAL) will host its annual invitational on July 24-29 at the Santaluces Athletic Complex and Florida Atlantic University. The event will attract 30 teams and 300 athletes from across the state. Proceeds benefit the Palm Beach County Police Athletic League, while offering top-notch competition with college and professional scouts and recruiters.
Cal Ripken Baseball will host two major tournaments at Gardens Park in Palm Beach Gardens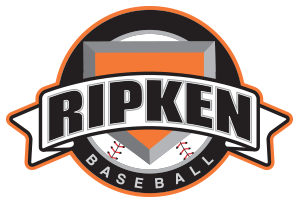 during the summer of 2015.  The tournaments include the Cal Ripken Baseball 12U State Tournament on June 25-28 and the Cal Ripken Baseball Rookie State Championship on July 3-6.  These tournaments will feature youth players from 7 to 12 years of age and attract over 50 teams and more than 800 youth athletes.   Cal Ripken Baseball will create over 1,300 room nights and $500,000 in economic impact. Cal Ripken Baseball is one of the most prestigious brands in amateur baseball for little leaguers and hosts hundreds of tournaments and camps annually, including the Cal Ripken Baseball World Series in Aberdeen, Maryland. Gardens Park is one of the premier youth baseball complexes in Palm Beach County.  The facility maintains eight (8) lighted youth fields and seven (7) batting cages. 
 
The National Wood Bat Travel Ball Association (NWTBA) World Championship will make its inaugural appearance in Florida on August 5-9.  Roger Dean Stadium and Gardens Park will be home to this international baseball tournament, which will feature over 60 teams from across the United States, the Bahamas, Puerto Rico, Canada, Panama, and the US Virgin Islands. This 5-day wood bat tournament provides a wide array of age groups that range from 11U to 18U. Over 1,600 room nights and $800,000 in visitor spending is expected to be derived from the NWTBA World Championships. 
Whether it is wood bats or metal bats, highly talented travel teams or little leaguers just learning to play the game, baseball fields across Palm Beach County will be active this summer. America's pastime will have a presence that is not easily replicated anywhere else throughout the United States. These baseball events promote Palm Beach County as an elite youth baseball destination and are significant contributors to the sports tourism industry.
Below is a summary of the impact generated by amateur baseball this summer:
•  13 amateur baseball tournaments with state, regional, national, and international impact
•  7 baseball organizations or governing bodies: Team One Baseball 
   (Under Armour), USA Baseball, Cal Ripken Baseball, Babe Ruth Baseball Coast to Coast            Baseball, Police Athletic League, and  National Wood Travel Ball Association
•  Estimating 8,653 athletes (traveling and local)
•  Projecting over $6 million of economic impact derived from these tournaments
•  Projecting 12,850 room nights 
•  Projecting more than 1,000 baseball games
•  Age groups from 8U to 18U 
•  Tournaments will utilize as many as 16 baseball fields at once with game start times ranging       from 8 a.m. to 8 p.m.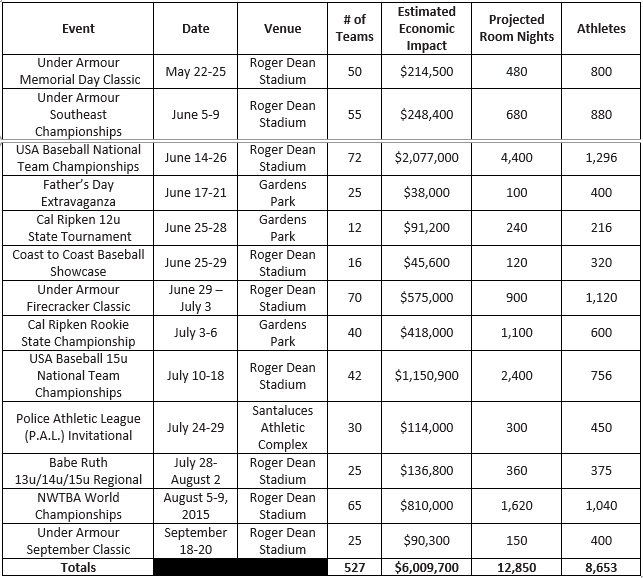 ---
Inaugural Spring Break Sports Festival Takes Place At Dyer Park
The Palm Beach County Sports Commission is partnering with the North American Sports Group to host the inaugural West Palm Beach Spring Break Sports Festival at Dyer Park on May 15-16, 2015. USA Sports Festivals bring the North American Sports Group properties together on one weekend to create a celebration of community and promote family, fun, fitness and healthy competition. The festival will feature both soccer and flag football events.  Hundreds of athletes from across the state will travel to Palm Beach County to compete in a variety of age groups. 

The soccer component will be part of the "Kick It 3v3 Tour".  This is the largest national 3v3 soccer tournament series in the United States. The format, which features only 3 players per team, is a much faster paced and higher scoring game than traditional soccer. The field of play is 30 yards by 40 yards, which is much smaller than a regulation soccer pitch.  The quick shift, from one end of the field to the other after a goal is scored, requires the blending of individual skills with teamwork.  Teams will compete in a wide array age divisions, which include youth from 7 to 18 years.   Teams are guaranteed to play four (4) games during the 2-day tournament.  This year, the "Kick It" will celebrate its 25th anniversary, having provided over 5,000,000 children and families with a fun, safe and healthy sports experience.
The flag football tournament is a member of the "Let It Fly Flag Football Tour", which originated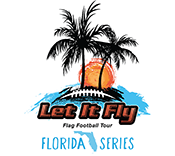 in 1994 as NFL Air It Out. After 20 years, Let It Fly Flag Football has launched a series of events to bring the excitement of this fast-paced game to selected regions. Attracting athletes from all across the Sunshine State, the Florida Series provides competition for all ages and levels of play.  The West Palm Beach Spring Break Sports Festival will offer both 4v4 and 5v5 divisions.  Men and coed tournaments will take place featuring 5 age groups that range from youth to adult (8-10, 11-13, 14-18, 18+, & 35+).  All teams are guaranteed a minimum of three (3) games.  These flag football fields are 50 yards in length, which is half the size of a traditional football field.
Dyer Park will provide four (4) soccer fields designed for the 3v3 format and offer four (4) flag football fields prepared for the 4v4 and 5v5 competition.  Athletes and spectators will also be able to enjoy the Sports Village with interactive games and exhibits.  
The inaugural West Palm Beach Spring Break Sports Festival will have a dynamic setting by showcasing both the "Kick It 3v3 Tour" combined with the "Let It Fly Flag Football Tour".  Over 100 soccer and flag football teams consisting of more than 700 athletes are expected to participate. In addition to the community celebration and family fun, this Sports Festival will create a significant economic impact to Palm Beach County's economy.  The athletes and their families are expected to generate an influx of revenues to hotels, restaurants, attractions, shopping outlets, and other businesses. 
For more information, visit www.nasportsgroup.com
---
Over 100 Teams Competing In This Year's Palm Beach Cup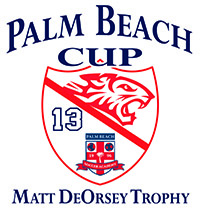 The Palm Beach Cup, hosted by the Palm Beach Soccer Academy and sanctioned by the Florida Youth Soccer Association, is one of the largest soccer tournaments in the state dedicated to both boys and girls.  The   tournament will attract more than 100 soccer teams competing in a wide array of age groups, ranging from 8U to 18U, on May 8-10, 2015. Over 200 soccer games will be played in Palm Beach Gardens and West Palm Beach.  Venues will include Mirasol Park, PGA National Park, Gardens Park, and Lilac Park located in Palm Beach Gardens.
This will be the 8th year of the Palm Beach Cup's existence. The event has grown tremendously to create statewide and regional impact. The demand for this tournament is high as teams were placed on a lengthy waiting list.   The Palm Beach Cup will generate an influx of business to hotels, restaurants, attractions, and shopping outlets. "Our tournaments continue to grow each year, providing participants and spectators alike a wonderful opportunity to witness the power of kids playing this beautiful game", says Gary Walker, Founder of the Palm Beach Soccer Academy, a non-profit organization.  For more information of the tournament and or to view the event schedule, visit www.palmbeachcup.com.
---


Connect With Us!