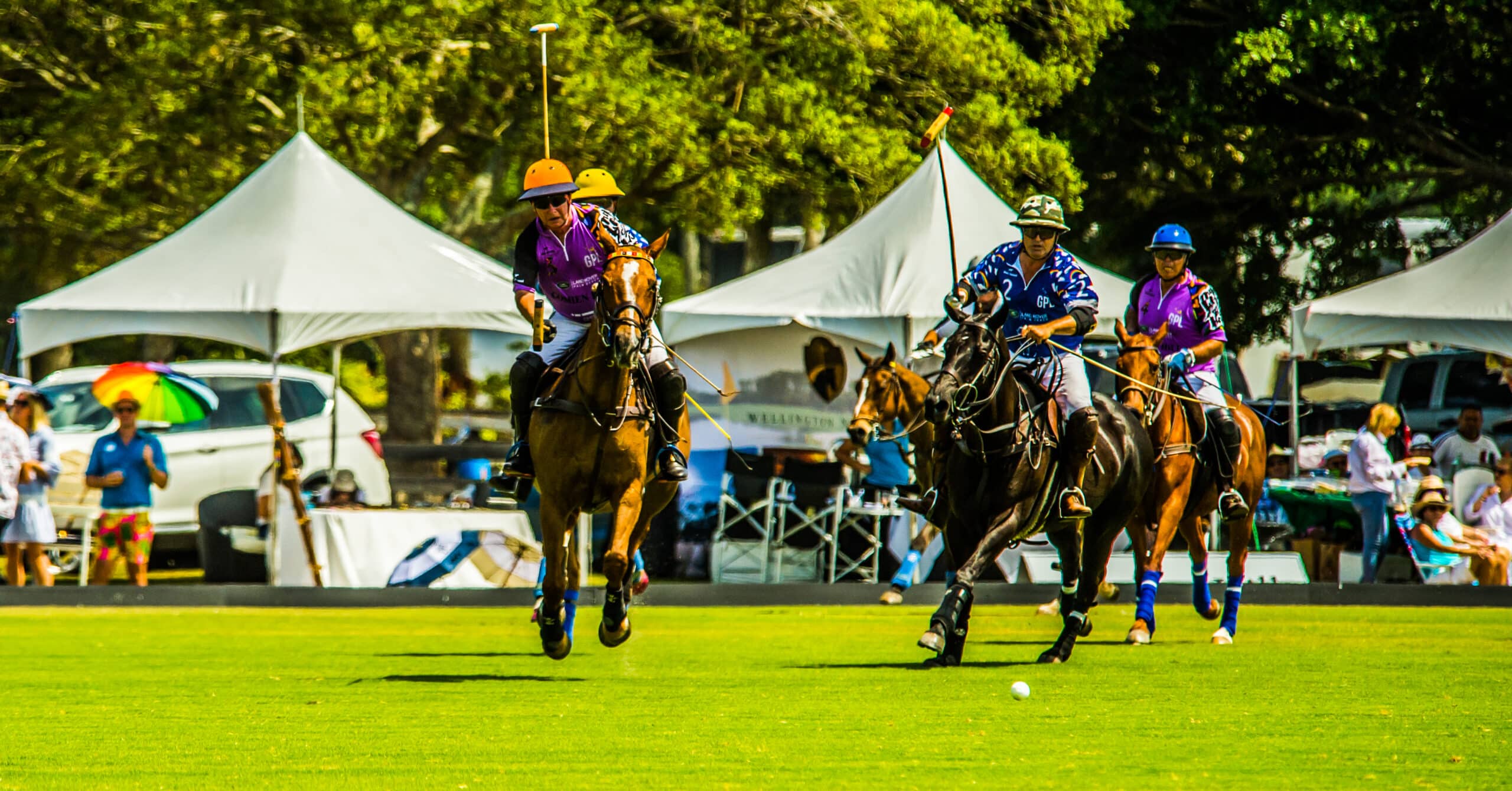 The Palm Beach County Sports Commission will partner with the Gay Polo League (GPL) to host the annual International Gay Polo Tournament on April 6-9, 2023, at the National Polo Club in Wellington. The GPL, a 501(c)(3) charity organization, promotes polo as a sport that promotes equality, diversity, and inclusion for the LGBTQ+ community. This tournament features four total polo teams, some of which are international and include high-goal players from professional polo leagues.
The tournament is a mix of serious competition and lighthearted fun all while celebrating the difference being made in the sporting community. The priority of the event since its inception has been to raise awareness and funds in support of diversity and inclusion initiatives for other LGBTQ+ organizations. The tournament schedule includes a VIP reception, a GPL Polotini party, final matches, and a brunch. The tailgating scene is just as competitive as the polo action, with spectators creating elaborate themed parties, such as pop-up salons and nightclubs.
The International Gay Polo Tournament is one of the most highly anticipated events of the equestrian season. It happens the very same weekend as the first round of the U.S. Open Polo Championship, the grand finale of Polo Season, and the culminating event in the Gauntlet of Polo. From the thrilling competition to the camaraderie, this is one weekend you'll want to attend year after year.
The Gay Polo League (GPL) is the only LGBTQ polo league in the world. The GPL strives to create a welcoming and inclusive community for all members, regardless of sexual orientation, gender identity, or skill level. The GPL's mission is to provide a safe and supportive environment where LGBTQ+ individuals can learn, play, and enjoy the sport of polo. The GPL also supports LGBTQ+ causes and charities through fundraising. In 2022, the GPL raised $135,000 to benefit the onePulse Foundation.
This event will provide a significant tourism boost to Palm Beach County in April, attracting national, regional, and drive market spectators. The event generated over $200,000 in economic impact for Palm Beach County in 2022 from athletes and spectators. In 2023, it is expected to draw even more attendees, further benefiting the local economy.
Take a closer look at this remarkable event by watching the video below.