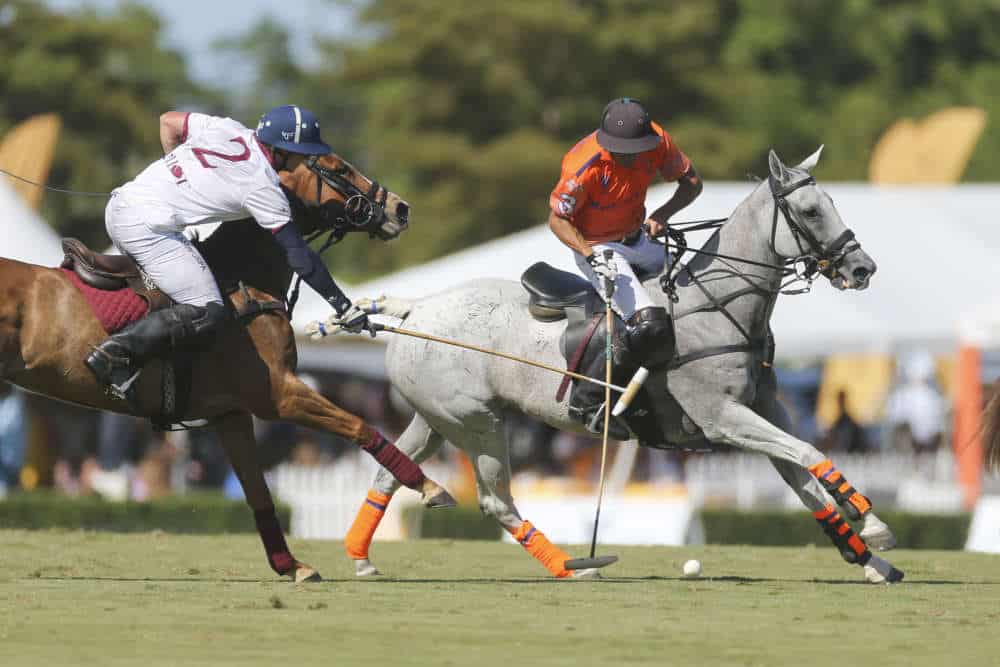 The Gauntlet of Polo, the world's most prestigious series of polo tournaments, has announced its return to action for 2021 at the International Polo Club in Wellington. The 2021 Gauntlet of Polo is comprised of three tournaments, C.V. Whitney Cup, USPA Gold Cup, and U.S. Open Polo Championship which will take place from February to April. Last season's Gold Cup was shortened due to the COVID-19 pandemic and will be restarted on Feb. 10 before the 2021 Gauntlet begins.
The elite equestrian series is one of six professional sporting events that comprised last year's first annual Perfect Week of Sports. From Feb. 22 to 27, 2019, the world's best professional athletes converged on The Palm Beaches for an unforgettable week of sports including the Delray Beach Open, the Gauntlet of Polo, Spring Training from four Minor League Baseball teams, the Honda Classic, and the Winter Equestrian Festival.
In addition to the Gauntlet, the United States Polo Association and IPC also announced the full 2021 high-goal polo tournament schedule. The season will begin on Sunday, January 3, 2021, with the Joe Barry Memorial and conclude on Sunday, April 18, 2021, with the U.S. Open Polo Championship® Final.
IPC will also be welcoming back the U.S. Open Women's Polo Championship® beginning on Wednesday, March 10, and concluding with the final on Saturday, March 20. The closing date for teams for both the 18-goal series and GAUNTLET OF POLO® is Sunday, November 15, while the closing date for the U.S. Open Women's Polo Championship® is Tuesday, December 15. Plans regarding spectators, stadium seating and brunch in the Pavilion are still being finalized and will be released soon. The safety of staff, players, and spectators is of the utmost importance, so the Club will be introducing various safety protocols. Please visit the InternationalPoloClub.com for updates regarding the new procedures.
The 2021 IPC Polo Schedule:
18-Goal

Joe Barry Memorial (16-18 Goal)
Tournament Dates: January 3 – 17, 2021
Closing Date: November 15, 2020
Ylvisaker Cup (16-18 Goal)
Tournament Dates: January 20 – February 7, 2021
Closing Date: November 15, 2020
Iglehart Cup (16-18 Goal)
Single Elimination
Tournament Dates: February 10-21, 2021
Closing Date: TBD
IPC will host this tournament provided there are enough teams and resources.
22-Goal GAUNTLET OF POLO®
22-Goal Warm Up
February 1-14, 2021
2020 USPA Gold Cup® Conclusion- Semifinal & Final
Tournament Dates: February 10-14, 2021
C.V. Whitney Cup (18-22 Goal)
Tournament Dates: February 17 – March 7, 2021
Closing Date: November 15, 2020
U.S. Open Women's Polo Championship®
Tournament Dates: March 10-20, 2021
Closing Date: December 15, 2020
Limited to eight teams
USPA Gold Cup® (18-22 Goal)
Tournament Dates: March 10-28, 2021
Closing Date: November 15, 2020
U.S. Open Polo Championship® (18-22 Goal)
Tournament Dates: March 31 – April 18, 2021
Closing Date: November 15, 2020