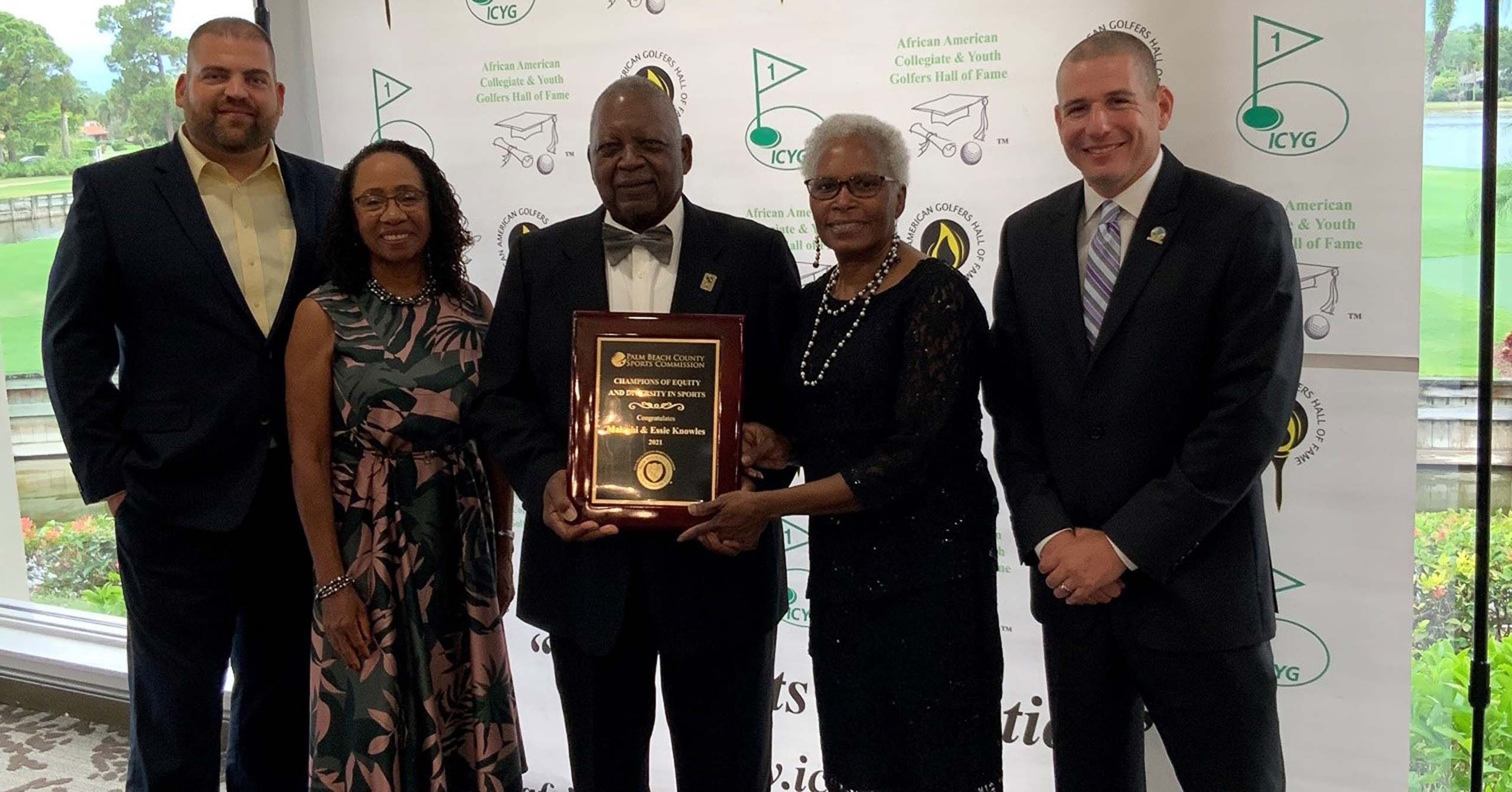 From left to right: Michael Zeff, Martha Clark, Malachi Knowles, Esmeralda H. Knowles, and George Linley at the 2021 African American Golfers Hall of Fame celebration.
Inner City Youth Golfers', Inc. has announced its 2022 Community Giant's Class. Among those being recognized with the honor is Palm Beach County Sports Commission Senior Director Michael Zeff.
While in the role as Senior Director of the Palm Beach County Sports Commission, Michael has done considerable work to form community partnerships and cultivate new opportunities for the youth of Palm Beach County through sport. Michael is intricately involved in the Sports Commission's Palm Beach Sports Gives community initiatives and annual Kids Fitness Festival, introducing several thousand children each year to both traditional and non-traditional sports. Michael was responsible for the creation of the Palm Beach County Sports Commission's annual Back-to-School Football Fun Fest, created in partnership with the Miami Dolphins, Baptist Health, and Spirit of Giving, to provide school supplies to children in need and to emphasize education, physical fitness, and positive choices for youth in a safe and fun sports environment.
"Michael is one of the finest people our prestigious award can be given to for his dedication and overall commitment to our youth for many years," said ICYG Executive Director Esmeralda H. Knowles.
Palm Beach County Mayor Robert Weinroth, Palm Beach County Sports Commission board members Stephanie Prince-Springmyer (Market Manager & Vice President of ESPN West Palm/Good Karma Brands) and Reggie Laroche (Assistant Vice President of Baptist Health Orthopedic Care) will also be celebrated on Saturday, December 10, 2022, at Eastpointe Country Club in Jupiter, FL. Palm Beach County Mayor Robert Weinroth will be recognized for his outstanding leadership of tourism growth and sports development and his unwavering dedication to the Palm Beach County community.
Inner City Youth Golfers', Inc. was started with the vision of helping to make inner cities better places to live, work, shop, and enjoy life a little bit better through the sport of golf. "Golf is the Carrot & Education is the Key" is implemented through the establishment of the "Malachi and Essie Knowles Scholarship Fund." Its corporate office is in Riviera Beach, FL (USA) where the first program was started at John F. Kennedy Middle Magnet School, followed by West Palm Beach Housing Authority Golf & Tennis (Bear Lakes Country Club), Palm Beach County Urban League, Riviera Beach Academic Summer Camp, and Indiantown Youth Club.
ICYG is specifically an academic excellence and golf program that uses excitement, etiquette, rules, behavior, dress, manners, and speech about golf to help inner-city children focus on the positive, mold them into good citizens and make them future role models. Golf is provided on a scheduled basis after school, on selected Saturdays and holidays. School Teachers, law enforcement officials, and community role models serve as mentors while professional and amateur golfers provide golf instructions as generally prescribed by the PGA, LPGA, and USGA.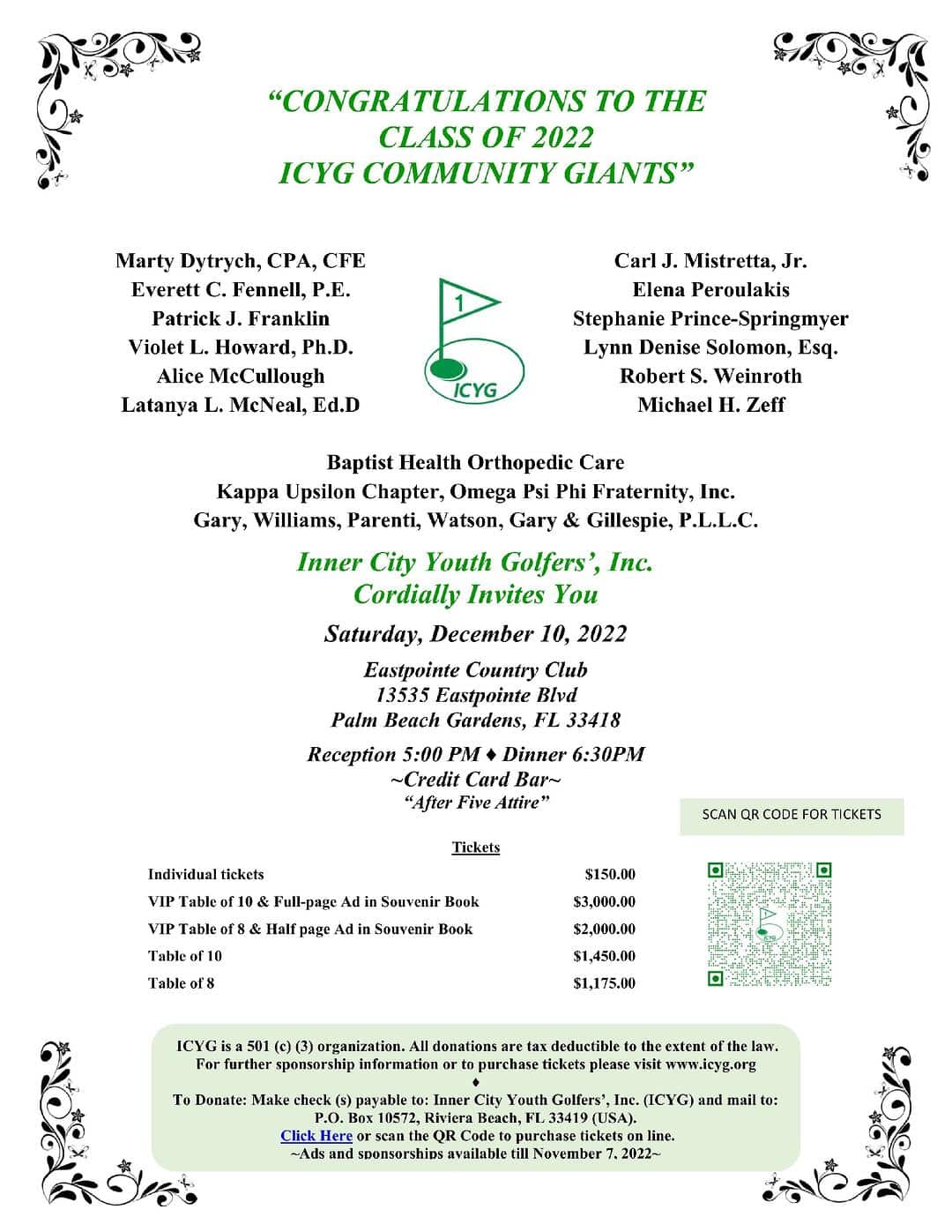 =