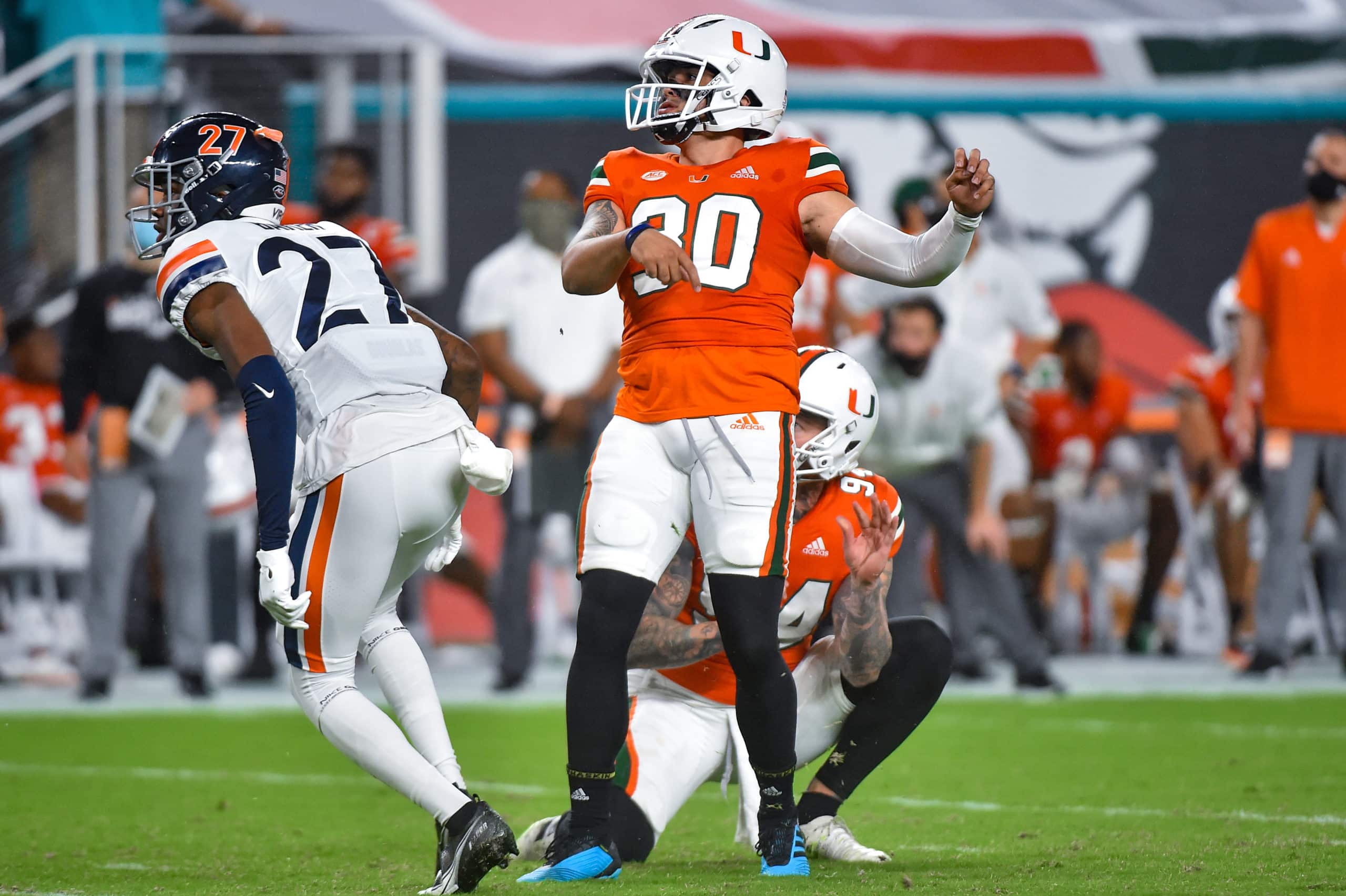 During Thursday night's live Home Depot College Football Awards, the Palm Beach County Sports Commission announced University of Miami senior Jose Borregales as the winner of the 2020 Lou Groza Collegiate Place-Kicker Award, presented by the Orange Bowl.
"It's an incredible honor to be in a list of elite specialists that are now doing it at the big-time level. I'm just blessed to be in the position I am. I hope to continue that legacy of playing on Sundays," said Borregales.
Borregales was the only FBS kicker to make at least 20 field goals at a rate of 90% or better without missing an extra point this season. Though he may not top any category, no kicker matched his all-around success. He ended the season tied for second in the country in three of the most important categories there are: 20 field goals made, 9 kicks from at least 40 yards, and a long of 57.  Among kickers with at least 20 attempts, his 90.9% field goal accuracy tied for the best mark in the nation. He made a field goal in each of Miami's 11 games, with multiple makes in five of their last six. Four times, he provided more points than the Hurricanes' margin of victory, including a three-game stretch in which Miami topped Virginia 19-14, NC State 44-41, and Virginia Tech 25-24. In those three games, won by a total of nine points, he scored 28 himself, kicking 7 crucial field goals. But it was early in the season, in primetime and on the road at Louisville, that he first put the country on notice. There he scored 17 points, going 4-for-4 on field goals, including makes from 40, 48, and a remarkable 57 yards out. That blast ties for the longest field goal in Miami history. On the season, he stayed perfect with a 37-for-37 tally on PATs, giving him a scoring total of 97 points that ranks as one of the ten best seasons ever by a Hurricanes kicker. A graduate transfer from Florida International, Borregales has 70 field goals in his four-year career, the second-highest total among active FBS kickers.
Borregales beat out BYU sophomore Jake Oldroyd and Alabama sophomore Will Reichard for the award. Both finalists finished the year 13-for-13 on field goals, with Oldroyd going 3-for-3 on kicks from 50 yards and Reichard staying perfect on all kicks including his 77 extra point attempts.
Borregales is the first Groza winner from the University of Miami and the school's first finalist. The national panel of voters is comprised of more than 100 FBS head coaches, SIDs, media members, former Groza finalists, and current NFL kickers. Since the first Lou Groza Award was handed out in 1992, 28 finalists, including 16 winners, have gone on to appear in the NFL, earning 11 trips to the Pro Bowl and taking home six Super Bowls.