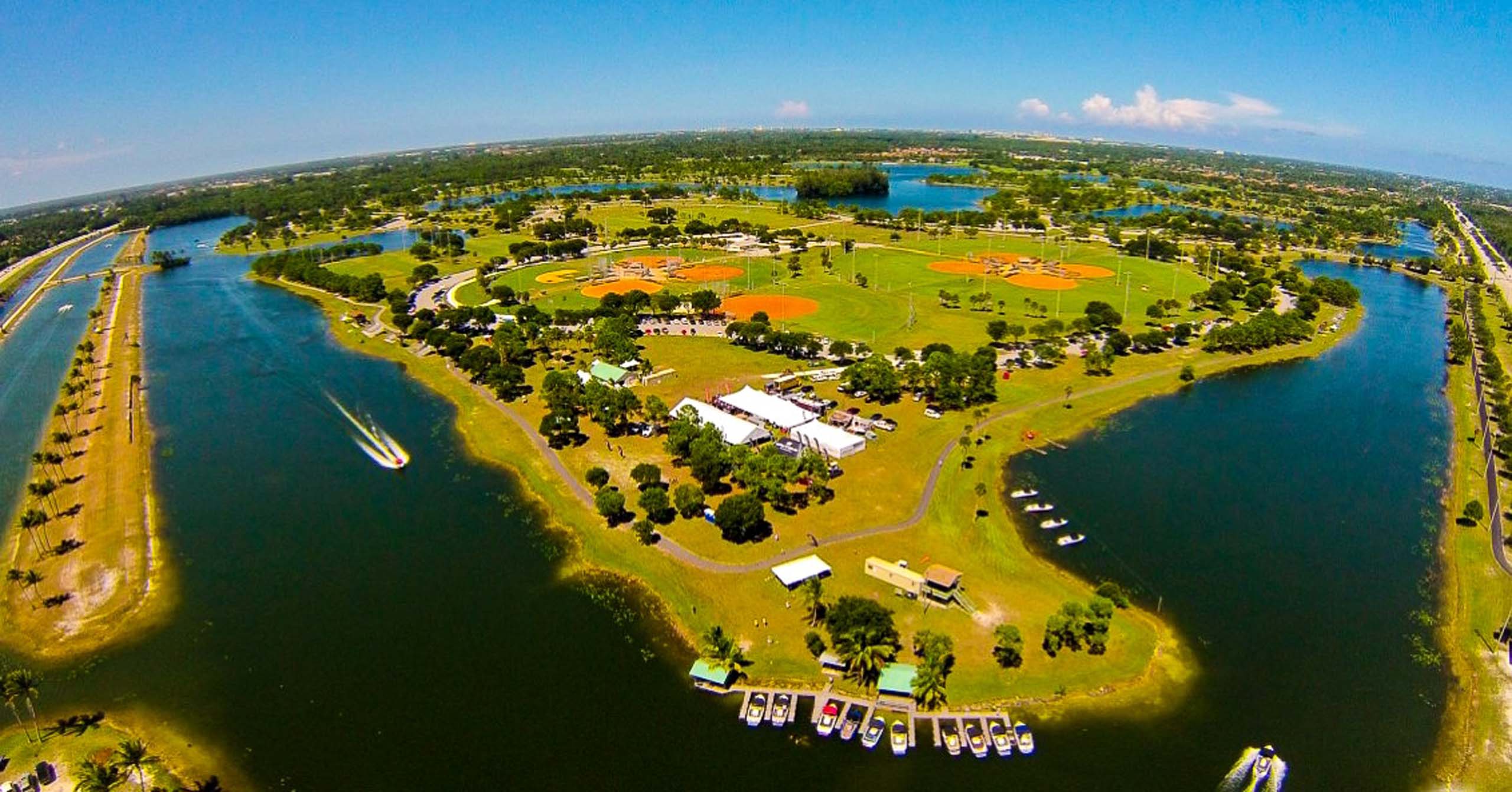 The Florida Sports Foundation, which is the official sports promotion and development organization for the State of Florida, recognized one of Palm Beach County's premier parks during the annual Florida Sports Summit. The Florida Sports Foundation presented its annual awards to recognize Florida communities and sports commissions for their efforts to cultivate sports tourism in Florida. The awards were presented at the annual Florida Sports Summit, which was held November 8-10.
Okeeheelee Park, which is a Palm Beach County Parks and Recreation venue, has been named the 2021 "Large Market Venue of the Year" by the Florida Sports Foundation. This award is presented annually to Florida's small, mid, and large market venues that excel in fostering sports development while creating tourism impacts within the state.
Okeeheelee Park is one of the largest parks in south Florida, which covers over 1700 acres. Okeeheelee Park is a catch-all for traditional and action sports. One of the most versatile venues in Palm Beach County, Okeeheelee Park includes eight tennis courts, six pickleball courts, five lighted youth baseball diamonds, four lighted softball diamonds, and four lighted multi-purpose fields that are ideal for soccer, lacrosse, football, rugby, and more. Okeeheelee Park not only contains a 27-hole public championship golf course; it is also one of the few venues in the region with an 18-hole course for disc golf. Five expansive water-skiing lakes allow for professional water-skiing competitions. One of the nation's premier cable wakeboarding facilities, Shark Wave Park, also resides within Okeeheelee Park. The site also features a premier equestrian venue in the Jim Brandon Equestrian Center and the top-ranked BMX track in Florida, Okeeheelee BMX.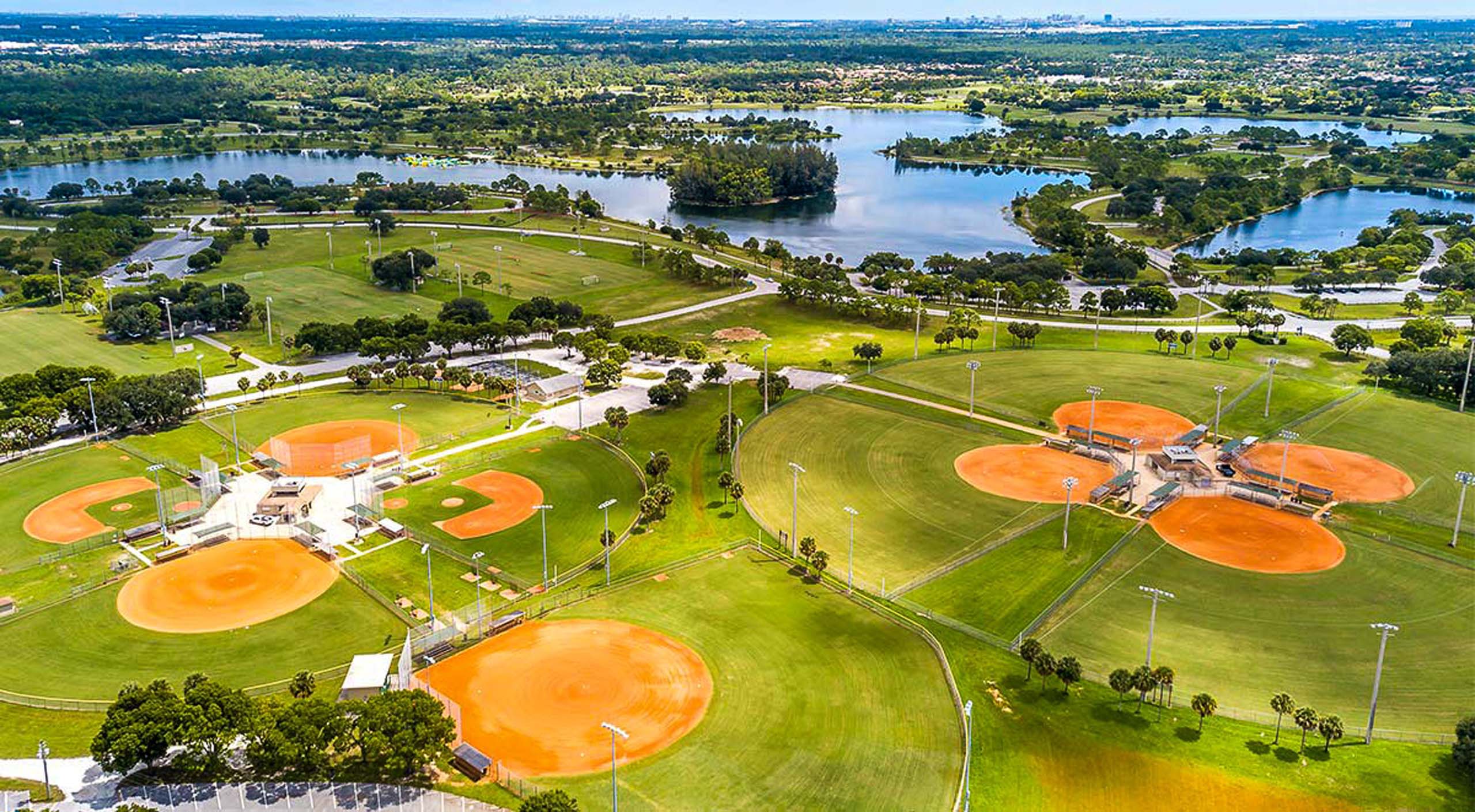 Okeeheelee Park was a launching pad for sports tourism recovery in The Palm Beaches. The Palm Beach County Sports Commission and Palm Beach County Parks and Recreation partnered to host a diverse collection of sports events at Okeeheelee Park over the past year. The first youth sports tournament to take place in Palm Beach County, during a post-Covid-19 era, happened at Okeeheelee Park through baseball. During the year, a variety of youth baseball events, girls fastpitch softball tournaments, soccer showcases, and tennis contests filled the venue while providing an economic and tourism benefit to The Palm Beaches. Okeeheelee Park was also home to a national BMX event in addition to professional and amateur water ski events. The Jim Brandon Equestrian Center hosted national equestrian showjumping events and provided a stage for the Kids Fitness Festival of the Palm Beaches, which introduces Palm Beach County's youth to a variety of sports.
"The Palm Beach County Sports Commission and Palm Beach County Parks and Recreation have an incredible partnership, which sparked a sports tourism recovery in The Palm Beaches," said George Linley, Executive Director of the Palm Beach County Sports Commission. "Okeeheelee Park is one of Florida's most comprehensive and resourceful venues with a sprawling footprint that is a setting for a multitude of sports. Together, the Palm Beach County Sports Commission and Palm Beach County Parks and Recreation utilized Okeeheelee Park to deliver sports tourism products over the past year. We are extremely grateful to the Florida Sports Foundation for recognizing Okeeheelee Park as Florida's Large Market Venue of the Year."
"I am very honored that Okeeheelee Park was selected as Sports Venue of the Year by the Florida Sports Foundation," said Eric Call, Director, Palm Beach County Parks and Recreation Department. "The park was master-planned in the '70s-'80s as Palm Beach County's central park and designed to offer recreation and sports opportunities for both amateur and professional athletes. We're very proud of the relationship we have established with the Palm Beach County Sports Commission and look forward to collaborating on many more events at Okeeheelee Park in the future."