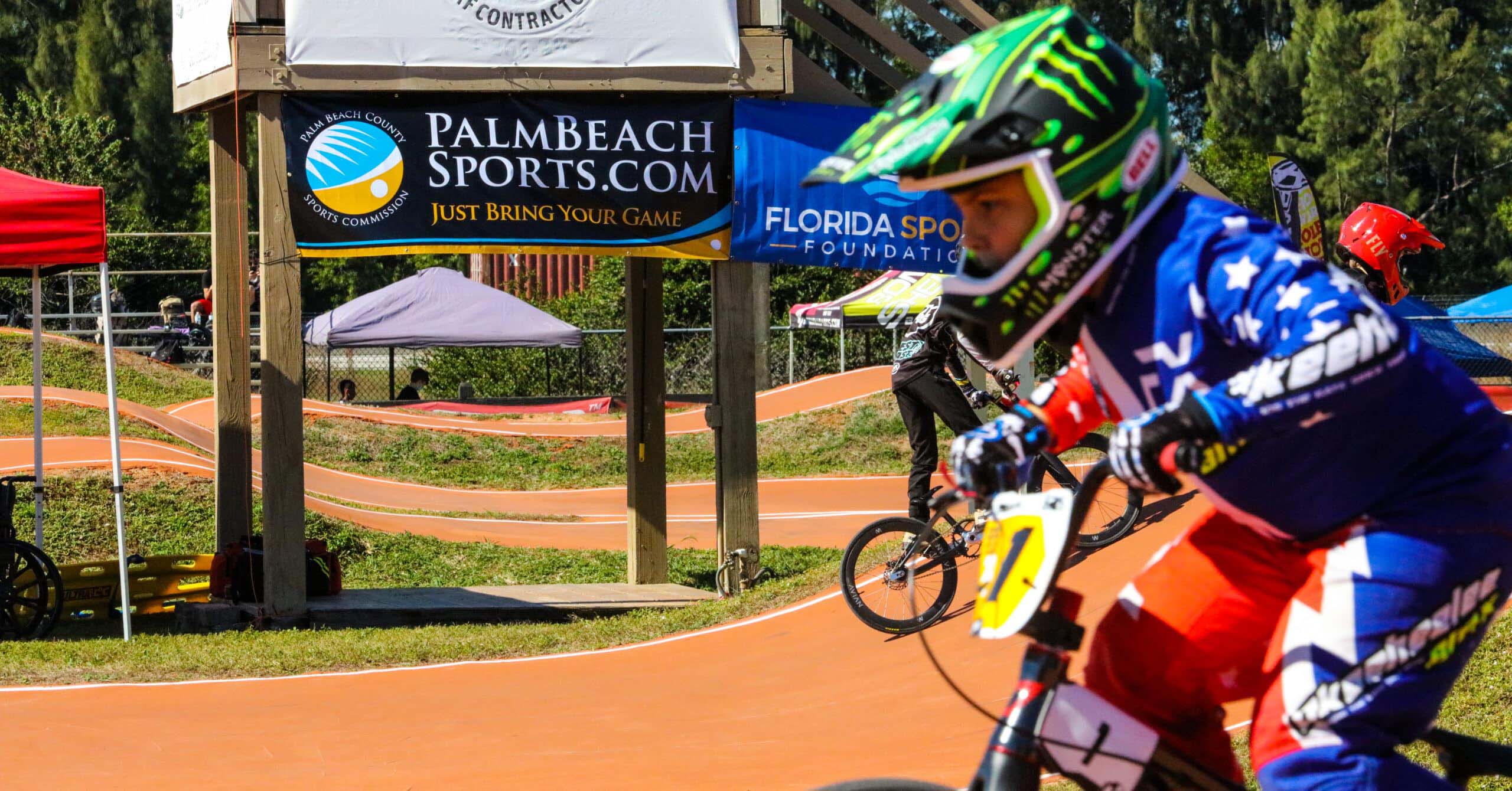 The Palm Beach County Sports Commission will welcome over 400 BMX riders and thousands of spectators from across the country to compete in BMX races during the USA BMX Gold Cup Weekend on August 4-6, 2023, at Okeeheelee BMX.
The Gold Cup Weekend serves as a qualifier for the Gold Cup Championship Final Southeast, the premier championship event for riders in the region. The Gold Cup Weekend at Okeeheelee BMX represents one of 13 qualifying events in the Southeast that will take place ahead of the finals this September.
The USA BMX Gold Cup represents one of two marque national events taking place at Okeeheelee Park during August. Less than one week after the USA BMX Gold Cup comes to a finish, Okeeheelee Park will be home to the GOODE Water Ski National Championships. This event will bring in thousands of athletes and water ski enthusiasts over a 4-day period, from August 9-12. Okeeheelee Park will be a sports tourism landmark during the month of August.
The host site for this premier competition is Okeeheelee BMX. The track is consistently voted as one of the best BMX facilities in the United States and was ranked as the No. 1 track in the eastern United States, according to USA BMX. As its name would suggest, Okeeheelee BMX is conveniently located inside one of Palm Beach County's most versatile venues, Okeeheelee Park.
At 1,700 acres, Okeeheelee Park is a West Palm Beach landmark—and an inviting catch-all for sports both common and unusual. Okeeheelee Park includes eight tennis courts, six pickleball courts, and one grass volleyball court. Five lighted baseball and four lighted softball fields touch all the bases, while four lighted multipurpose fields are ideal for soccer, rugby, lacrosse, football, and more. The park not only contains a 27-hole public championship golf course; it is also one of the few venues in the region with an 18-hole course for disc golf. Five expansive water-skiing lakes and Shark Wake Park allow for professional water-skiing competitions.