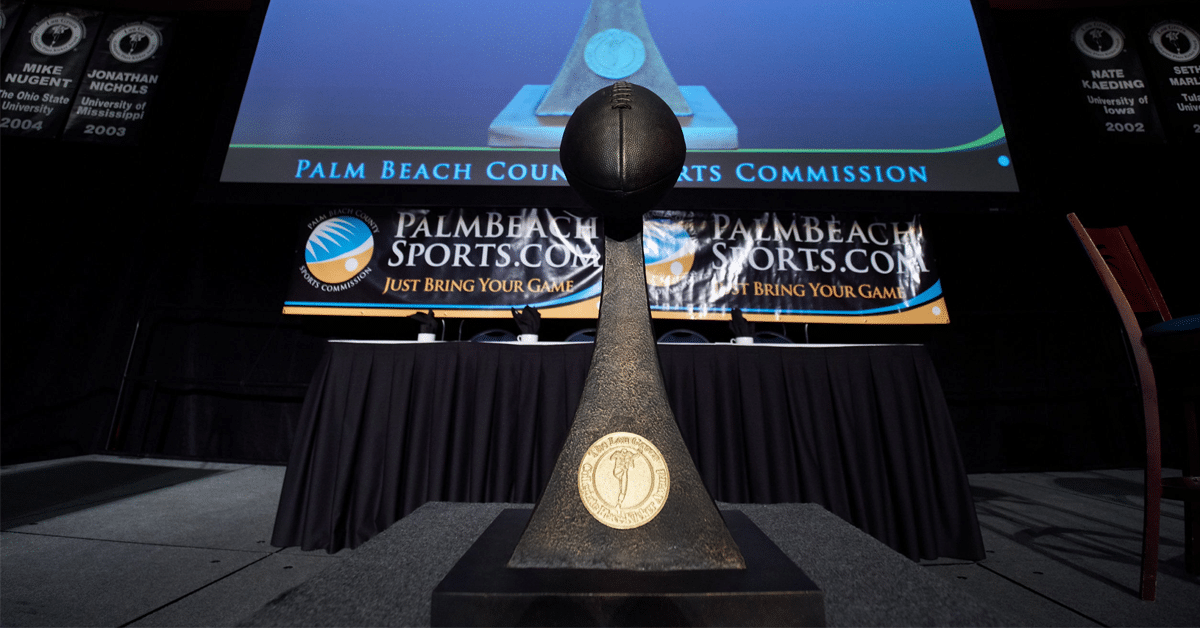 The Palm Beach County Sports Commission will honor the finalists for the Lou Groza High School Awards as a part of the 32nd Annual Lou Groza Collegiate Place-Kicker Awards Celebration presented by the Orange Bowl to be held at the West Palm Beach Marriott on December 4 at 6:30 p.m. ET. The awards finalists were announced Thursday morning by ESPN West Palm.
Since the inception of the Lou Groza Award in 1992, the Palm Beach County Sports Commission has highlighted the best of local high school football. This season, West Boca Raton Community High School, Jupiter Community High School, and The Benjamin School are tied for the most nominations with two.
"There has been no shortage of incredible displays of athleticism this season, and the Lou Groza High School Awards represent the best of the best when it comes to high school football in Palm Beach County," said George Linley, executive director of the Palm Beach County Sports Commission. "This year's finalists are comprised of phenomenal talents, and we cannot wait to celebrate them all this December."
Tickets for the banquet are on sale now.
To determine the winners of the four Awards, ESPN West Palm, whose broadcast team covers the local football scene all season, provides the nominees for each award.
The Lou Groza High School Awards finalists are:
Palm Beach County Team of the Year
Atlantic Community High School
Cardinal Newman High School
St. Andrew's School
Palm Beach County Player of the Year
Jacob Cosby-Mosley – The Benjamin School
Luke Douglas – Jupiter Community High School
Javian Mallory – West Boca Raton Community High School
Blake Wallace – Spanish River Community High School
Palm Beach County Place-Kicker of the Year
Ethan Dagostino – Palm Beach Central High School
Jake Weinberg – American Heritage Schools, Palm Beach Campus
Lily White – The Benjamin School
Sam Budnyk Coach of the Year
Jason Kradman – Jupiter Community High School
Jamelle Murray – Atlantic Community High School
Dylan Potts – West Boca Raton Community High School