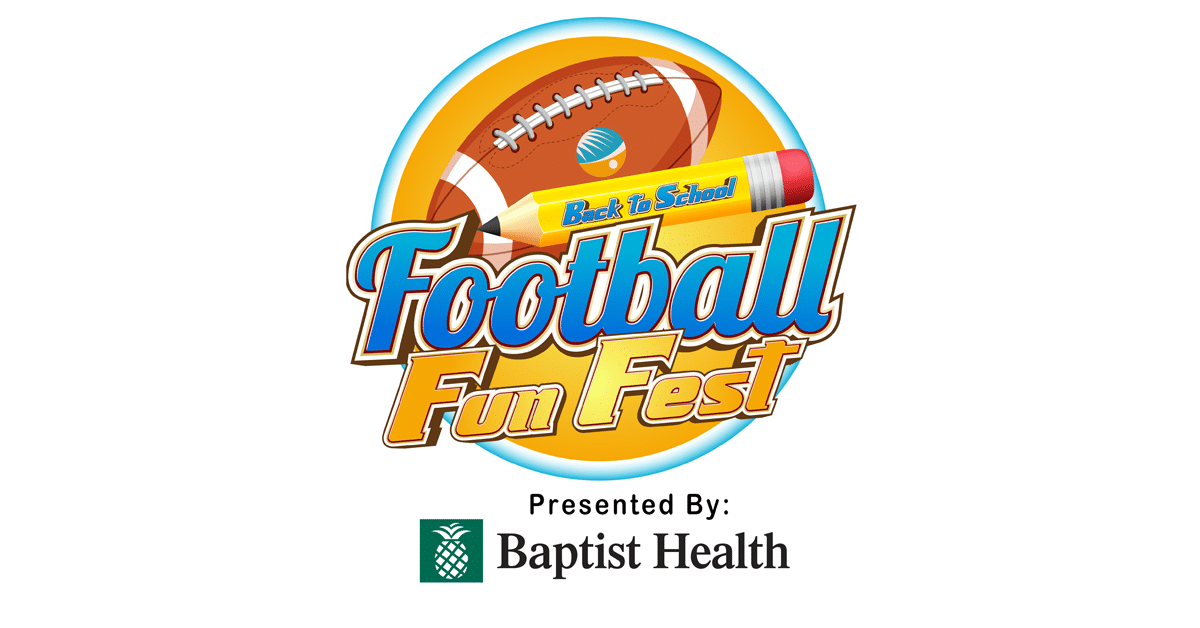 The Palm Beach County Sports Commission, in partnership with Baptist Health, the Miami Dolphins, and Spirit of Giving, will host the Back-to-School Football Fun Fest Presented by Baptist Health on Saturday, July 30 from 9:00 a.m. to 3:00 p.m. at Village Academy in Delray Beach. Registration for the event has closed.
The Back-to-School Football Fun Fest was created by the Palm Beach County Sports Commission in 2021 to emphasize education, physical fitness, and positive choices for youth in a safe and fun sports environment. During the event, children can meet Miami Dolphins alum Shawn Wooden and Miami Dolphins cheerleaders. In addition to the football instruction, attendees will enjoy a bounce house, free giveaways, and a football kicking activity from the RoofClaim.com Boca Raton Bowl.
"The Palm Beach County Sports Commission is thrilled to partner with Baptist Health, Delray Beach Parks and Recreation, the Miami Dolphins, and Spirit of Giving to bring this one-of-a-kind event back to the youth of Palm Beach County," said George Linley, Executive Director of the Palm Beach County Sports Commission.
The Back-to-School Football Fun Fest will take place in conjunction with Spirit of Giving's annual Back to School PBC event. On one day throughout Palm Beach County over 10,000 students, grades K-12 will receive a backpack filled with grade-appropriate supplies, parent resource kits, meals, and more.
Back to School PBC is an annual event that helps prepare local at-risk children for the upcoming school year. At the event, children are paired with a volunteer to help them "shop" for new backpacks, grade-appropriate school supplies, uniforms, properly fitted shoes, and socks. Children also receive haircuts, healthy meals, and snacks. Participating families also receive access to basic healthcare at our Health Carnival. Licensed professionals educate families on nutrition, provide school physicals and healthcare including dental checks, glucose and blood pressure checks, vision/hearing screenings, mammograms, and more. Access to basic healthcare keeps families on the right track for the entire year. In addition, while the children enjoy "shopping", the parents can access information and resources.
Back to School PBC serves over 5,000 children from low-income households, homeless, at risk of homelessness or in foster care in Palm Beach County. Approximately 75% of the children qualify for Medicaid, 15% have private insurance and 10% have no insurance.  Ninety-eight percent of the recipients are on a free or reduced school lunch program. The event also assists children with special needs. Unfortunately, Covid-19 has disproportionately impacted this already vulnerable population. Now, more than ever, it is critical to continue to provide these families with the sense of stability, security, and support that Back to School PBC offers.
"Baptist Health is excited to be back as the presenting sponsor of Back-to-School Football Fun Fest, and to continue our invaluable community impact focused-work with the Palm Beach County Sports Commission," said Reggie Laroche, Assistant Vice President at Baptist Health Orthopedic Care. "Baptist Health has always prioritized engaging the community by spreading awareness about the importance of youth sports. This collaboration allows us to improve lives, not just through sports, but by advocating the value of living a healthy lifestyle."