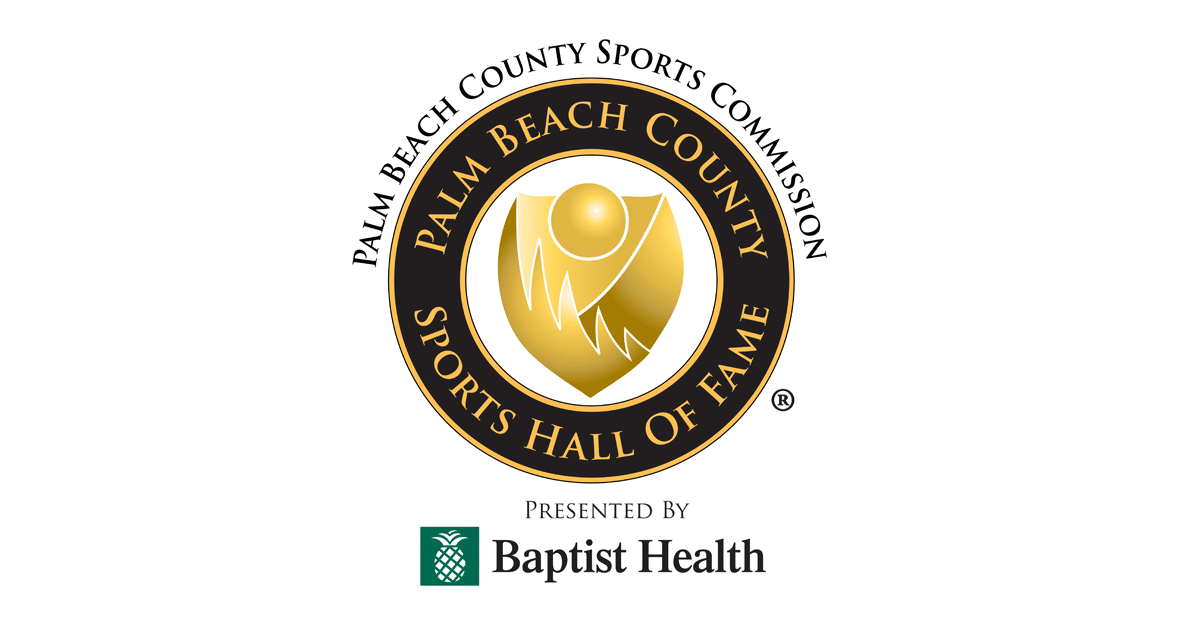 The Palm Beach County Sports Commission announced today its 2022 Palm Beach County Sports Hall of Fame honorees. Coaches, athletes, and community leaders dedicated to helping others through sport will join family and friends to celebrate and honor the achievements of the inductees at the 45th Annual Palm Beach County Sports Hall of Fame presented by Baptist Health, to be held on April 3, 2022. The 2022 Hall of Fame Inductees are Willie Bueno, Pierre Garcon, Laura Kraut, Pat O'Donnell, Cody Parkey, Steve Politziner, and Devon Travis.
Willie Bueno
Willie Bueno played high school football at Glades Day School from 1984 to 1986. He was a 2nd team All-State linebacker in 1984 and a 1st team linebacker in 1985 and 1986. He played college football at Grand Valley State from 1988 to 1991. At Grand Valley State, Bueno was named an All-MEAC linebacker in 1990. After college, he was an assistant coach at his alma mater, Glades Day School, for the 1994 season. In 1995, he accepted a position at Glades Central High School as an assistant coach and in 2000 he became the head coach. He coached at Glades Central until 2002. He returned to Glades Day for the 2003 and 2004 seasons. In 2005, he accepted the head coach position at American Heritage where he stayed until 2010. In 2011, he accepted the head coaching position at Royal Palm Beach Community High School where he stayed until 2017. In 2018 Willie returned to his alma mater, Glades Day, where he is currently an assistant coach.
Pierre Garcon
Hailing from Palm Beach County, Pierre Garçon had an extensive career as a wide receiver in the National Football League, lasting over 11 years. His NFL career included 628 receptions, 7,854 total receiving yards, and 38 touchdowns. Garçon helped lead the Colts to a berth in Super Bowl LIV at Hard Rock Stadium in Miami and scored the game's first touchdown. In 2013, Garçon led the NFL with 113 receptions that totaled 1,346 receiving yards, and five touchdowns. In college, Garçon led Mount Union to two consecutive NCAA Division III Football Championships. While at Mount Union, Garçon averaged 68 receptions per year with over 1,100 yards receiving yards per year. Over his college football career, he scored 60 touchdowns. Garçon is one of Palm Beach County's greatest high school athletes, excelling at both football and soccer during his time at John I. Leonard.
Laura Kraut
Laura Kraut's illustrious career began when she received her first riding lesson at the age of three. Encouraged by their mother, Carol, Kraut, and sister Mary Elizabeth took riding lessons together throughout their childhood and still work together today. Laura's most recent accolade came when as a member of the U.S. Jumping Team they earned the silver medal at the 2020 Olympics in Tokyo. The team has an intense jump-off battle with Sweden in the Jumping Team Final to conclude the equestrian competition at Tokyo 2020. Kraut was named an alternate at the 1992 Olympics and later made her debut at the 2008 Olympics where she was part of the gold medal-winning team. Kraut has also represented the U.S. at the FEI World Equestrian Games and the FEI Nations Cup Finals.
Pat O'Donnell
Pat O'Donnell began his football career at Palm Beach Central High School. He played multiple positions but excelled as a placekicker and punter, earning 6-A All-State honors. He averaged 45.1 yards per punt in high school. While at the University of Cincinnati he led the nation with 17 punts over 50 yards, earning a place on the All-Big East team, and was named a semi-finalist for the Ray Guy Award. In 2013, he transferred to the University of Miami to be closer to his father who was battling cancer. While at Miami he was selected to the All-American and All-ACC teams, averaging 47.1 yards per punt. O'Donnell was drafted by the Chicago Bears in 2014 where he subsequently was named to the All-Rookie team. When not playing for the Bears, O'Donnell often devotes his time to host free football clinics for underprivileged youths in the community.
Cody Parkey
Cody Parkey played for Jupiter High School as a placekicker and won the Lou Groza High School Placekicker of the Year Award. As Auburn University's kicker from 2010 to 2013, he was named to the All-SEC Team and won a National Championship. Parkey was signed by the Indianapolis Colts in 2014 where he was named to the NFL All-Rookie Team and Pro Bowl Team in his first year in the league. He set the NFL rookie record for scoring 150 points in a single season. Parkey spends much of his offseason helping with free football clinics.
Steve Politziner
Steve Politziner realized his lifelong dream of working in sports broadcasting soon after his graduation from Lehigh University. In 1998, Politziner joined the newly formed Good Karma Brands (GKB). In 2003, Politziner moved to West Palm Beach to lead the acquisition of ESPN 760. Under Steve's leadership, ESPN 760 became ESPN West Palm, growing into a sports marketing enterprise with the acquisition of ESPN 106.3, its television partnerships with Newschannel 5 (WPTV) and FOX 29 (WFLX), broadcast rights to the top local and national teams and events, and a dedicated effort to cover high school sports at ESPNWestPalm.com. Steve maintains an active role in the community, serving on the Orange Bowl Committee, College Football National Championship Game Committee, Honda Classic Board of Directors, Palm Beach County Sports Commission Board of Directors, Chamber of the Palm Beaches Board of Directors and is an active member of the Business Development Board.
Devon Travis
Devon Travis started early in his baseball career by playing for the Boynton Beach All-Stars in the 2003 Little League World Series, finishing second to Japan. He played second base for Palm Beach Central High School, earning Palm Beach County Player of the Year honors, and was named to the All-State baseball team in 2009. Travis played second base for Florida State University and started every game during his time with the Seminoles. He was drafted by the Detroit Tigers and later traded to the Toronto Blue Jays where he played from 2015 to 2018. He is currently coaching with the Atlanta Braves organization and spends much of his time outside of baseball helping kids with terminal cancer to enjoy the holiday seasons.