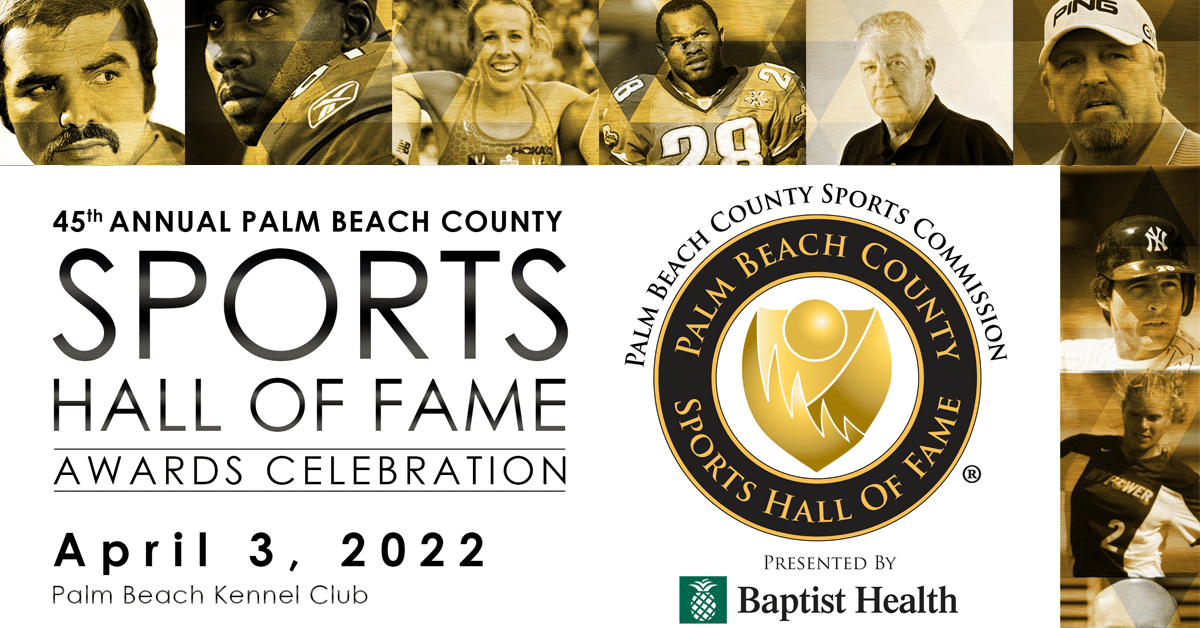 The Palm Beach County Sports Commission will host the Palm Beach County Sports Hall of Fame presented by Baptist Health as it honors the 45th annual induction class on Sunday, April 3 inside the Paddock Room at the Palm Beach Kennel Club. Cocktails will be served and the silent auction will begin at 4:30 p.m. The dinner and program will start at 5:30 p.m.
Coaches, athletes, and community leaders dedicated to helping others through sport will join family and friends to celebrate and honor the achievements of the inductees at the 45th Annual Palm Beach County Sports Hall of Fame presented by Baptist Health. The 2022 Hall of Fame Inductee class is Willie Bueno, Pierre Garcon, Laura Kraut, Pat O'Donnell, Cody Parkey, Steve Politziner, and Devon Travis.
The Hall of Fame will honor the Annual Sport Awards: the High School Athlete of the Year – Female, High School Athlete of the Year – Male, Amateur Athlete of the Year, High School Coach of the Year, and Coach of the Year. The Hall of Fame will also recognize several individuals with additional awards including the Dick Moroso Memorial Motorsports Award, Special Olympics Athlete of the Year Award, Outstanding Sports Contributor, Champion of Equity and Diversity in Sports, Palm Beach County Sports Commission Trailblazer Award, and a special tribute to the 1967-68 Roosevelt High championship basketball team.
Full list of inductees and annual award finalists:
Willie Bueno
Coach Willie Bueno personifies championship high school football in Palm Beach County. He joined the coaching staff at Glades Day in 1994 after an outstanding college career at Grand Valley State where he was named the All-MEAC linebacker for the 1991 season. After one season at Glades Day, Willie Bueno joined the coaching staff across town, at Glades Central High School, becoming the head coach in 2000 and leading his team to a state championship. In 2003, Coach Bueno took advantage of the opportunity to head the football program at his alma mater. In 2005, American Heritage came calling and Willie accepted their head coaching position. Coach Bueno led American Heritage to the state championship twice during his tenure, which would last through the 2010 season. Coach Bueno then led Royal Palm Beach High to their first regional title. He currently is a member of the staff at Glades Day. Under his mentorship, more than 200 of his former players have earned college football scholarships and 20 of them have gone on to play in the National Football League. He is a four-time Palm Beach Post Coach of the Year and he was named the Lou Groza Award Coach of the Year in 2011.
Pierre Garcon
Pierre Garçon grew up in Greenacres, Florida where he fell in love with football, a passion that propelled him to the sports grandest stage, the Super Bowl. The journey started at John I. Leonard High School, where Pierre excelled in soccer and became the school's most iconic football player as a wide receiver. Pierre played his college football at Mount Union University in Alliance, Ohio and averaged 68 receptions and over 1,110 yards in his collegiate career from 2005-2008. Moreover, Garçon led Mount Union to consecutive NCAA Division III National Championships. It is rare that players from Division III schools find their way to the National Football League, but Pierre caught the attention of scouts and was drafted in 2008 by the Indianapolis Colts, where he spent four seasons. He became a deep threat in Peyton Manning's offense and pushed his Colts to Super Bowl XLIV (44) at Hard Rock Stadium in Miami, where he scored the game's first touchdown. In addition to his four years at Indianapolis, Garçon played five years at Washington and two years at San Francisco. His premier season in the NFL was 2013 when he led the league with 113 receptions for more than 1,300 yards and five touchdowns. During his entire NFL career, he accumulated 38 touchdowns, 628 receptions, and 7,854 total yards, which puts him in the upper echelon of wide receivers and near the top 100 for total receiving yards in the NFL's history. This past December, Pierre was honored with the Palm Beach County Football Legends Award presented as part of the RoofClaim.com Boca Raton Bowl festivities by the David A. Burke Foundation for his notable achievements and contributions to the sport.
Laura Kraut
Olympic medalist Laura Kraut began taking horseback riding lessons when she was three years old. Today, she is a three-time Olympian as a member of the United States Show Jumping team that won the Gold in 2008 at Beijing and the Silver medal during the 2020 Toyko Olympics. There have been many victories and accolades in the years between those first riding lessons and standing on the Olympic podium. Laura's breakthrough came in 1991 when she was named an alternate for the 1992 Barcelona Olympics. She made her Olympic debut eight years later in Sydney, riding Liberty. The 2008 games were in Beijing with Laura riding Cedric. The FEI World Equestrian Games (WEG) represent the very best in the disciplines of equestrian sports and Kraut has recorded some impressive WEG appearances through the years. In 2006, aboard Miss Independent, she helped the team win the Silver medal in Aachen, Germany. She also made the WEG teams in 2010 and again in 2018 where she led the United States to Gold. Laura has been a member of the team when it medaled twice at FEI Nations Cup Finals in 2016 and 17. In 2021, Laura has continued her successful career with impressive results in numerous national events, including the 2020 $230,000 Longines FEI USA Nations Cup. She was named the 2021 International Equestrian of the Year by US Equestrian. When not showing Laura and partner British Show Jumper Nick Skelton run a horse training business.
Pat O'Donnell
Punter Pat O'Donnell's football journey began at Palm Beach Central High School where he played many positions but excelled in both place-kicking and punting. His punting prowess earned him class 6A All-State Honors. He averaged 45.1 yards per punt during his high school football career. O'Donnell's strong leg delivered a scholarship at the University of Cincinnati where he led the nation with 17 punts longer than 50 yards and earned All-Big East honors in 2011 and was named a semifinalist for the Ray Guy Award. In 2013, he transferred to the University of Miami, where he would be selected to the All-ACC and All-America teams, averaging 47.1 yards per punt. In 2014, O'Donnell was the 6th round pick of the Chicago Bears in the National Football League, becoming the only punter drafted that year. He made an immediate impact by being named to the NFL All-Rookie team. Over his eight years with the Bears, Pat has 564 punts and maintained that 45.1 yards per punt average for a total of 25,451 yards. This past season he averaged 46.2 yards on 62 punts, including a 72-yard bomb for a total of 2,865 punting yards.
Cody Parkey
Cody Parkey's accolades started at Jupiter High School when he was named the 2009 Lou Groza Award High School Place-Kicker of the Year. He was also named to the USA Today High School All-America team. Parkey was highly recruited and ultimately accepted a scholarship to Auburn University where he was named to the 2013 All-SEC team and was on the Tigers' 2010 national championship team. After Auburn, Cody was signed as an undrafted free agent by the Indianapolis Colts in 2014. After being traded to the Philadelphia Eagles before the season, Cody was named to the All-Rookie team and after setting the NFL rookie scoring record with 150 points, Cody played in the Pro Bowl. His shoes from that season now live in Canton, Ohio at the Pro Football Hall of Fame. Most place-kickers in the NFL are well-traveled and Parkey is no exception. In his eight NFL seasons, in addition to the Colts and Eagles, he has seen action with the Browns, Dolphins, Bears, Titans, and Saints.
Steve Politziner
Good Karma Brands President, Steve Politziner, turned his passion for sports into a career as one of Palm Beach County's greatest sports business icons. Working in sports broadcasting was his dream and after graduating from Lehigh University, the journey began. In 1998 Politziner joined the newly formed Good Karma Brands. In 2003 he came to Palm Beach County when the company acquired AM 760 and turned it into ESPN 760, now ESPN West Palm. Since then, Good Karma Brands has expanded into a complete sports marketing enterprise, which in addition to radio includes television partnerships, digital marketing platforms through ESPN, and sports event marketing and production initiatives. Under Steve's leadership, ESPN West Palm became a major contributor to the success of the RoofClaim.com Boca Raton Bowl. In 2017 Politziner was named Good Karma president, expanding his role to leading the company's marketing partnership efforts across all their markets. Steve has served on the Palm Beach County Sports Commission Board of Directors and his other affiliations include membership on the Orange Bowl Committee, The Honda Classic Board of Directors, the Chamber of the Palm Beaches, and the Business Development Board.
Devon Travis
Devon Travis' journey to baseball fame began when his East Boynton Beach All-Stars became Palm Beach County's most memorable little league baseball team. After capturing the Little League National Championship, the East Boynton Beach All-Stars earned a trip to Williamsport for the 2003 Little League World Series and finished as runners-up. Devon attended Palm Beach Central High School where he became an All-State player. After earning a scholarship to Florida State, Devon became a standout player at second base and was named to the All ACC & All-American teams in 2012. He was drafted by the Detroit Tigers in 2012 and would go on to be named the Minor League Player of the Year. Travis made his MLB debut with the Toronto Blue Jays in 2015. His career got off to a hot start as he was named the American League Rookie of the Month, hitting .326 with 6 homers. His playing career would continue through 2019. Now Travis has focused his next chapter to working with prospects as a coach within the Atlanta Braves organization.
High School Athlete of the Year – Female
Casey Lewis – Palm Beach Lakes – Basketball
Emily Schleifer – American Heritage – Soccer
Haylie Young – Seminole Ridge – Flag Football
High School Athlete of the Year – Male
Jayden Hylton – Palm Beach Gardens – Baseball
Markel King – Palm Beach Central – Football
Diego Reyes – Spanish River – Soccer
Amateur Athlete of the Year
Izaak Bastian – Swimming
Sage Chen-Young – Football
Chloe Kovelsky – Golf
High School Coach of the Year
Terri Kaiser – Lake Worth Christian – Girls' Volleyball
Fred Ross – William T. Dwyer – Boys' Basketball
Tony Seaman – St. Andrew's – Boys' Lacrosse
Coach of the Year
Lauren Bennett – Keiser University – Women's Lacrosse
Capri Grotowski – Florida Atlantic University – Beach Volleyball
Gavin Oldham – Keiser University – Men's Soccer
Champion of Equity and Diversity in Sports
Gay Polo League – Chip McKenney
Dick Moroso Memorial Motorsports Award
Hurricane Racing Team
Outstanding Sports Contributor
Mahammad A. Qureshi
Special Olympics Athlete of the Year Award
Jackie Applebaum
Palm Beach County Sports Commission Trailblazer Award
Victoria Kingdom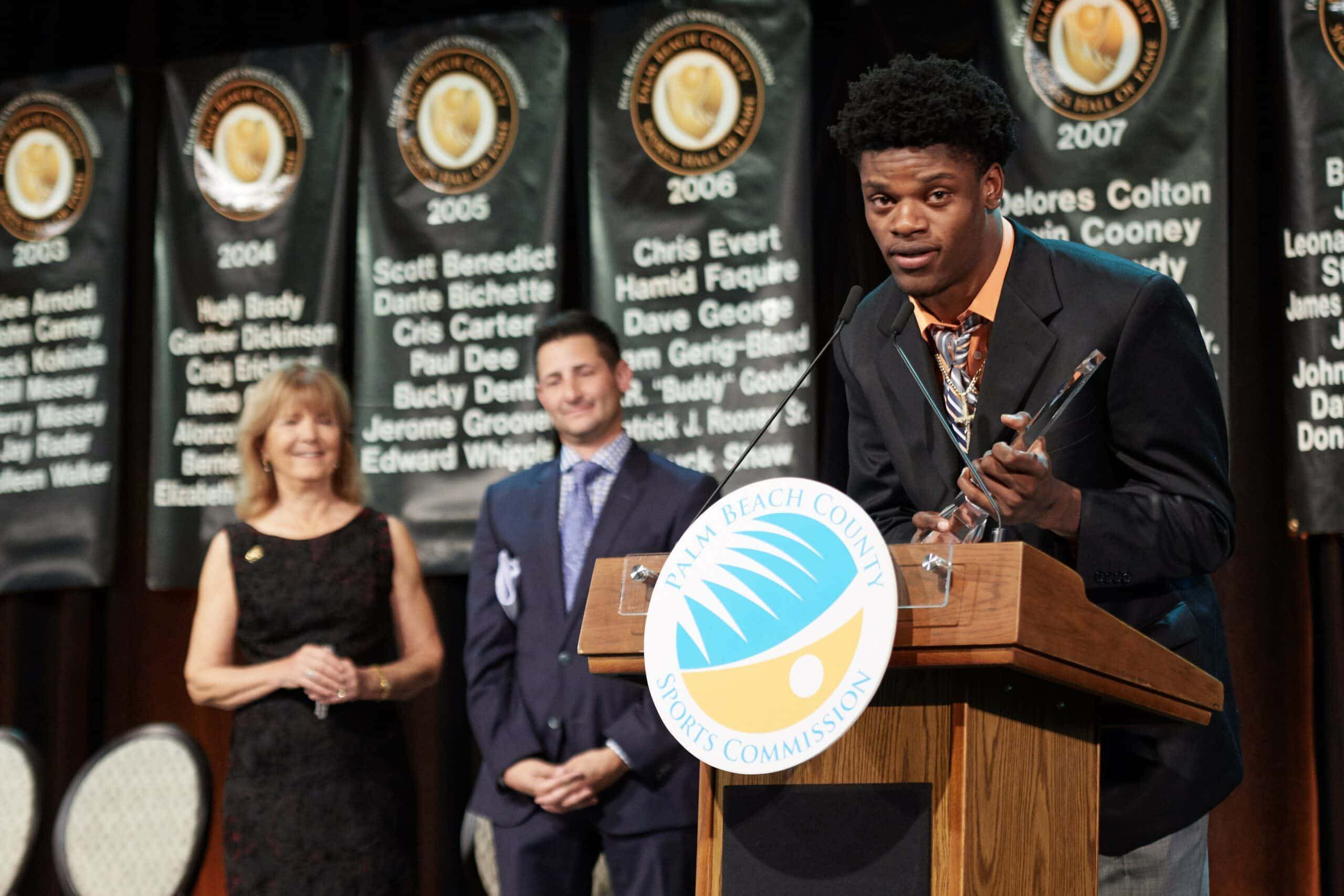 Boynton Beach High School graduate Lamar Jackson accepted the Amateur Athlete of the Year in 2018.