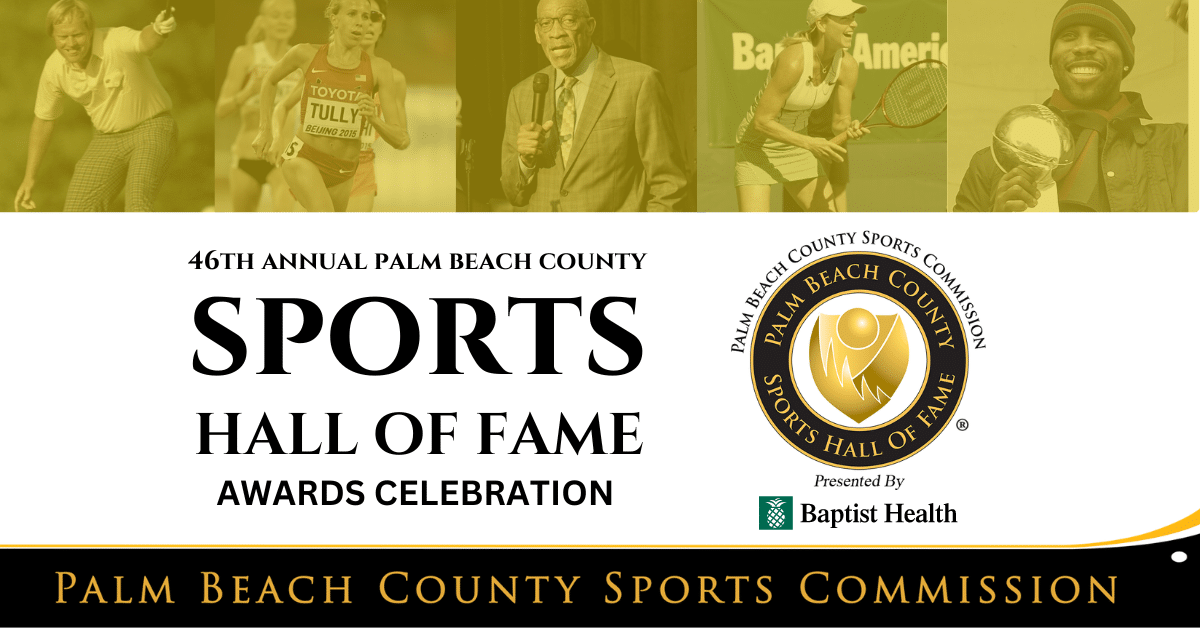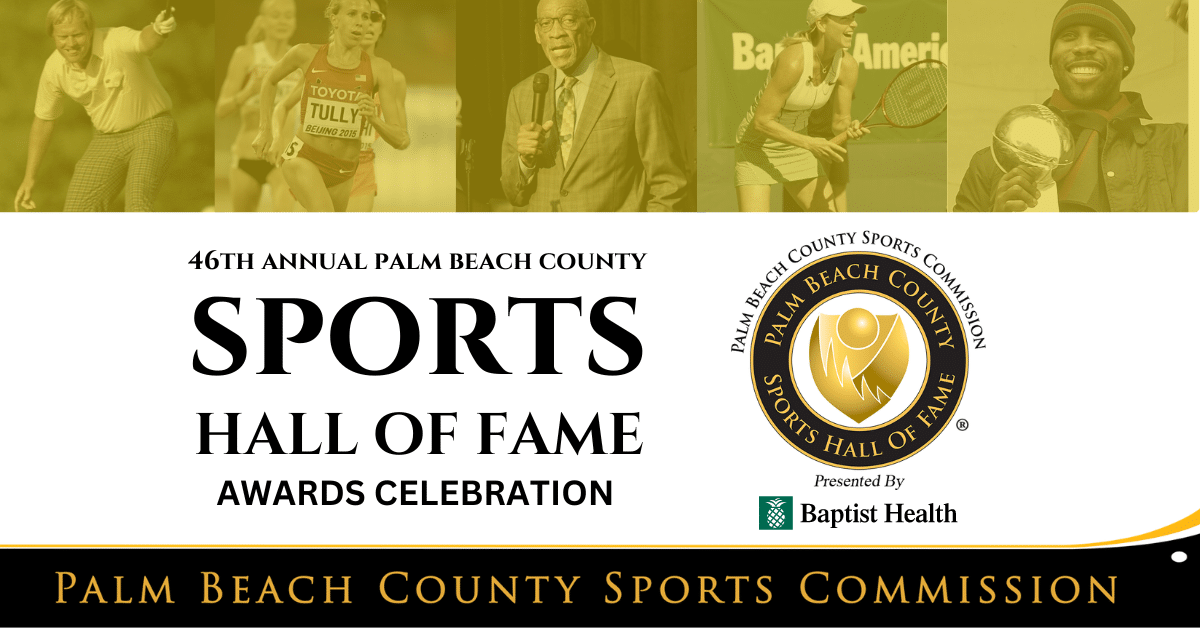 The Palm Beach County Sports Commission will host the Palm Beach County Sports Hall of Fame presented by Baptist Health as it honors the 46th annual induction class on Sunday, April 2 inside the Paddock Room at the Palm Beach Kennel Club. Cocktails will be served and the silent auction will begin at 4:30 p.m. The dinner and program will start at 5:30 p.m.
Coaches, athletes, and community leaders dedicated to helping others through sport will join family and friends to celebrate and honor the achievements of the inductees at the 46th Annual Palm Beach County Sports Hall of Fame presented by Baptist Health. The 2023 Hall of Fame Inductee class is Jim Arbogast, Jon Bostic, Sonja Friend-Uhl, Eric Moore, Alfred Morris, Brad Peacock, and Johnny Rutledge.
The Hall of Fame will honor the Annual Sport Awards: the High School Athlete of the Year – Female, High School Athlete of the Year – Male, Amateur Athlete of the Year, High School Coach of the Year, and Coach of the Year. The Hall of Fame will also recognize the Special Olympics Athlete of the Year Award and the Outstanding Sports Contributor.
Full list of inductees:
Jim Arbogast
Jim Arbogast began his coaching career in the 1970s at John F. Kennedy Middle School, where he led the basketball team, as well as baseball, swimming, and football. Arbogast's success on the basketball court would continue throughout his career with Cardinal Newman where he won two conference Coach of the Year awards and received a Coach of the Year nod from both the Palm Beach Post and Sun Sentinel. He then moved to Palm Beach Gardens High School in 1985 as athletic director and head coach of various teams. Arbogast won four conference Coach of the Year titles in bowling, two in cross country, and two in volleyball. However, it was his work as the head coach of the Gators' boys' basketball team that truly solidified his status as a coaching legend. His achievements include three district championships, two elite eight appearances, and a 1996 Sunshine State Championship. Arbogast's accomplishments earned him a well-deserved spot in the Palm Beach County Sports Hall of Fame.
Jon Bostic
Jon Bostic is a standout linebacker with nearly a decade of experience at the highest level of football. He got his start at Palm Beach Central, where he excelled as both a linebacker and running back. Bostic was heavily recruited by major college football programs, but he chose to play for the Florida Gators, where he immediately made an impact as a freshman. During his college career, Bostic continued to impress, starting in 32 games and recording impressive stats. He was named a second-team All-Southeastern Conference selection in 2012, and he graduated with a Bachelor of Science degree in Health, Education, and Behavior the same year. In 2013, Bostic was drafted in the second round by the Chicago Bears and has since played for several teams in the NFL. But Bostic's dedication to his community is just as impressive as his football career. He is committed to giving back to Wellington, where he got his start, and is currently developing a sports training complex to help young athletes in the area.
Sonja Friend-Uhl
Sonja Friend-Uhl is a highly accomplished athlete and fitness trainer with over twenty years of experience. She began her athletic career as a State Champion in High School and went on to set records as a runner at the College of William and Mary. Sonja has represented the USA in six world teams and was a 2000 Olympic Trials Competitor in the 1500m. After transitioning to Masters Running, she has set several world records and holds numerous American and World Masters Championships in various track and cross-country events. Aside from her athletic achievements, Sonja is a skilled fitness programmer, holding certifications in Fitness Training with ACSM and AFAA, as well as specialty certifications in Youth, Senior, and Pre-Natal Fitness. She is also USATF Coaching Certified and has served as a coach at the high school, collegiate, club, and private levels, including notable stints at Vanderbilt and Florida Atlantic. Sonja is passionate about using her experience and knowledge to train people of all ages and abilities.
Eric Moore
Eric Moore is a former football player who rose to stardom from Palm Beach County, Florida. He played high school football at Pahokee, where he became one of the most sought-after players in the nation. Moore was recognized as a USA Today All-American and a Rivals All-American for his outstanding performance on the field. After committing to play for Florida State, Moore played as a three-year starter for the Seminoles, earning all-conference honorable mentions and second-team All-ACC honors. His impressive college career caught the attention of NFL scouts, and he was drafted by the New York Giants in 2005. During his seven-year career in the NFL, Moore played for several teams, including the New Orleans Saints, St. Louis Rams, Carolina Panthers, and New England Patriots. He made significant contributions on the field, racking up 45 tackles, six sacks, an interception, and 10 forced fumbles.
Alfred Morris
Alfred Morris is a former football player who had an illustrious career both in college and in the NFL. He attended Florida Atlantic University with a dream of finding his place in Howard Schnellenberger's offense, and he achieved just that. Morris was a dominant force on the field, setting numerous school records, including an incredible 733 rushing attempts. He was a two-time 1,000-yard rusher and the first FAU running back to break the single-season double-digit touchdown mark. Morris finished his college career with 26 touchdowns and 3,529 career yards, earning him induction into the FAU Athletic Hall of Fame in 2019. In 2012, Morris was drafted by the Washington Commanders in the NFL Draft, and he quickly proved himself as an exceptional talent. He broke the franchise rushing record in his rookie season, earning him two Pro Bowl trips and second-team All-Pro honors. Morris went on to play for the Dallas Cowboys, San Francisco 49ers, Arizona Cardinals, and the New York Giants, amassing a total of 35 touchdowns and rushing 1,429 times for 6,173 yards across nine NFL seasons.
Brad Peacock
Brad Peacock is a former baseball player who began his career in Wellington, Florida, where he excelled in the Babe Ruth League and became an All-Star high school baseball player for Palm Beach Central. He transitioned to pitching and attended Palm Beach State College to further develop his skills. After going 8-0 as a starter, Peacock turned pro and continued to hone his craft in the minor leagues before getting the call up to the big leagues in 2011. Peacock played for the Washington Nationals, Oakland Athletics, and Houston Astros during his career, where he became an extremely effective reliever for the team. In 2017, Peacock played a significant role in the Astros' World Series title, helping the team to 101 regular-season wins. He made history during the playoffs by finishing one game and starting the next with no rest, a feat not seen in 95 years. In game three of the World Series, Peacock pitched a hitless performance, lifting the Astros to a 2-1 series lead. Peacock went on to win another American League Championship with the Astros in 2019.
Johnny Rutledge
Johnny Rutledge is a former football player who made his mark on the sport from his hometown of Belle Glade, Florida. He played high school football for the Raiders of Glades Central High School, where he quickly earned recognition from college football powerhouses. Rutledge committed to play for the University of Florida, where he shined from 1995 to 1998. During his time at the University of Florida, Rutledge played a key role in the Gators' back-to-back Southeastern Conference championships. He was also a member of the 1996 Gators' team that won the Sugar Bowl and the Bowl Alliance national championship. Rutledge was recognized as a second-team All-Southeastern Conference selection as a junior in 1997 and a first-team selection as a senior in 1998. After college, Rutledge continued his football career at the professional level with the Arizona Cardinals and later the Denver Broncos. Over the course of his career, he made 46 appearances before retiring.
Annual Award finalists
High School Athlete of the Year – Female
Luna Curran – Oxbridge Academy, Softball
Carli Fleisher – American Heritage School-Delray, Lacrosse
Mya Quinn – Spanish River Community High School, Flag Football
High School Athlete of the Year – Male
DeeJay Holmes Jr. – Pahokee High School, Football
Jayden Hylton – Palm Beach Gardens High School, Baseball
Micah Mays – The Benjamin School, Football and Track & Field
Amateur Athlete of the Year
Marques Burgess – Keiser University, Football
Jillienne Cangelosi – Florida Atlantic University, Beach Volleyball
Todd Centeio – James Madison University, Football
High School Coach of the Year
Andrew Immler – Spanish River Community High School, Flag Football
Tony Seaman – Saint Andrew's School, Lacrosse
Kevin Thompson – Palm Beach Central High School, Football
Coach of the Year
Adam Epstein – Keiser University, Swimming and Diving
Dusty May – Florida Atlantic University, Basketball
Doug Socha – Keiser University, Football
Outstanding Sports Contributor
Palm Beach County Parks & Recreation
Special Olympics Athlete of the Year Award
Keith Porges