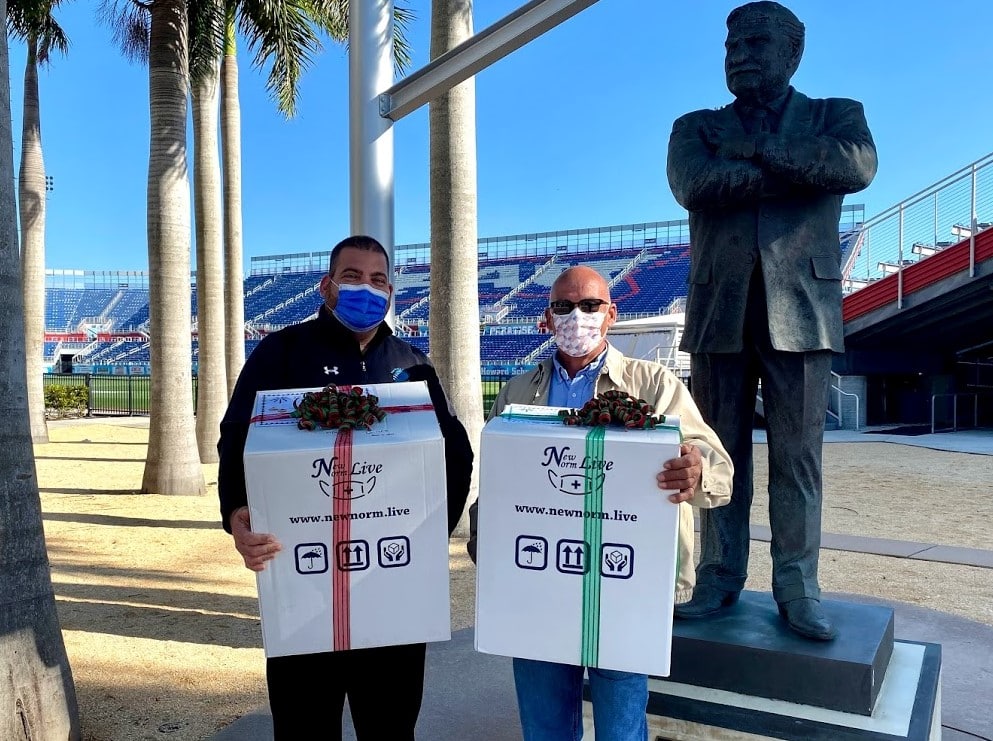 Palm Beach Mask, a Palm Beach County-based mask producer, has generously donated 2,500 masks to the RoofClaim.Com Boca Raton Bowl, which will take place Tuesday, Dec. 22 at 7 p.m. The annual post-season college football bowl game will take place at FAU Stadium in Boca Raton. Due to COVID-19 restrictions, attendance will be limited, and masks will be required for all attendees. Palm Beach Mask face masks are made here in Palm Beach County using the highest-quality premium material with soft-touch texture and gentle ear loops. The masks are comfortable for all-day use. No washing, no extra filters to buy, no hassle.
"As a local business owner here in Palm Beach County since 1985, I am proud that Palm Beach Mask can help a premier event like the Boca Raton Bowl take place in a safe and responsible manner," said Mike Erickson, founder and owner of Palm Beach Mask. "Our masks are sourced, produced, and distributed using American material right here in Palm Beach County."
"During these pandemic times, it is important to connect and support local businesses like Palm Beach Mask and the Roomclaim.com Boca Raton Bowl. We could not be more grateful to Palm Beach Mask for stepping up in these trying times to ensure that a premier event in The Palm Beaches will happen safely and responsibly," said George Linley, executive director of the Palm Beach County Sports Commission.
Palm Beach Mask launched in 2020 as a direct reaction to the COVID-19 pandemic. Local entrepreneurs Pam and Mike Erickson saw a need for quality masks and worked to establish the first mask producing facility in South Florida. Their long-term strategy is to produce FDA certified, domestically made, medical-grade masks, using domestically sourced materials. While the pandemic created an immediate need for everyday mask wearing, it also illuminated the void in American manufacturing to provide the highest quality face masks. Palm Beach Mask looks to bridge that gap by making American-made, quality protection available to all.
For more information on Palm Beach Mask visit pbmask.com.