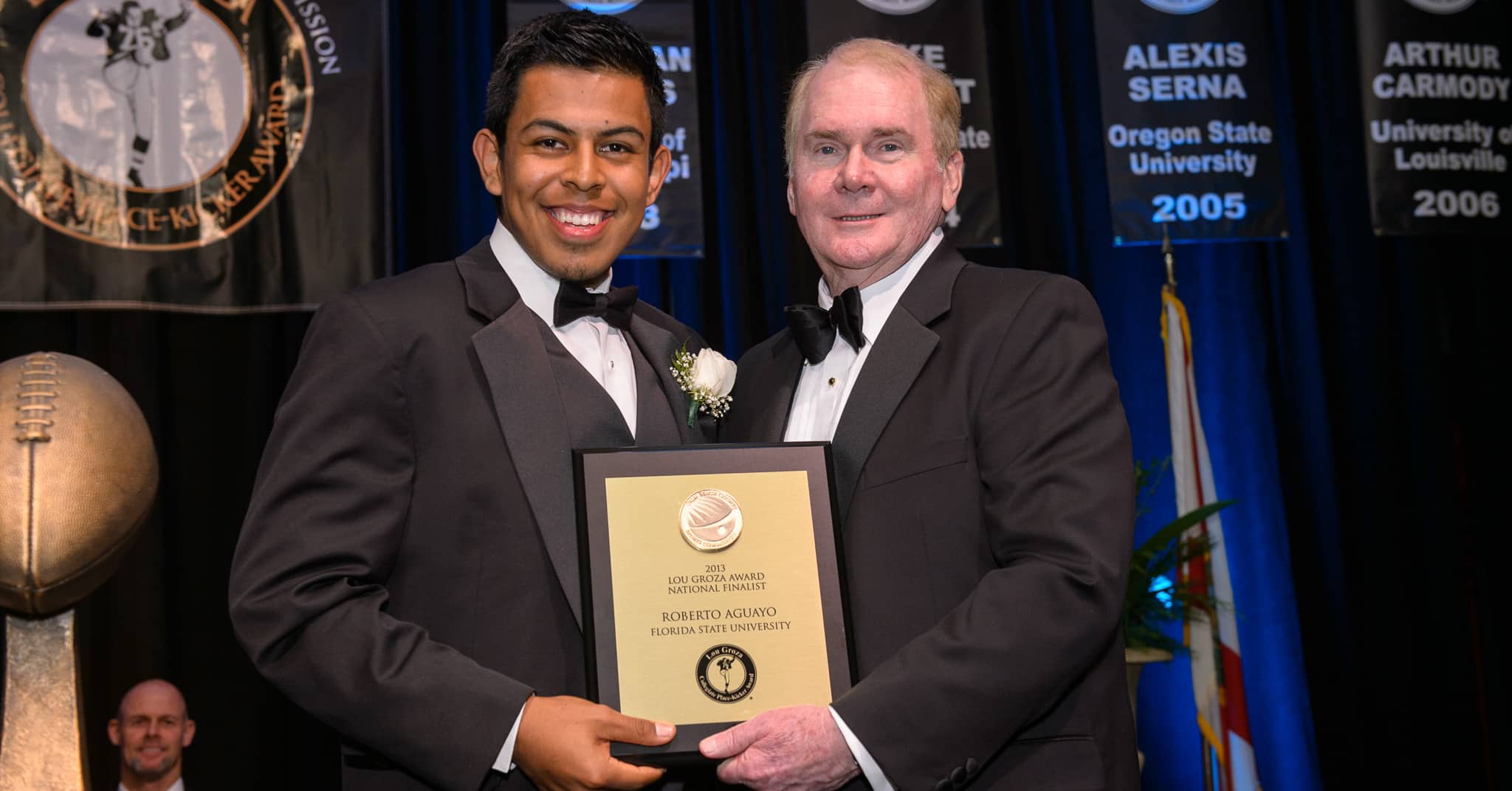 The Palm Beach County Sports Commission has announced that Roberto Aguayo, the 2013 Lou Groza Collegiate Place-Kicker Award winner, will return to the Lou Groza Award Celebration presented by the Orange Bowl as the keynote speaker. The Lou Groza Award Celebration will take place at the West Palm Beach Marriott on December 4 at 6:30 p.m. ET.
Roberto Aguayo is considered one of the greatest place-kickers in the history of college football. Aguayo won a national championship, multiple Atlantic Coast Conference (ACC) titles, and just about every individual accolade that a college kicker can win.
As a freshman in 2013, Aguayo led Florida State to a perfect 14-0 season culminating with the Seminoles' third national championship in program history. During the national championship season, Aguayo led the ACC in scoring with 157 points, which also broke the national record for total points in a season by a place-kicker. He also ranked as the third-highest college football player in overall scoring with 11.2 points per game. Aguayo made 21 out of 22 field goals during the regular season and was a perfect 94 for 94 in extra points, which set the NCAA record for most extra points made in a season without a miss.
Aguayo enjoyed a stellar college football career. He made 69 field goals in 78 attempts and was perfect on all 198 extra points from 2013 to 2015.  His 198 consecutive PATs are an ACC record, and he became only the 12th NCAA kicker to never miss a PAT. He scored a total of 405 points during his career, which ranks among the best in the FBS. Aguayo is the most accurate kicker in NCAA history, with a 96.7% conversion rate (267 successful kicks out of 276 attempts). In addition to winning the Lou Groza Award in 2013, he was also a finalist in 2014.
After his illustrious collegiate career, Aguayo was drafted by the Tampa Bay Buccaneers in the second round of the National Football League (NFL) Draft as the 59th overall selection. He later spent time with the Chicago Bears, Carolina Panthers, Los Angeles Chargers, and New England Patriots.
Secure your tickets to the 32nd Annual Lou Groza Award Celebration by clicking here.