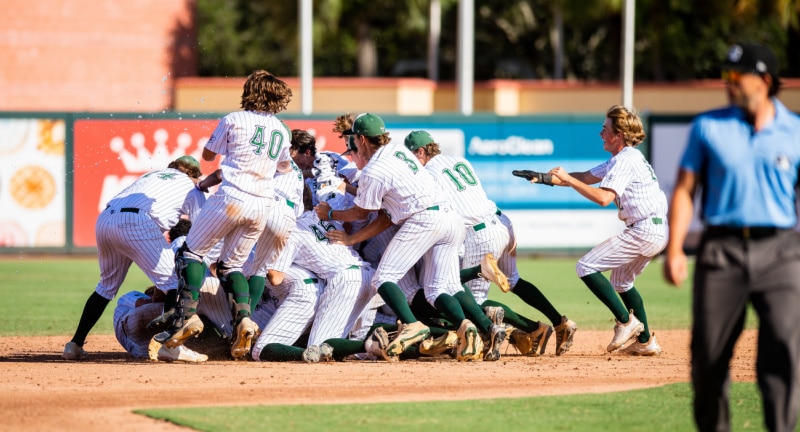 Perfect Game, in partnership with the Palm Beach County Sports Commission, will hold one of its premier events next week in Jupiter when the 26th annual World Wood Bat Association (WWBA) World Championship returns to Roger Dean Chevrolet Stadium from October 4-9.
The WWBA World Championship is the top scouting attraction in amateur baseball each year with nearly every top prospect in the country attending, along with over 700 MLB scouts and college coaches there to evaluate. Perfect Game will also have several former All-Star MLB players in attendance to offer advice and pass along their vast experience to the players. Scheduled to be in Jupiter are former Marlins Gary Sheffield, Charles Johnson, and Francisco Cervelli, Orlando native Tom "Flash" Gordon, Hall of Fame closer Trevor Hoffman, and former All-Star outfielder Ryan Klesko, among others.
"The WWBA is one of the most important events we put on each year," said Perfect Game Chairman Rick Thurman. "This platform not only benefits the best amateur baseball players in the country to showcase their talents but also gives evaluators – whether they are an MLB scout or a college coach – the opportunity to see these players in one location for several days. Perfect Game couldn't be happier to once again be teaming with the Palm Beach County Sports Commission to put on this fantastic event."
"The Palm Beaches is thrilled to once again be hosting Perfect Game and the WWBA World Championship," said George Linley, executive director for the Palm Beach County Sports Commission. "Youth sports is a vital part of Florida's DNA and Perfect Game is at the top of the list in commitment to its athletes, their families, and our local community. Perfect Game represents the best in sports by offering first-class events that consistently over-deliver for their participating teams and their host communities. Palm Beach County and its hospitality industry is a better place to due to our longstanding relationship with Perfect Game."
Since its inception in 1998, the WWBA World Championship has seen over 1,100 participants advance to Major League Baseball. Some notable names include Mike Trout, Bryce Harper, Clayton Kershaw, Andrew McCutchen, Gerrit Cole, Manny Machado, and Francisco Lindor, among many others.
The WWBA World Championship has been won by a team from Florida seven times, more than any other state, including the last two years and four of the last five.