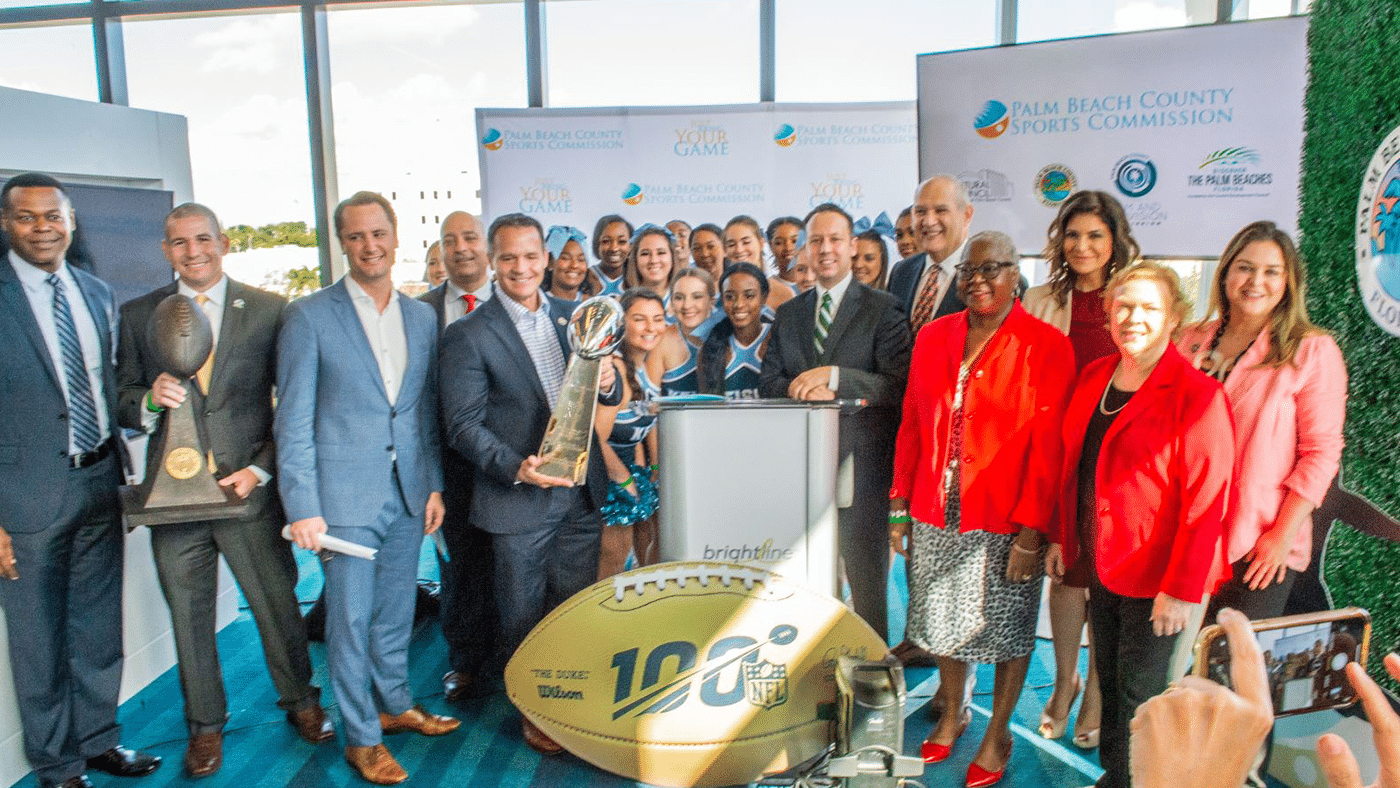 The Super Bowl Host Committee released its official study documenting the economic impacts of visitors and events leading up to Super Bowl LIV – a historic game that marked the crossroads between South Florida's record-breaking 11th Super Bowl and the culmination of the National Football League's 100th season celebration. While the game was played on Feb. 2, 2020, at Hard Rock Stadium in Miami, Super Bowl LIV delivered events and an economic benefit to the entire South Florida region.
Super Bowl LIV lived in The Palm Beaches. Palm Beach County Administrator Verdenia Baker served on the Super Bowl Host Committee representing Palm Beach County and ensuring The Palm Beaches would gain from an economic and community standpoint from this enormous sports event. The Palm Beach County Sports Commission facilitated the effort of bringing Super Bowl LIV and its impact to The Palm Beaches by hosting 12 Super Bowl Celebration Events over a 7-day stretch leading up to the game. According to the report, Super Bowl LIV generated over $25 million in visitor spending for The Palm Beaches. The study revealed that Super Bowl LIV created a $572 million economic impact for Miami-Dade County, Broward County, and Palm Beach County. The Palm Beaches received 4.4% of the total revenues generated from Super Bowl LIV.
Before the game was played, The Palm Beaches was already a winner as 29 small businesses from Palm Beach County were selected to provide goods and services to the Super Bowl as part of the NFL's Business Connect program. This program aims to provide diverse, qualified, and certified South Florida area businesses opportunities to compete for special event-related contracts connected to the Super Bowl.
The Palm Beach County Sports Commission's collection of Super Bowl Celebrated events, held in partnership with the Super Bowl Host Committee, took place across The Palm Beaches, from south county to north county and west into the glades. The events kicked off on December 9, 2019, as the Super Bowl Host Committee traveled via Brightline to attend a press conference hosted by the Palm Beach County Sports Commission at the Brightline station in West Palm Beach. During the press event, the lineup of Palm Beach County Super Bowl events was announced by ESPN's Jason Pugh and featured appearances from the Palm Beach Symphony Brass Quintet and the Keiser University Spirit Squad.
On Monday, Jan. 27, 2020, in partnership with Palm Beach County Parks and Recreation, two free football clinics were held at Orange Bowl Field at Pioneer Park in Belle Glade and Lake Lytal Park in West Palm Beach. The clinics featured guest appearances by current and former NFL players including Miami Dolphins nose tackle and 2019 Walter Payton Man of the Year nominee Davon Godchaux, former Super Bowl MVP Santonio Holmes, and Dolphins Walk of Fame member O. J. McDuffie, among others.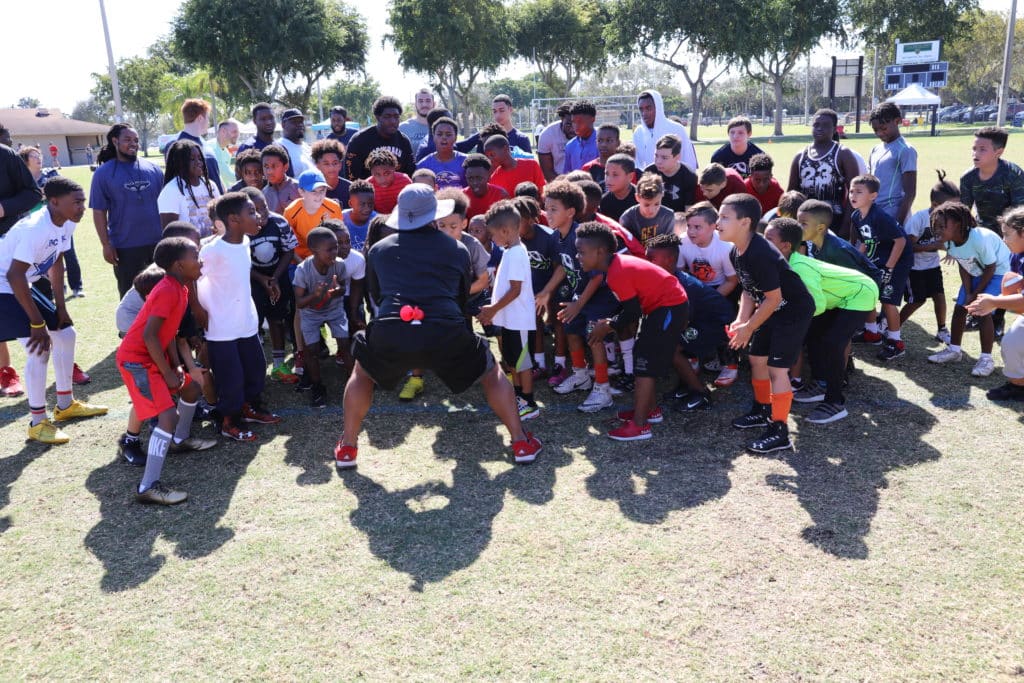 On Tuesday, Jan. 28, 2020, NFL players and alumni, including Indianapolis Colts quarterback Jacoby Brissett, visited children at St. Mary's Medical Center and Palms West Hospital. These visits helped to advance the NFL Alumni Organization's year-round mission of "Caring for Kids," and enhance the lives of young people, while also offering role models for today's youth.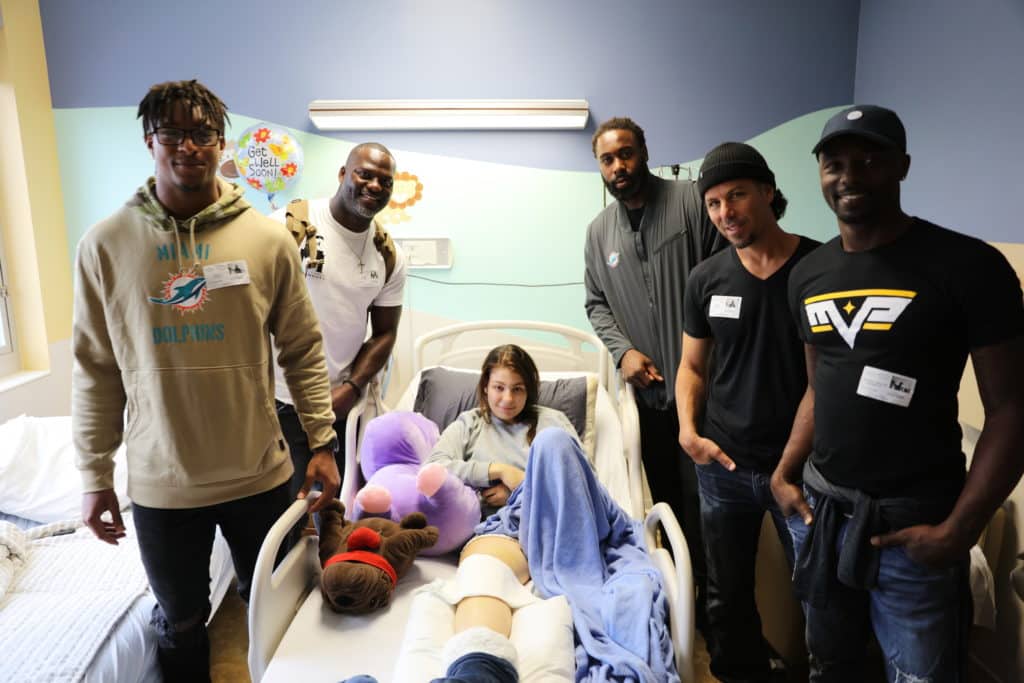 On Wednesday, Jan. 29, 2020, Delray Beach came alive with style for the 7th annual Delray Beach SUPER Fashion Week. The kick-off event started with "Fashion Bowl 54" complete with a live runway show featuring spring and summer fashion looks. Also, that day, a Super Bowl Community Celebration was held at Juno Beach Park. The event featured food trucks, a live band, and an autograph signing by former NFL players.
The week of events continued Thursday, Jan. 30, 2020 with Super Clematis by Night, the largest Super Bowl celebration in Palm Beach County with over 10,000 people in attendance. The block party event featured interactive sports clinics, a turf playing field, marching bands, obstacle courses, NFL players and mascots, give-a-ways, and a headlining concert performance by platinum recording artists Smash Mouth.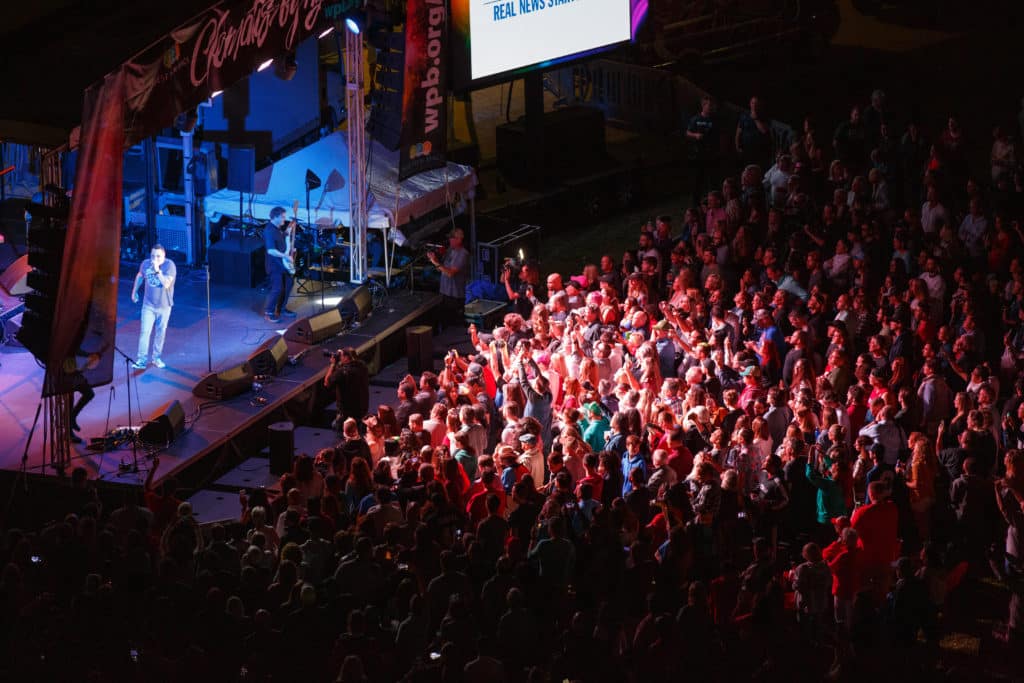 The big weekend began on Friday, Jan. 31, 2020 with a block party in the heart of Delray Beach. The Super Bowl Pep Rally at Old School Square Park featured a free concert and a pop-up fashion show.
On Saturday, February 1, 2020, a grand re-opening was held for the West Palm Beach Police Athletic League center. The ribbon-cutting ceremony was performed by Mayor Keith A. James and featured appearances by former NFL players Jack Brewer and Tommie Harris. Later that afternoon at FITTEAM Ballpark of The Palm Beaches, Brew Bowl 1 took place featuring craft beer tastings, a live band, autograph signings by current Miami Dolphins players, and a special appearance by the Vince Lombardi Trophy.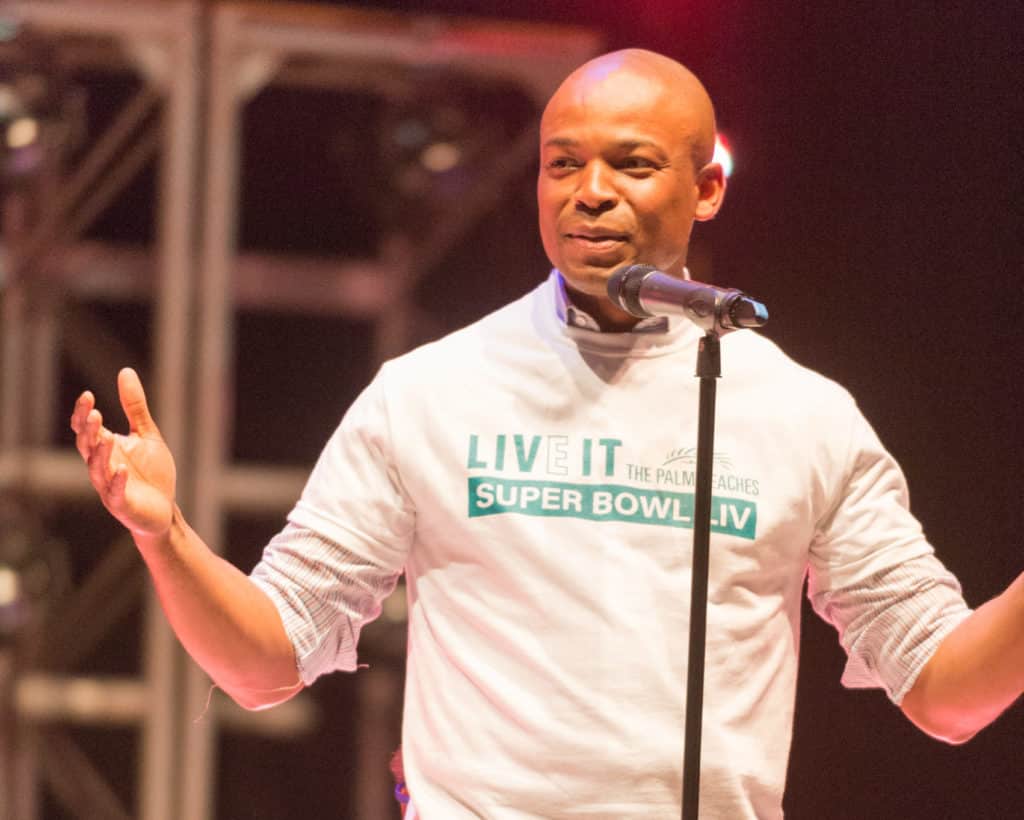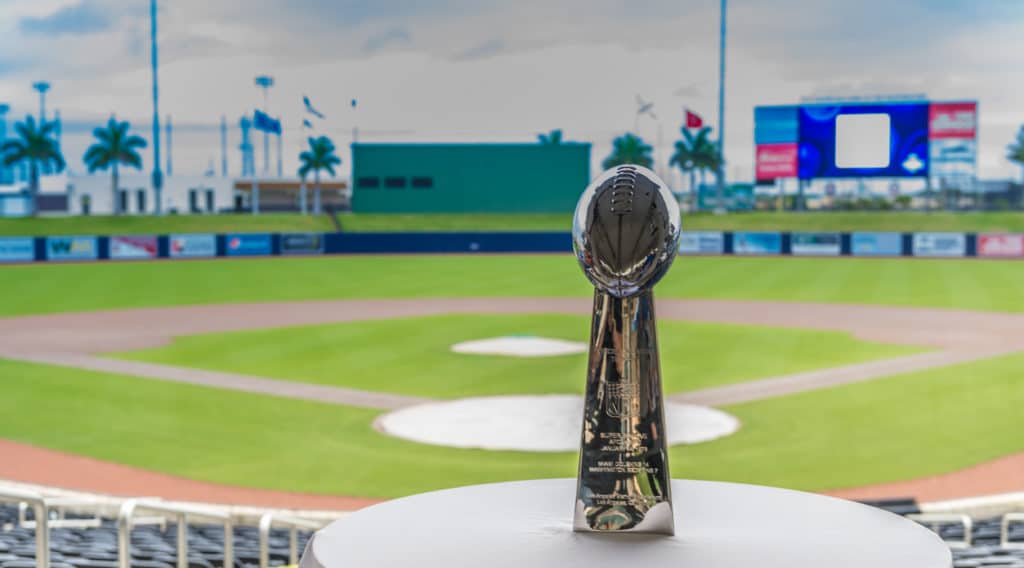 Over the weekend, football fans and NFL alumni set sail to the Bahamas with Bahamas Paradise Cruise Line. The "Super Bowl 54 at Sea" featured meet-and-greet opportunities with former NFL players over a two-day cruise.
Economic impact by County…
$499 million for Miami-Dade County
$48 million for Broward County
$25 million for Palm Beach County
Super Bowl LIV by the numbers…
88% of attendees at the game were out-of-town visitors
368,011 visitor-days (nights) in South Florida
$1,781 average spending per party-day by spectators
$2,154 average spending per party-day by media
74% traveled to South Florida by commercial airline
61% reported having a "more favorable" impression of South Florida
41% planned to return to the region next year