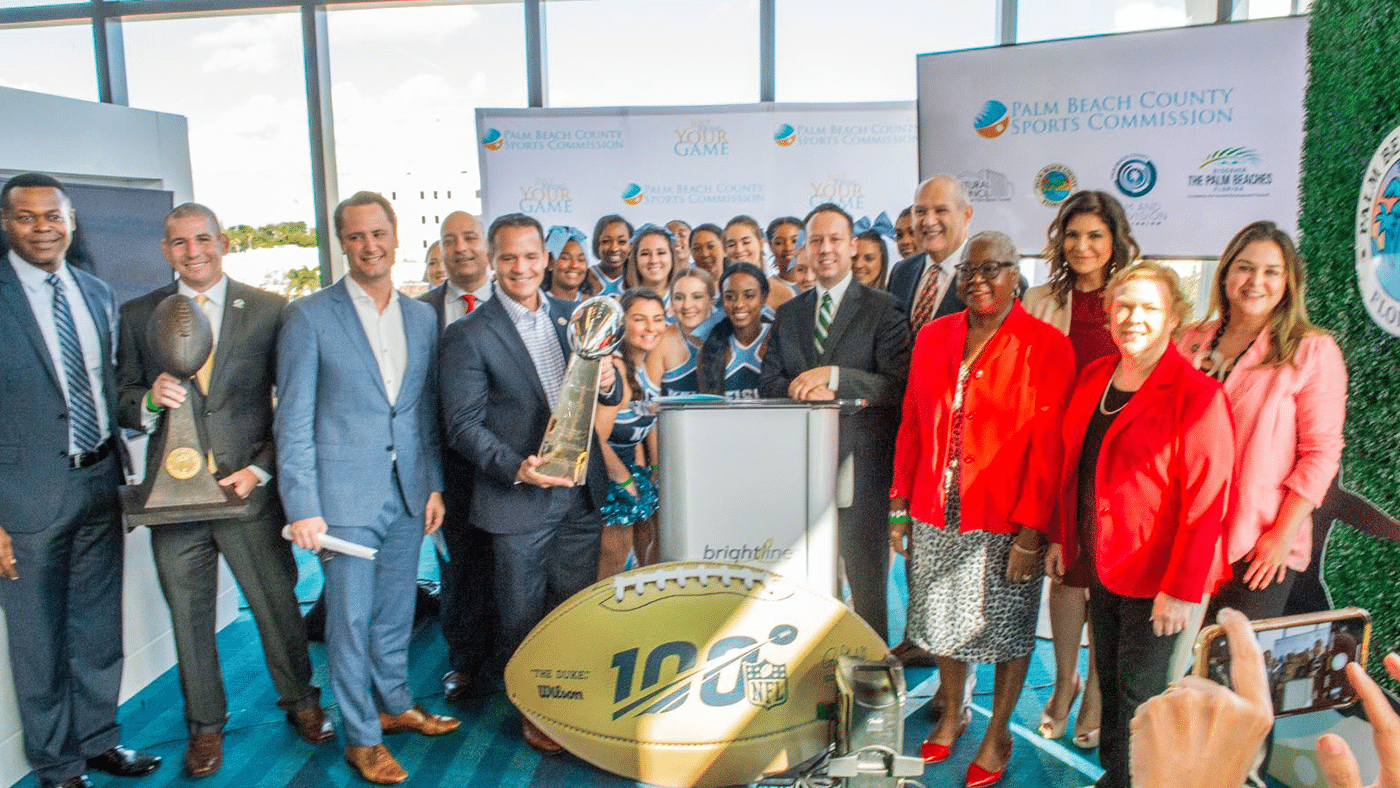 The Miami Super Bowl Host Committee and the Palm Beach County Sports Commission announced a series of events leading into Super Bowl LIV.
Members of the Host Committee traveled via Brightline to West Palm Beach, Monday, December 9, to attend the press conference highlighting the list of official events taking place throughout The Palm Beaches during the week leading up to Super Bowl Sunday. The magnificent weather, beautiful coastline, world-class golf courses, restaurants and rich culture make Palm Beach County an ideal place to truly experience the Super Bowl season.
In addition to the speakers, the Palm Beach Symphony Brass Quintet were a part of the action highlighting the relationship between sports and music, while the Keiser University Spirit Squad transferred their enthusiasm from the playing field to the train platform, elevating the atmosphere. Jason Pugh from ESPN West Palm Beach served as moderator, and rolled out the calendar of events that include:
Monday, January 27
Super Bowl Football Camps – What better way to celebrate the Super Bowl than playing football?  Student-athletes are invited to test their football skills and learn more about the game from experienced football coaches at two locations in Palm Beach County. These events are being hosted by the Palm Beach County Parks and Recreation Department.
Lake Lytal Park will be the site for West Palm Beach youth athletes. The Belle Glade camp will take place at the newly renovated Orange Bowl Field at Glades Pioneer Park. The recently completed $3 million renovation highlights the partnership between the Orange Bowl and Palm Beach County Parks & Recreation Department, and it is the first Orange Bowl Legacy Gift in Palm Beach County.
Tuesday, January 28
NFL Alumni Hospital Visits – NFL Alumni will bring smiles and joy to kids and their families during visits to St. Mary's Medical Center and Palms West Hospital. These visits help to advance the NFL Alumni Organization's year-round mission of "Caring for Kids," and enhance the lives of young people, while also offering role models for today's youth.
Wednesday, January 29
Delray Beach SUPER Fashion Week – Downtown Delray Beach will come alive with style for the 7th annual Delray Beach SUPER Fashion Week, January 29 – February 2, 2020.  The week will kick-off with "Fashion Bowl 54" complete with a live runway show featuring spring and summer fashion looks.
Super Bowl Community Celebration at Juno Beach Park – Calling all foodies! Presented in partnership with the Palm Beach County Parks and Recreation Department, this Super Bowl community celebration will feature food trucks and family-friendly football fun! Make sure to arrive hungry and ready to rumble!
Thursday, January 30
Super Clematis by Night –The largest Super Bowl celebration in Palm Beach County will kick off Thursday night at Clematis by Night. The city's popular free weekly concert series will dial it up a notch with themed football activities, a turf playing field, marching bands, bouncy obstacle courses, NFL players and mascots, give-a-ways, and much more. The event will be held on the Waterfront from 6 – 9 p.m. and will feature two live entertainment options, offering twice the fun. Guests are encouraged to wear their favorite football jerseys and team colors in anticipation of one of the biggest nights in American sports.
Friday, January 31
Super Bowl Pep Rally at Old School Square Park – Put on your best spirit gear and come cheer on your team! A free pep rally and concert event presented by the City of Delray Beach featuring a Delray Beach Fashion Week pop-up of football and swimwear fashion and fun.
Sunday, February 2
Super Bowl Party throughout Downtown Delray Beach – Celebrate the big game throughout downtown Delray Beach with shopping, trunk shows, brunch, and watch parties.
Super Bowl Party at Sea – Take your Super Bowl experience to a whole new level – sea level! Enjoy a special at-sea screening of the big game alongside a festive tailgate buffet, awesome drink specials and the usual cruising fun that Bahamas Paradise Cruise Line is known for. Setting sail from the Port of Palm Beach.
For more information and the most up to date schedule, visit palmbeachsports.com/superbowl.