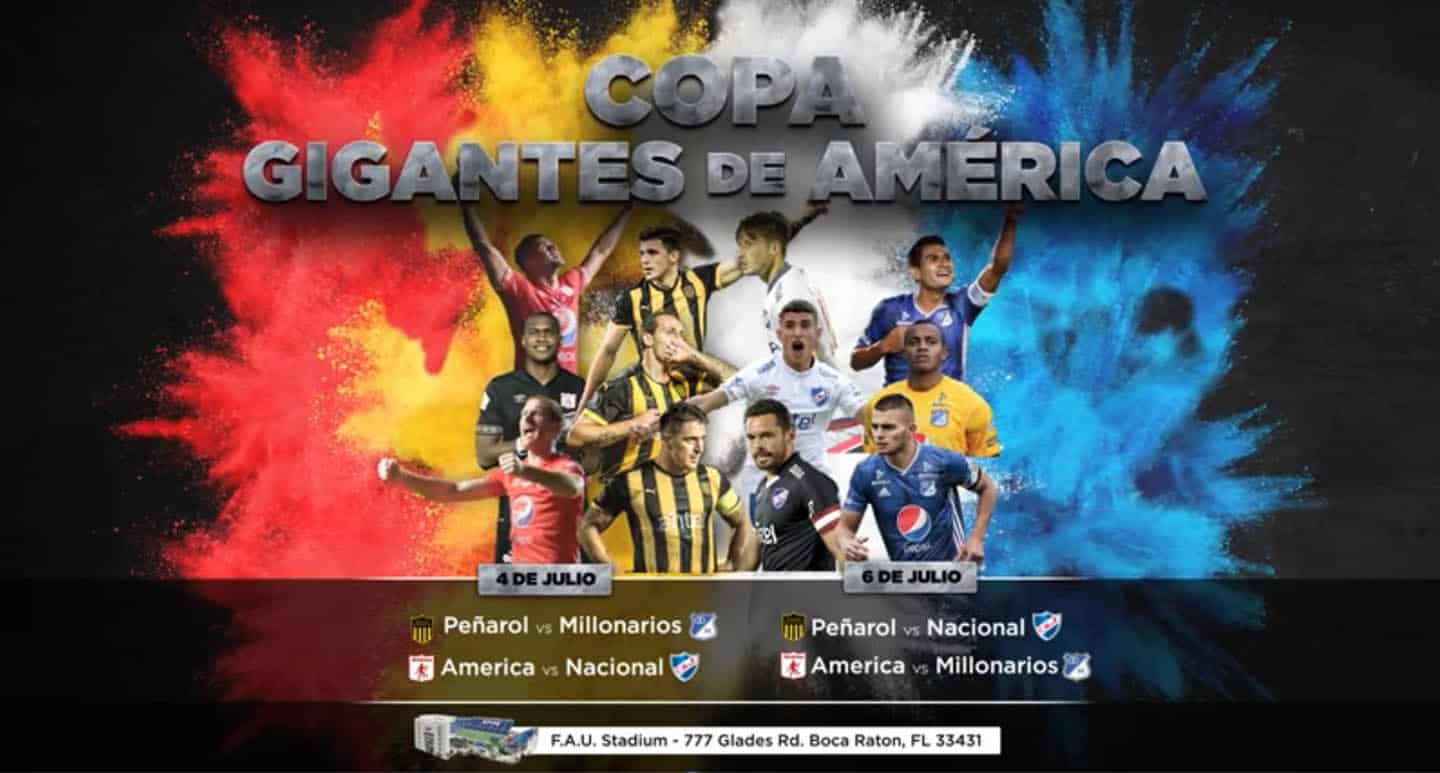 The Palm Beach County Sports Commission and Graben Sports & Entertainment are partnering to bring the Copa Gigantes De America to FAU Stadium in Boca Raton. This international soccer extravaganza will feature six professional soccer clubs, representing three different nations, Colombia, Mexico and Uruguay. These professional soccer clubs trained for nearly two weeks in Palm Beach County before competing in three friendly matches at FAU stadium. On Sunday, June 30th, five-time Mexican club champion Pachuca faced off against Colombian powerhouse America de Cali, followed immediately by current Uruguayan club champion Peñarol against Deportivo Independiente Medellin at Florida Atlantic University.
Colombian and Uruguayan soccer fans will be traveling to The Palm Beaches during  the first week of July to watch  four (4) of the most popular teams from those respective nations.  On July 4, Penarol of Uruguay plays Millonarios of Colombia at 3:15, and Colombian teams Nacional and America de Cali play at 8:15 p.m. Two days later, on July 6, Nacional plays Penarol at 5:15 p.m. and America de Cali plays Millonarios at 9:30 p.m.  The Uruguayan rivalry features the country's two most popular teams, which together have won 150 national and international titles. Millonarios from Bogotá has won the Colombian soccer league title 15 times, and are on track for another Championship title, while America de Cali sits in fourth place in the first division league.
The event will be broadcast live across Latin America (Ecuador, Venezuela, Colombia, Mexico, Chile, Peru, Brazil, Argentina, Uruguay), with heavy emphasis on Colombian and Uruguayan markets.
All six professional clubs are powerhouses in their respective home countries, as well as among the most popular.  The matches on July 6th are both "derbies" in their respective countries, and in the case of the Uruguayan "derby," represents a high-interest event for the Uruguayan, as it is the first ever edition of their national "derby" played in the United States.
FAU Stadium has developed a rich history for hosting international soccer.  The United States Men's and Women's National Teams have competed on several occasions at FAU Stadium.  During the summer of 2016, the Argentina U-23 Men's Soccer National Team played two (2) games at FAU Stadium against Columbia and Haiti, in preparation for the Summer Olympic Games in Rio. FIFA hosted an international soccer match between Germany and Ecudaor during the summer of 2013.  Germany went on to win the 2014 World Cup!