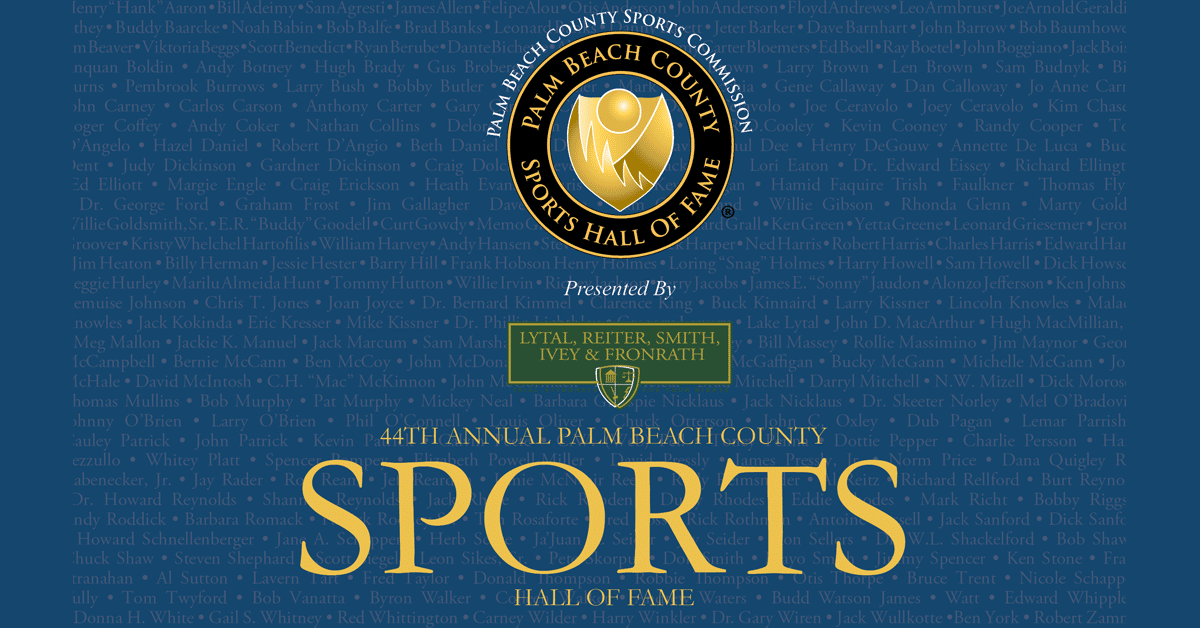 The Palm Beach County Sports Hall of Fame will honor the 44th annual induction class in a virtual ceremony on Wednesday, May 26, 2021, at 7 p.m. The ceremony will stream live exclusively on PalmBeachSports.com. The inductees are Fred Harkness, Taffy Brower, Nick O'Leary, Jarrod Saltalamacchia, Jack Daniels, Mike Perez, and Brent Musburger. The ceremony will also include the Annual Sports Awards: Amateur Athlete of the Year (Female), Amateur Athlete of the Year (Male), Andrews-Ceravolo Coach of the Year, Outstanding Sports Contributor, Dick Moroso Memorial Motorsports Award, Special Olympics Athlete of the Year Award, and a new award, the Champion of Diversity and Equity in Sports.
The newest honor, the Champion of Diversity and Equity in Sports, will be given annually to a person, persons, or organization that excels in the advancement of diversity, equity, and inclusion in sports. The inaugural recipients of the award are Malachi and Essie Knowles, founders of African American Golfers Hall of Fame and Inner City Youth Golfers, an organization dedicated to developing local youth through the game of golf.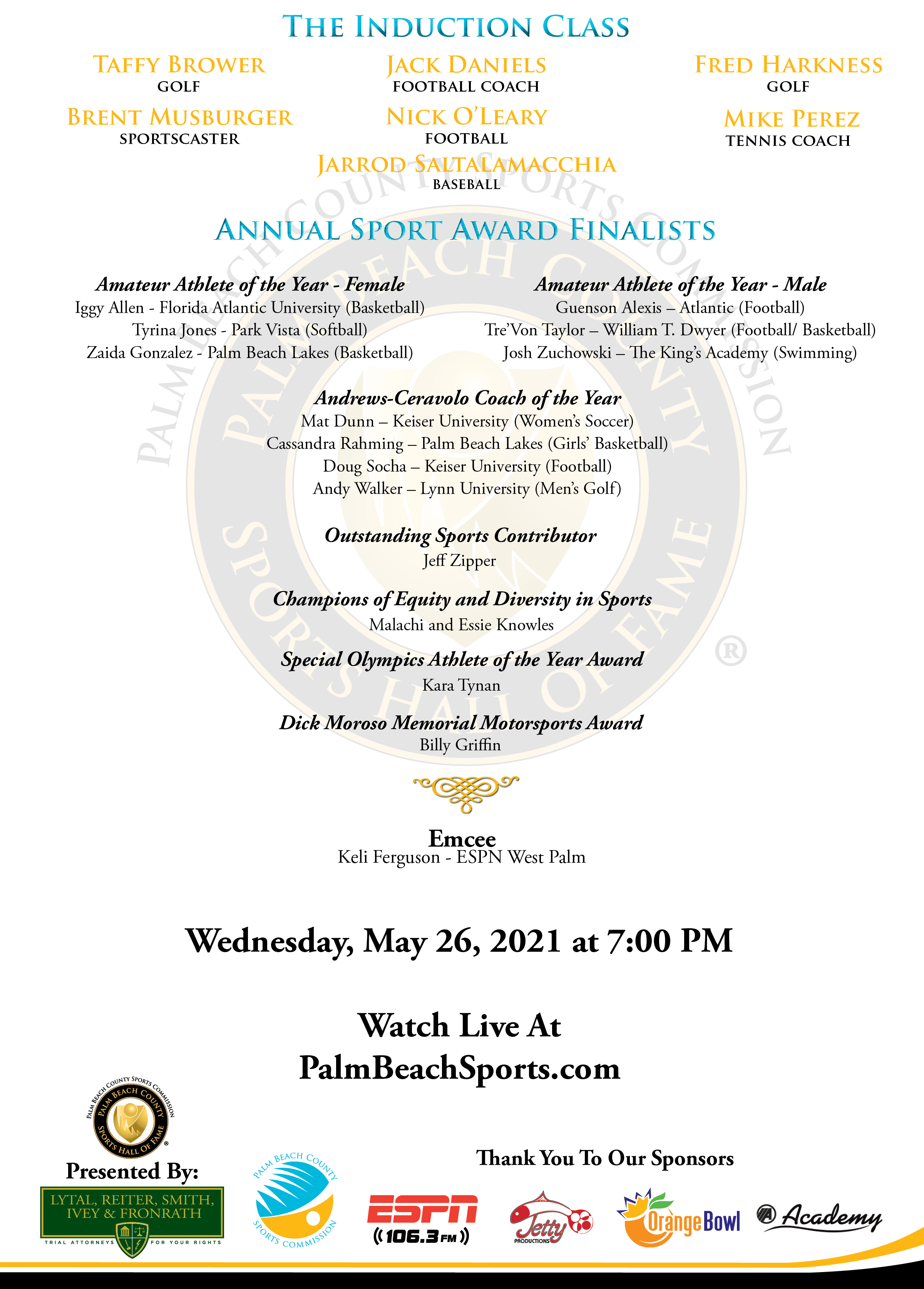 Fred Harkness
Fred Harkness is the head professional and director of golf at Jonathan's Landing Golf Club since it opened in 1978. A native of Murrysville, Pa., Harkness later played baseball at and graduated from Clarion University. After serving in the U.S. Army and returning to the Pittsburgh area, Harkness got into golf as assistant to Frank Cardi, president of the PGA of America. Harkness became a PGA of America member in 1975, played on the PGA Tour in 1977, and joined Cardi at Jonathan's Landing. Harkness's students include PGA Tour winner Marc Turnesa and LPGA Tour winner Heather Daly-Donofrio.
Taffy Brower
Taffy Brower is a legendary golfer who has collected more than 35 major trophies in a variety of formats. Among the victories for the long-time Boynton Beach resident are seven Palm Beach County Women's Amateur titles, six Tri-County Women's Championships, and four in both the Florida Women's State Match Play Championship and the West Palm Beach Women's City Championship. She has also won the Women's Southern Seniors (50-and-older) and the Women's Southern Super Seniors (70-and-older) three times. Among Brower's accomplishments are being selected 17 times for the prestigious Florida-Georgia team matches as well as qualifying for more than 50 USGA Championships, winning the inaugural Women's Four-Ball in 2015. In 2004, Brower earned the first Florida Women's State Golf Association Player of the Year award, anchored by winning both the Southern Amateur and Southern Senior Amateur titles that year.
Nick O'Leary
Nick O'Leary was drafted by the Buffalo Bills in the sixth round of the 2015 NFL Draft. He played college football at Florida State University. O'Leary is one of five children of Bill and Nan (Nicklaus) O'Leary. He attended William T. Dwyer High School, where he played both football and lacrosse. He won state titles in both football and lacrosse. As a senior, he had 51 receptions for 875 yards and 12 touchdowns. Considered a four-star recruit by Rivals.com, he was listed as the top-ranked tight end recruit in his class. During his senior season, he set Florida State's record for career receptions for a tight end. He was also named a consensus All-American. For his career, O'Leary had 114 receptions for 1,591 yards and 17 touchdowns. To date, O'Leary has played in 59 NFL games and has accumulated 668 receiving yards and four touchdowns.
Jarrod Saltalamacchia
Jarrod Saltalamacchia was born in West Palm Beach, FL, and attended Royal Palm Beach High School. He was a standout baseball player and was a member of Team Florida USA and won Gold with the team in the 2001 Junior Olympics. "Salty" was selected by the Atlanta Braves in the first round of the Major League Baseball Draft in 2003. He played with the Atlanta Braves, Texas Rangers, Boston Red Sox, Miami Marlins, Arizona Diamondbacks, Detroit Tigers, Toronto Blue Jays, and has a World Series ring with the Boston Red Sox. He retired in 2018 and is now the head baseball coach at Kings Academy.
Jack Daniels
Coach Jack Daniels starred in football and baseball at North Shore High School. He played football at the University of Florida and upon graduation began his coaching career at William T. Dwyer High School in 1991. He became the head football coach in 1997 and coached the Dwyer football teams to 234 wins over 23 years. His team won two state championships and made the playoffs 20 times during his tenure. Over 300 of his players have played college football and over 20 have played in the NFL. Some of his awards include Lou Graza High School Coach of the Year (two times), several times Palm Beach Post and Sun-Sentinel Coach of the Year, Miami Dolphins High School Coach of the Year, and Nike High School Coach of the Year.
Mike Perez
Mike Perez has spent over 30 years as the head coach of both the men's and women's tennis programs at Lynn University. With seven national championships under his belt, he has shown consistency in not only producing champions on the tennis courts but also in the classroom. He has coached 73 All-Americans on the men's side and 113 on the women's side while leading both teams to academic success season after season. Perez's tennis programs have become synonymous with success, notching his 1,000th career victory in 2016. Boasting an overall record of 1,056-274 (.794), Perez has notched 597 victories with the women and 459 on the men's side.
Brent Musburger
Brent Musburger is one of the most prominent voices in the history of sports broadcasting. During his career spanning over five decades, Musburger has lent his voice to some of the biggest moments in sports. Before retiring to Las Vegas, Nevada in 2017, Musburger called Jupiter home from 1995 to 2017. His career took off in 1975 when he started what would be a 15-year stint with CBS. In his tenure with CBS, Musburger worked play-by-play for NFL games and hosted the groundbreaking "The NFL Today." He has also called the NCAA Final Four, the NBA, the Masters, U.S. Open tennis, boxing, horse racing, baseball, among many other events. His time at CBS is also noted for his memorable call in 1984 of the "Hail Flutie" in which Boston College quarterback Doug Flutie completed a 48-yard pass to down the defending national champions, the Miami Hurricanes. After CBS, Musburger moved to ABC/ESPN where he enjoyed a highly successful 27-year run. In his time with the networks, Musburger served as the voice of college football for seven BCS national championships and hosted the Super Bowl XXV pregame and halftime programs. Other duties for the networks included several NASCAR races and soccer games. Musburger now serves as editor of the Vegas Stats & Information Network. In 2018, Musburger made his return to the booth with the NFL's Las Vegas Raiders where he is the team's play-by-play announcer.
The Annual Sports Awards will continue to honor many of Palm Beach County's finest athletes, coaches, and contributors. The full Annual Sports Awards finalists are as follows:
Amateur Athlete of the Year – Male
Guenson Alexis (Atlantic – football)
Tre'Von Taylor (William T. Dwyer – football and basketball)
Josh Zuchowski (The King's Academy – swimming)
Amateur Athlete of the Year – Female
Iggy Allen (Florida Atlantic University – basketball)
Tyrina Jones (Park Vista – softball)
Zaida Gonzalez (Palm Beach Lakes – basketball)
Andrews-Ceravolo Amateur Coach of the Year:
Mat Dunn (Keiser University – women's soccer)
Cassandra Rahming (Palm Beach Lakes – girls' basketball)
Doug Socha (Keiser University – football)
Andy Walker (Lynn University – men's golf)
Champion of Diversity and Equity in Sports
Malachi and Essie Knowles
Outstanding Sports Contributor
Jeff Zipper
Special Olympics Athlete of the Year
Kara Tynan
Dick Moroso Memorial Motorsports Award
Billy Griffin