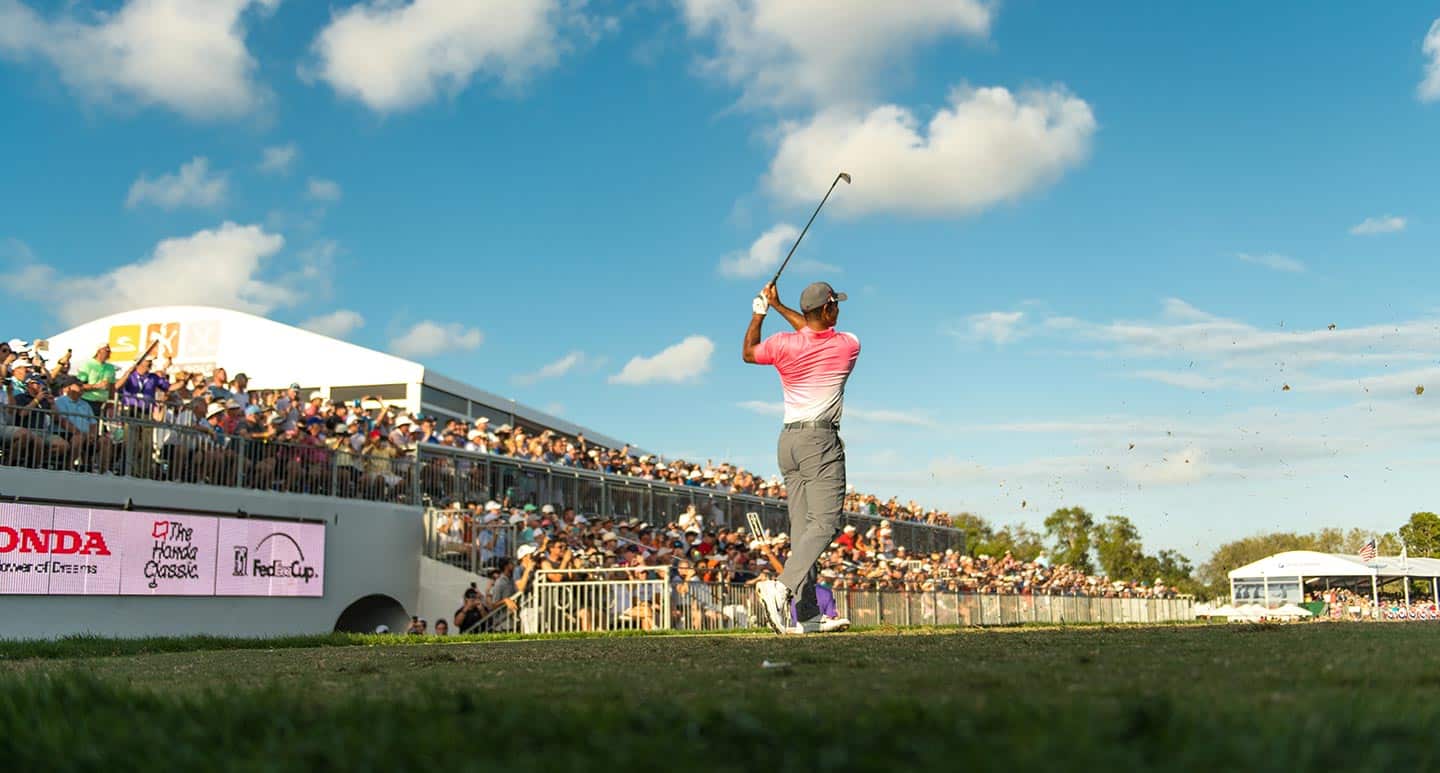 The Palm Beach County Sports Commission has revealed the line-up for the Palm Beach County Spring Professional Sports Season which includes the "Triple Crown of Golf" set to take place in Palm Beach County, The Triple Crown of Golf is comprised of LPGA Tour, PGA Tour, and PGA Champions Tour events.
"The Palm Beaches are on an unprecedented trend of leisure, arts/culture, sports and meetings/convention tourism successes, as we continue to evolve into a year-round travel destination." Glenn Jergensen, Executive Director of the Palm Beach County Tourist Development Council, said. "There are few destinations in the world capable of pulling off three professional golf tournaments."
The fun began January 20-26 with Gainbridge LPGA at Boca Rio Golf Club in Boca Raton.
The inaugural Gainbridge LPGA at Boca Rio will feature over 100 of the top players in the world competing for a $2 million purse over 72 holes of stroke play. Boca Rio Golf Club, which was founded in 1967, is situated just four miles from the Atlantic Ocean on 200 acres of Florida wilderness. A member-owned luxury golf club, Boca Rio is a rolling golf course featuring undulating greens and white sand bunkers with no developed real estate.
The following month, the PGA Tour returns to The Palm Beaches once again with the 2020 Honda Classic, which will be held February 24 – March 1 at PGA National Resort & Spa.
The Honda Classic, a Palm Beach staple since 2003, has been held annually at PGA National since 2007. Anchored by five championship golf courses, PGA National also boasts a world-class destination spa, a private state-of-the- art sports and racquet club and an exclusive private membership club at the heart of the luxurious resort lifestyle community.
This year's field will feature current world No. 1 ranked player and West Palm Beach native, Brooks Koepka. Koepka, a graduate of Cardinal Newman High School, makes his return to the Honda Classic after finishing second at The Masters, 1st  at the U.S. Open, and 4th at the British Open. He was the 5th player in history to finish in the top five in all four Majors.
The third and final event of the Triple Crown will be the Boca Raton Championship, which will be held October 30 – November 1 as a part of the PGA Champions Tour.
The Boca Raton Championship is set to take place at Broken Sound Club featuring the best senior men's golf players. Last year, former world No. 1 player and two-time Masters champion Bernhard Langer won 1st place.
Broken Sound is considered one of the premier golf course communities in Palm Beach County. It features resort-style, country club living in 28 private villages and has 23 tennis courts, a state-of-the-art fitness/spa center, aquatic area, dining facilities and two of the finest golf courses in South Florida. The original Broken Sound Club, now affectionately known as the "Old Course", was founded in 1978 and redesigned in 2004.
Tickets for each event are on sale now by clicking here: LPGA, Honda Classic, Boca Raton Championship.