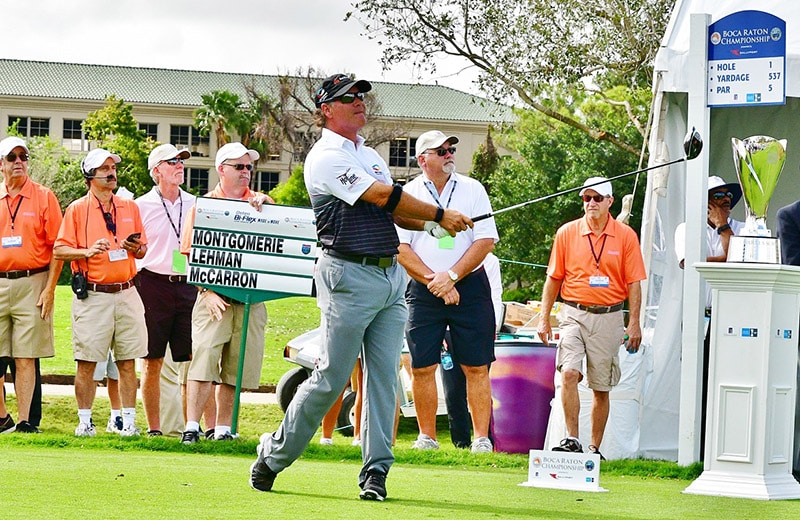 After a three-month hiatus due to the coronavirus pandemic, the PGA TOUR Champions are returning to action this week. When the premier professional senior golf tour tees off on Friday, 145 days will have passed since the last tournament. Several Palm Beach County professionals are playing on the Tour and many will feature in the Boca Raton Championship later this year.
PGA TOUR Champions have announced that the 2020 Boca Raton Championship will feature an expanded field of 81 players returning to The Old Course at Broken Sound the week of October 26 – November 1. The Boca Raton Championship has been a staple of the South Florida golf scene since its inception in 2007. The 81-player field marks an increase from the tournament's typical 78-player field.
Due to the circumstances related to the COVID-19 pandemic, eight PGA TOUR Champions tournaments have been canceled from the original 27-tournament schedule. Several other events have been rescheduled to later in the calendar year. The PGA TOUR Champions will combine the 2020 and 2021 seasons and form a singular 2020-21 season.
"While we won't have a Charles Schwab Cup champion in 2020, we feel that the combined schedule for 2020-21 is the best solution for everyone associated with PGA TOUR Champions," said PGA TOUR Champions President Miller Brady. "The wonderful support from the tournaments, title sponsors, Charles Schwab and the Player Advisory Council has helped us address some of the schedule complications caused by the COVID-19 pandemic, and as a result we have created solutions that best serve our members and our tournament communities."
The Boca Raton Championship will proceed as planned with spectators onsite; however, the tournament team will work closely with the PGA TOUR to monitor the COVID-19 situation and follow the recommendations of local and state authorities in order to determine the most appropriate on-site access. Further updates on fan attendance will be dependent on available protocols that could be implemented to ensure the health and well-being for all involved.
"Never has it meant more for us, the community and our frontline responders, to host this tournament where our main beneficiary is the Boca Raton Regional Hospital Foundation," said Eddie Carbone, Tournament Director of the Boca Raton Championship. "Over the last few years, we have given more than $1 million to the hospital and will continue our support by bringing this world-class tournament back to Boca Raton this October."
For more information on the Boca Raton Championship, please visit BocaRatonChampionship.com.