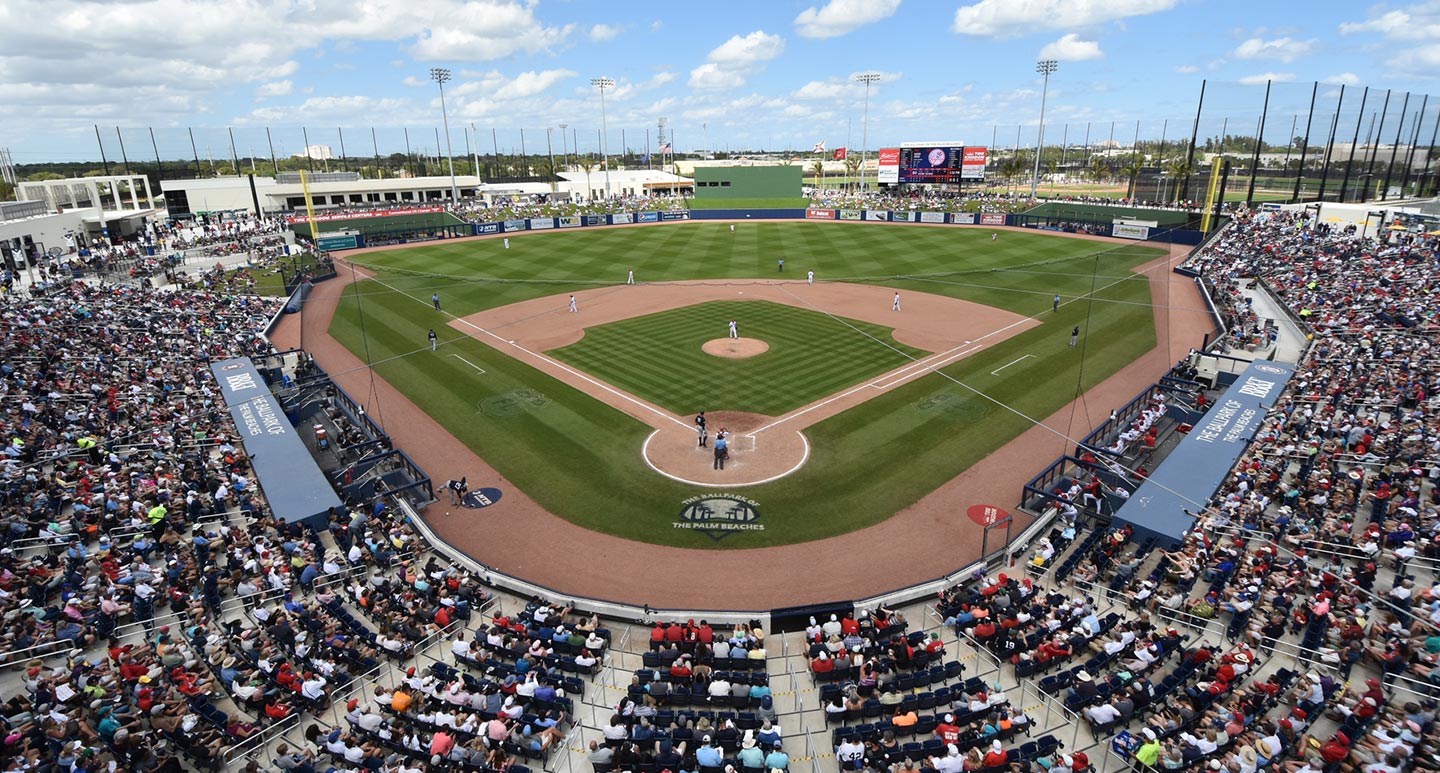 When Major League Baseball Spring Training swings back into The Palm Beaches, all eyes will be focused on a showdown between the 2019 American League and National League Champions. The Houston Astros look to get back into the win column against their familiar foes, the Washington Nationals, in what is being dubbed "Game Eight of the World Series" as spring ball opens February 22 at FITTEAM Ballpark of the Palm Beaches.
Last October, the Nationals etched their names in the history books by defeating the Astros in a riveting game seven to win the franchise's first World Series title. History was also made that series as for the first time two sides that share a training facility faced one another on the game's biggest stage – a fact that has everyone buzzing.
"Never before in the history of Major League Baseball have we seen two clubs that share a training facility face each other in the World Series, and I think because we were so fortunate to have that and because Palm Beach County has now seen two world championships come out of FITTEAM Ballpark of the Palm Beaches in the last three years, its created this unbelievable set of circumstances," said FITTEAM Ballpark of the Palm Beaches' General Manager, Matt Slatus. "We have a rematch of two clubs that went all the way to game seven, and the amount of excitement that has come about for this game is unlike anything we have seen before."
On February 22, the Astros are designated as the home team versus the Nationals but that will switch sides the following the day as the two teams face off once more. Beyond great baseball, fans can get a glimpse of history as the World Series trophy will be available for photo opportunities to all in attendance on Sunday, Feb. 23 and Monday, Feb. 24.
Opening in 2017, the FITTEAM Ballpark of the Palm Beaches is a premier destination for baseball fans. The park has an elegant wrap-around concourse and inviting sightlines, the 160-acre complex features a fan-friendly 7,700-capacity stadium as its centerpiece, along with six practice fields per team. Beyond Spring Training, FITTEAM Ballpark of the Palm Beaches hosts elite destination tournaments, community walks, corporate functions, concerts and festivals, among other events. It features a total of eight professionally manicured baseball fields ideal for tournament setup. Five 120-by-80-yard multipurpose athletic fields are covered in beautiful Bermuda grass and cater to soccer, lacrosse, football and rugby. Among the eclectic events that have been hosted at the FITTEAM Ballpark are Battlepark Mixed Martial Arts, SoFlo Turkey Shootout, the Perfect Game USA 14U Florida Showcase, Sunshine Games Ultimate Frisbee, and the Wilson Premiere Classic.
Tickets for Opening Day and all of Spring Training are on sale now at ballparkpalmbeaches.com.